Being a legacy chain with a fiercely loyal clientele is on every executive's wish list, but there can be two sides to that coin. The flip side is that the freedom to innovate can be extremely limited. Such was the scenario that Steven Micheletti, president and CEO of the 25-year-old Z'Tejas Southwestern Grill restaurant group, says was a driving force behind the creation of Taco Guild, a new concept the company opened in central Phoenix in late 2013.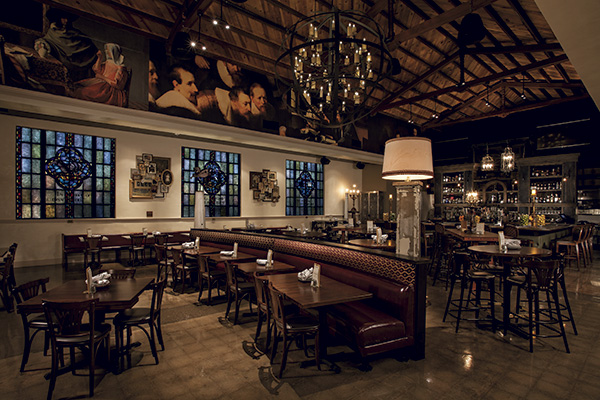 Overhead murals warm the space, while church pews were upholstered and converted into banquettes. The idea was to downscale to a casual, farm-to-table Mexican street-food place with a limited menu of 10 handcrafted tacos, a broad selection of tequila and mescal, and a mixologist-driven bar. "We initially visualized taking one of the most run-down gin mills you'd imagine and literally putting a taco truck into it," Micheletti says. "We'd create it with a lot of used equipment and furnishings, shopping at Goodwill and consignment shops. That would be our kind of fundamental approach to the concept. We found a location we felt would fit, did the design work, went through the process of getting the liquor license and were ready to go, but ultimately aborted the project. There were some neighborhood and parking issues that, in the end, we felt were just too risky."
A local real estate agent two days later approached Micheletti with an alternative possibility – an abandoned Methodist church. Although it's a relatively young city, Phoenix is known for creative, adaptive reuse of its buildings, and the notion of repurposing an old church into a restaurant appealed to him. The initial vision of a gin mill/taco truck hybrid quickly fell by the wayside, however, as the church lent new and symbiotic possibilities for both concept and design.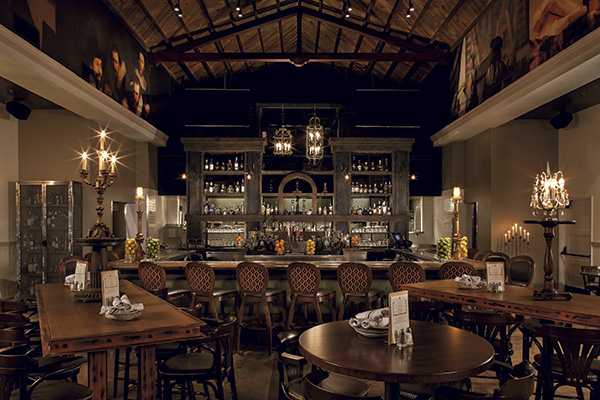 A u-shaped bar sits where the church's altar once stood.The original name for the new operation, Taco Republic, was scuttled in favor of Taco Guild. "We wanted to be that place of expertise when it comes to tacos, tequila and mescal," Micheletti says. "In the Middle Ages, guilds were places of tradesmen's expertise and it felt like a nice fit with the church setting."
Designer Janet Henrich, who had worked with Micheletti on Z'Tejas restaurants, helped conceptualize the Taco Guild design. As in the original plan, repurposing existing materials and sourcing an eclectic mix of inexpensive, mostly used FF&E items were primary goals. The fact that the church property itself was being repurposed added to its slightly quirky appeal, she says, but also provided a unique backdrop against which the concept could emerge.
Respectfully Repurposed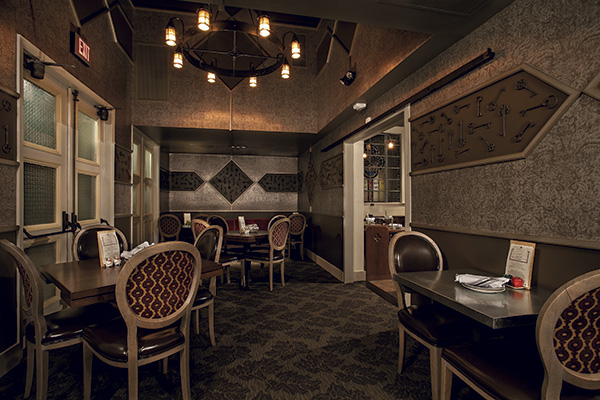 Named for its skeleton key-like decorations, the Key Room is a smaller, more enclosed area with seating for 28 that's used for private events.The building was most recently in its second incarnation as a Methodist church. Originally constructed in 1893, it had been destroyed by fire in the late 1930s or early 40s, knocked down and rebuilt in 1946. The property had been vacated and deconsecrated in 2012.
During its conversion into the restaurant, the Taco Guild team incorporated artifacts and documents found in the church as decorative items, and preserved elements such as the solid wooden entry door, stained glass windows and wood beam ceilings. The concrete floors were simply cleaned and resealed and walls were washed and touched up with fresh paint as needed.
Micheletti admits that both he and Henrich shared some initial misgivings about the perceived appropriateness of building a shrine to tacos and tequila in the shadow of stained glass windows holding images of Jesus and scripture verses. "We did wonder how people might feel about it," he says. "We worried they might think we were being disrespectful. We actually contacted a church official for an opinion. When a church is no longer a church, what happens to the stained glass imagery? He told us it's simply art, so that helped to ease our concerns."
Other items in the church were repurposed as key design elements. Wooden pews, for instance, were cushioned and fashioned into comfortable banquettes; the original cedar ceiling was cleaned and resealed; and candelabras were converted to electric light fixtures now used at the bar.
The space itself, which measures roughly 4,100 square feet, is a simple, open rectangle with high ceilings. "Being a Methodist church it was very simply designed, basically right angles and an empty box," says Micheletti. "The landlord put in new HVAC and electrical, and with that done we didn't encounter any of the difficulties or surprises that are typical on most conversion projects."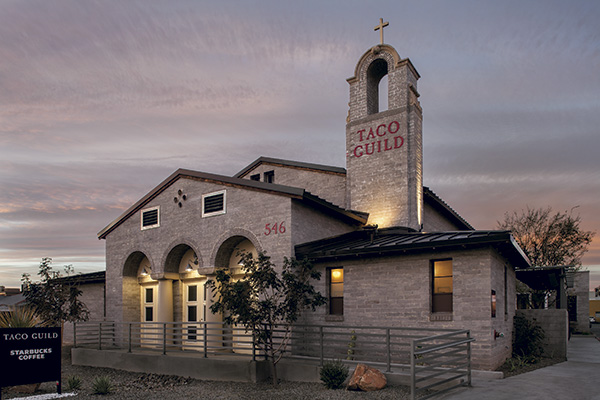 That the restaurant is in a former church is evident from its exterior, but the interior conversion elicits "Wows!" from guests.The biggest challenge, Henrich adds, was putting all of the equipment required for the kitchen in place without altering the open feeling. "We didn't have a flat ceiling or any place to hide things, so we ended up building a structural platform behind the high back bar, which separates the front of the house from the back," she says. "Nobody sees it, so it worked out well."
What people do see once they enter Taco Guild for the first time typically elicits "Wow!" reactions. They know they're entering what used to be a church – that's very much apparent from the exterior, which was simply sandblasted and cleaned up and which still carries a cross atop its arched stone steeple tower. But most new guests are unprepared for the total visual effect of the interior conversion.
In addition to the existing stained glass windows, interior design highlights include a giant chandelier that hangs in the center of the room. Made of bands of black iron that encircle 96 candle-style lights, the fixture measures 9 feet in diameter and its bottom hangs 15 feet from the floor. Large murals line the tops of the walls overlooking the main dining area, which, in addition to the repurposed pews features freestanding and communal tables. A large, custom-made curved
banquette provides separation between main dining and bar areas.
Murals Add Warmth, Whimsy
The murals, in particular, help to create the type of rich yet fun, slightly quirky look and feel that bring the Taco Guild concept to life. They also help to add warmth and a sense of intimacy to a room whose ceilings are well in excess of 20 feet high.
"As we got excited about the guild concept and the church setting, Janet came up with the idea of Renaissance paintings. We found some that were available in public domain and had them blown way up," Micheletti says.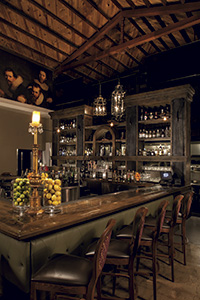 The bar features original light fixtures and candelabras from the church that were electrified.The mural, which is printed on a series of individual vinyl panels, measures 4 feet by 80 feet. "There appear to be two separate murals, one on each side of the room, but it literally could have been hung as one long mural," Henrich adds. "There's a shallow area of flat ceiling on both sides of the room, around 9 feet high, with more vertical wall space extending approximately another 4 feet to where the ceiling begins to curve. We had the murals scaled to fit exactly in those spaces. We also found a painter who was able to paint the air conditioning registers that are in those spaces so they're camouflaged within the murals. You can't even tell that they're there."
Other thematic design touches are scattered throughout the restaurant, as well. Among them is a large "G" tapestry hanging on the front wall of the dining room above the entrance to the Key Room, a smaller, more enclosed area with seating for 28 that's used for private events.
"Every guild during the Renaissance period had a tapestry with a coat of arms, whether it was a leather workers' guild or a book binders' guild," Micheletti says. "We thought that, in the spirit of authenticity, we should have a tapestry, too. But we quickly found out how expensive that would be. Authenticity was out of the question, so we took the same approach as with the murals and created a reproduction of a tapestry and had it framed. There are intricacies in the G and you'll also see a T in there, as well as the shape of a skeleton key, which guilds also typically had made for their members."
Those large, heavy metal keys provided the concept for the Key Room, which, in addition to private dining provides a somewhat quieter and more intimate space for regular use. "We went online and bought a couple hundred antique skeleton keys and had them glued to the walls in that room," Micheletti notes.
Sanctuary of a Different Sort
Where churchgoers would once have seen the sanctuary and altar along the back portion of the main room, Taco Guild customers now elbow up to a large, 16-seat u-shaped bar. A central focus of the room, it's topped in reclaimed wood sourced from a farm in Colorado and faced in tufted vinyl.
The back bar, constructed of heavy, reclaimed wooden shelving, showcases the tequila and mescal collection and is the primary divider between the front and back of the house.
"It's quite high and the main thing that is preventing items on the shelves from falling off the back side is metal wire mesh with fairly open aperture," Henrich says. "You can see through it into the kitchen, but the view is filtered by the bottles and other items on the shelves so it's not a fully exposed kitchen."
To the left of the bar, a repurposed section of high school metal lockers sourced from a local thrift shop displays more tequila bottles. "We took the doors off and replaced them with the same sort of thick wire mesh that's secure but see-through and added an old paddle lock. It ended up being a unique and functional piece that really fit our design approach."
At slightly more than one year old, Taco Guild has proven to be a winning new concept for the Z'Tejas group and one that Micheletti says may have legs for future expansion – although the flagship design will likely be unique. "There are still things we're working on," he notes. "Menu-wise, we're trying to be a farm-to-table concept, but we're still learning about establishing local supply chains and dealing with seasonality. We'll continue to tweak it and refine it here so that we can make knowledgeable, experience-based decisions before we decide to grow with it." +
Design Insights: Janet Henrich, Henrich Design
Reuse. We reused everything that we could. The flooring is the original concrete floor, just cleaned up and resealed. We just cleaned most of the walls and did minimal repainting. Most of the décor items and many of the furnishings are repurposed. We went to salvage shops and if something looked cool we grabbed it, not even knowing what we were going to do with it. The whole design foundation was purposeful reuse. People look around and go, "Wow, that's cool. I've seen that before but now it's this."
Peek-a-boo kitchen. The back bar is in front of the kitchen and you can see through portions of it from various parts of the restaurant. It's interesting and you see some action through the backs of the shelves, but it's not technically exposed. It's the game everyone plays – people can see what you want them to see. And with the side entrances open, you could walk right back there and see it all, but it's not an open kitchen, per se.
Restrooms. We had to bring the bathrooms up to code, and refinished them in contrasting styles. The women's room is pretty and highlighted by these tiles that have a Renaissance kind of pattern that goes great with the guild concept. We left the men's room largely as it was; we just resurfaced some rough plaster with simple, functional white tile reminiscent of the 50s or 60s – the old high-school bathroom look. And we found these funny pictures of dogs in uniform – dressed as generals and admirals – that we framed and hung in there. The frames cost more than the pictures, but the whole idea in every area was to make it fun and unexpected.
Project Team
Snapshot
OWNER: Z'Tejas Inc.
CONCEPT: Mexican gastropub
SEGMENT: Casual Dining
AVERAGE CHECK: $20
LOCATION: Central Phoenix
UNITS: 1
OPENED: November 2013
SIZE: 4,100 square feet
REAL ESTATE: Repurposed 1940s Methodist church
DESIGN HIGHLIGHTS: Original stained glass windows, arched beam ceiling, Renaissance-style murals, 9-foot-diameter chandelier, back-bar tequila display, repurposed church artifacts and salvage shop finds
BUILD OUT: 10-11 weeks