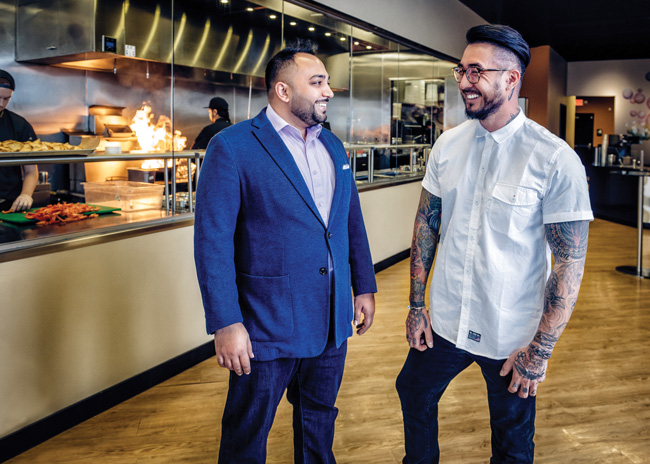 Co-founders Prakash Karamchandani (r.) and HoChan Jang. Images courtesy of Balance GrilleChipotle Mexican Grill, Five Guys, Panera Bread, QDOBA Mexican Eats — those are some of the most familiar names and groundbreaking concepts in the fast-casual segment that continue to set the pace in the category they helped define. But in the collective shadow of such Goliaths, there's a slew of up-and-coming concepts — some very new, some newly invigorated and primed for expansion — keeping the category fresh, dynamic and more diverse than ever.
Their menus range from classic comfort and soul foods to ethnic and fusion cuisines, plant-forward, diet-friendly and indulgent vegan. Their founders include entrepreneurial immigrants, opportunity-spotting friends and family members, and even corporate chains seeking new avenues for growth. But as different as they may be, they're all driven to satisfy consumer appetites for high-quality, flavorful foods, customization, speed and convenience while at the same time delivering unique brand experiences.
Balance Pan-Asian Grille
Founders:

Prakash Karamchandani, HoChan Jang

HQ:

 Toledo, Ohio
Menu focus: Asian-inspired bowls, tacos, snacks, bubble tea
Units: 6

Average check:

 $19-$20 per person

Ideal unit size:

 2,000 – 2,400 square feet
Founded in 2010, Balance Grille grew to four Ohio units over its first decade in business. Founders Prakash Karamchandani and HoChan Jang were raising funds to build additional corporate units when the pandemic hit. Those plans were put on hold and the two delved back in to hands-on operations, regrouping and refining the concept, reworking the store design and training systems, and finding new ways to improve operational efficiency.
Today, the clean-eating-focused, pan-Asian brand is back in growth mode through both corporate expansion and, since early this year, franchising. One franchised store has opened in Denver, another is opening by year's end in Dallas. Additional corporate stores are slated for Michigan next year. New franchised locations are coming to Denver and Phoenix. Early this year, Balance brought on equity partner Pivotal Growth Partners to accelerate growth, targeting approximately 40-plus locations over the next five years, primarily through multi-store area-development commitments.
The brand's founders are banking on key differentiators to propel growth. "There's no real market leader for Asian fast-casual, and our approach is unique," Karamchandani says. "Because our menu is pan-Asian, we can attract a wider customer base than brands focused just on Japanese, Indian or Korean, for instance."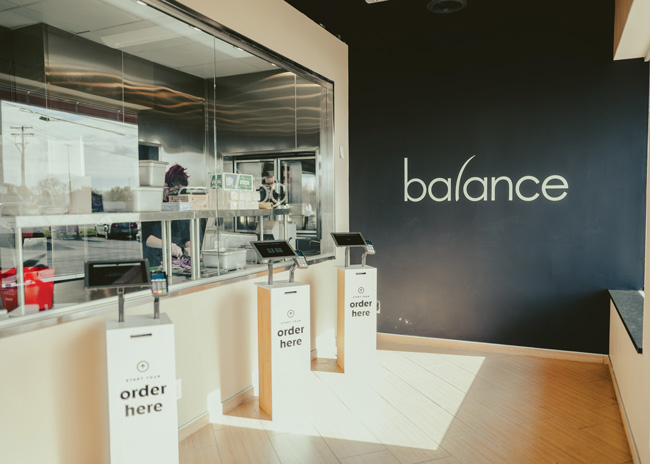 Balance touts high-quality, clean ingredients and highly customizable, vegetable-forward cuisine. Every menu item is available vegan or vegetarian, or with the choice of protein, and most can be ordered gluten-free, as well. Key menu categories include best-selling customizable bowls with classic sauces, fusion-focused tacos, sharable snacks/starters, and an extensive selection of bubble teas and coffee-based bubble brews. A new area of focus is seasonal LTOs.
The brand's newest design prototype features a clean, minimalistic black-and-white palette with light wood flooring. Accent graffiti is incorporated as a nod to the artistry of the food, and a live plant wall supports fresh and natural messaging. Kitchens are enclosed in glass for full transparency in cooking and order assembly. The company also operates an 8,600-square-foot hydroponic farm that supplies a variety of greens to its stores, as well as to other retail customers.
A highly tech-forward brand, almost all orders at Balance are placed digitally, with most coming through the brand's mobile app or in-store self-order kiosks. In-store dining represents just 20% of sales, and each unit includes an average of 16 to 24 seats. Kitchen operation systems are iPad-based, and staff training is facilitated with proprietary app-based programs that put all of the information employees need to learn and advance in the palm of their hands.