It's the time of year restaurant operators and their patrons love: It's spring. This means more desire to leave the house and along with that, the ability to eat and drink outside.
Outdoor seating is also a boon to operators, who can boost their profit margins with more seats. Here we offer six best practices for creating flexible outdoor spaces:
1. Blend inside and outside
Bring elements of the restaurant to the outside so the exterior seating feels like an extension of the interior, says Rick Conrath, principal, GTM Architects, Bethesda, Md., "so people don't feel like they're being kicked outside."
He likes to bring out lighting, or similar fabrics and chairs, or even pavers that reflect designs from the interior of the restaurant. Color is an easy way to blend the two parts of the restaurant, he says, and can be used in anything from seat covers to umbrellas and awnings.
And so this area doesn't feel stark, but still feels connected, make use of fire pits and plants to dress it up "and make it feel it's a bigger part of the restaurant," he says.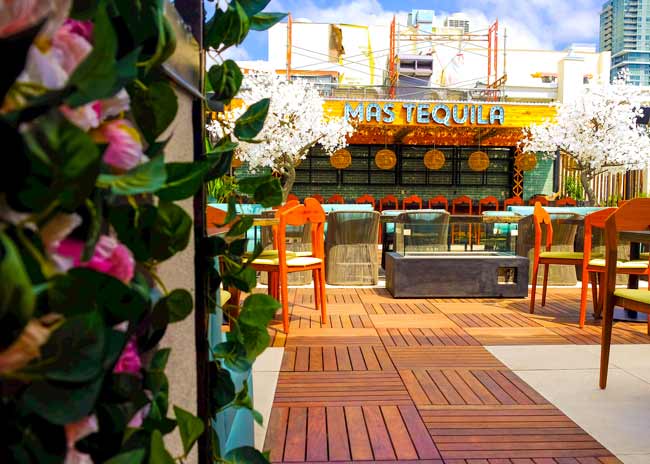 Villa One Tequila Gardens located in San Diego, Calif. Photos courtesy of GTM Architects
2. Always include a bar, even if it's inside
Steve Sorrell, vice president of commercial interiors with GTM, likes to build interior bars by an outside wall so restaurants can cut a pass-through and the bar can be used for the outside too. "Since the pandemic, we have been seeing more requests to have the bar service both interior and exterior customers," he says, and he's also used garage doors to really open spaces up.
Bars on casters can be easily wheeled to outdoor spaces for the season, or for events, then put away when not in use, says Vincent Celano, principal and founder, Celano Design Studio in New York City.
Conrath's working on an outdoors area that has a folding wall — usually hinged at the top and the bottom — that opens up to extend the bar area. "It helps engage, and people come out see that activity," he says. "It changes the dynamic — people want to become part of that outdoor seating area or they may be there for a pickup and end up ordering food."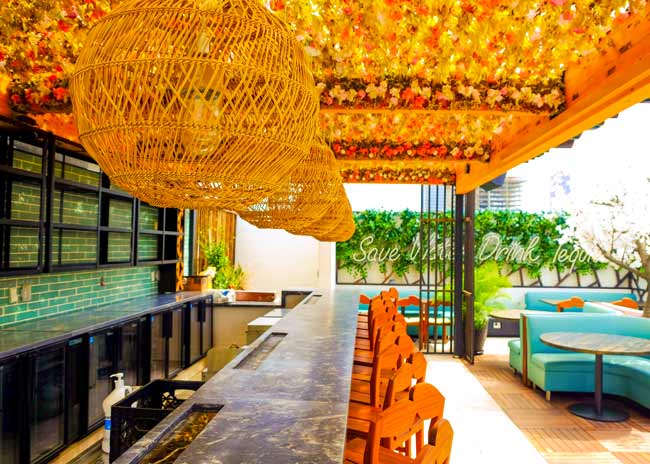 Villa One Tequila Gardens features a colorful rooftop bar.
3. Consider garage doors
Patios can be easily accessed through garage doors that close when not needed.
However, if you include garage doors, check your health department codes, advises Conrath, because if you incorporate them, the kitchen needs to be semi-enclosed to prevent bugs from entering. An obvious downside to garage doors, he points out, is the loss of air conditioning.
4. Plan for all weather
Spaces that are completely enclosed in the winter and include heat lamps or another heat source, can be used all year, but add in folding doors and they can be opened up to be outdoor spaces in the summer, says Celano.
Add hard roofs or semi roofs to provide shade or shelter, says Sorrell, and make sure furniture is lightweight enough to be easily moved and reconfigured.
Increasingly, Conrath is installing swamp coolers in outdoor areas, particularly in the South and Southwest. He's also seeing more mini split systems for air conditioning. "You just plug them in and they're ready to go."
5. Ensure you have storage
Because you probably won't want to leave furniture outside in the cold weather, ensure you have storage for it, either on-site or off. It's a good idea to have stackable chairs and foldable tables, all lightweight, says Celano, so it's easy to move and takes up less space. If you don't have space, you can always create one with strategically-placed screens, he points out.
Conrath prefers heavier furniture because it's harder to steal. And, he points out, "it can be a real pain to pack everything up at the end of the night, every night."
Villa One Tequila Garden segments its outdoor space with an array of seating options.
6. Make outdoor flexible for events or large gatherings
Zones can be designated as different or reserved with a certain color of umbrella or seating. Planters can also be moved around to open up and block access to keep events private or open up a space to all restaurant guests.
Screens are difficult on the outside, says Frank Cavanaugh, principal, Aria Group, Oak Park, Ill., because of potential issues with the wind. Instead, he prefers fixed screens.
Louvered trellis systems can also help with flexibility of patios, says Cavanaugh, and can make areas feel separate, while also protecting them from the elements. Roller shades can be added between columns that can't be moved, to create separate spaces. These can be made from clear vinyl, he says, so private areas can still see through them to the rest of the patio area. Some louvered trellis systems can even include electric heat, making an outdoor space flexible for different weathers.
Conrath is segmenting an outdoor area to be able to hold events like baby showers in the winter months, without disrupting interior business, enclosing the space with canvas and screens.