Golden Corral offers a wide range of choices. Prominent signage helps customers easily locate selections by category. Image courtesy of Golden CorralWith the COVID pandemic retreating, people are more comfortable returning to normal activity, including venturing to restaurants — even in packed indoor settings. This includes indulging in buffets. Declared dead by many as the pandemic took hold in 2020, the buffet concept seems to be a COVID survivor.
"I think buffets will always be a thing," says Nick Morales, design principal, Fishman and Associates. Offering large spreads of food in a self-service format has advantages that are especially compelling in settings such as casinos, cruise ships and universities, he says. Their ability to efficiently serve large numbers of customers without servers to take orders and deliver food to tables can be enticing for some restaurant formats as well, particularly given the current labor shortage.
Don't look for a new wave of buffet-style restaurants to sweep the nation, though. Morales's firm is working on several new restaurant projects, none of which will use buffets, and he doesn't expect to see many new buffet concepts proposed in the near term. But he does believe that those currently in operation can thrive.
Christina Oden, president, OMD I Corp., a general contractor based in New York, says she hasn't seen any interest in buffets from her restaurant clients and thinks the concept is moribund in her area. "In New York City, I would say restaurant buffets are not going to come back," she says. New Yorkers, who were hit hard in the early days of the pandemic, are still spooked by COVID. "Everyone is extremely health conscious," she says. "In other areas, buffets may come back."
Indeed, nationwide buffet chain Golden Corral reports that it has reopened more than 360 restaurants to date in 39 states and Puerto Rico. More locations are slated to open before the end of 2022.
If a buffet-style restaurant makes sense in your area, a few key principles should guide how you conceive your buffet line. Before moving to the design phase, though, you should nail down your concept and food offerings. "A lot of times, restaurants do the design and build-out before they finalize the menu," Oden says. "That's putting the cart before the horse. It's always best to first get the menu down to a T, including pricing and portions."
This corporate office buffet, designed by Ricca Design Studios, pairs vegetables and bread on one station. Combining choices in a logical pattern makes for smart buffet design. Image courtesy of BSI, LLC
Layout
This Golden Corral venue has a separate buffet station for fruits and salads. Segregating items by category fosters efficient customer flow. Image courtesy of Golden CorralThe menu greatly influences layout of the buffet line. "Different items have specific needs," Oden says. "For example, you'll have trays with shaved ice for a seafood raw bar."
You'll have to figure out how many cold wells and hot wells will be needed. Then, plan how to arrange the wells in a logical format. "You'll want to keep cold food together with cold, and hot with hot," Morales says. This makes it easier to keep food at the correct temperature and is more energy efficient.
New food well technology makes it possible to convert hot wells to cold wells and vice versa with just a push of a button. These products are pricey but provide flexibility when the menu changes. Keep in mind that it takes an hour to cool down one of these wells when you switch over from hot to cold, Morales points out, but switching from cold to hot is a faster process.
Flow
Ensuring that the buffet line flows well is key for a good customer experience. Arrange the buffet station so that customers proceed in a straight line without doubling back. "Pair like items together — meats with meats, starches with starches, desserts with desserts," Oden advises. Customers want to see all the options for each course at a glance rather than having to move around to assess all the options. "If you have to zigzag, it becomes uncomfortable. You are already conscious of people behind and in front of you. You don't want to see customers with the deer-in-the-headlights look, trying to figure out where they should go."
"Don't stick beverages in the middle of the line," Oden emphasizes. Many people put their food down on their table and then go back to the buffet to pour themselves a drink. If the beverage station is in the middle of the line, you could have customers converging in a chaotic scene.
Some buffet purveyors station utensils and napkins at the front of the line, but this arrangement can be problematic. At the outset of the line, many customers will not know which items they will choose, so they won't know which utensils they will need. It's better to place utensils at the end of the line so that patrons don't have to walk back to the front to grab a soup spoon or a steak knife.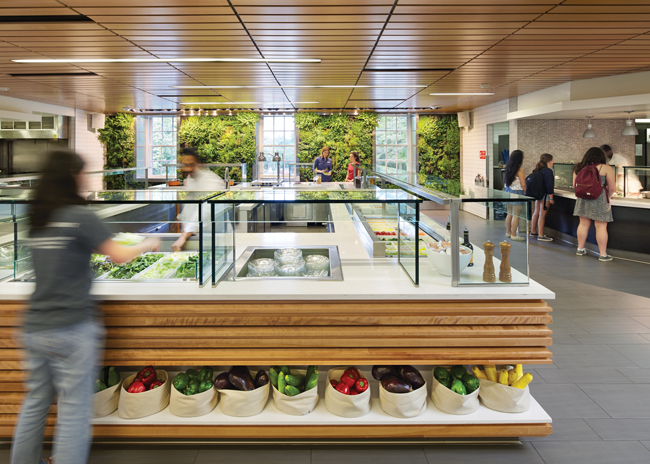 An appealing display of fresh vegetables beneath the salad bar at this Duke University eatery, designed by Ricca Design Studios, helps promote healthy menu choices. Image courtesy of Mark Herboth Photography LLC
Health
Drop-down dispensers are an efficient way to distribute silverware, Morales points out. You simply drop clean trays of utensils into covered dispensers, and customers just press a button to retrieve silverware. "This is a good solution for a pandemic situation," he says. Silverware is protected from coughing or sneezing patrons using this distribution method. Food guards or lids are a must for the same reason.
Buffet lines can be outfitted on shelves or cabinetry or created from freestanding stations on wheels available from specialty vendors. "A lot of times, freestanding units can be connected," Oden says. Like building blocks, this equipment is pieced together with the ability to share a source of electricity. These units have warming and cooling features, and some have hot and cold holding areas under the counter. Storing prepared food in these storage spaces saves staff from making multiple trips to the back of the house. It is usually possible to add some custom millwork to these units to dress them up.
Action Stations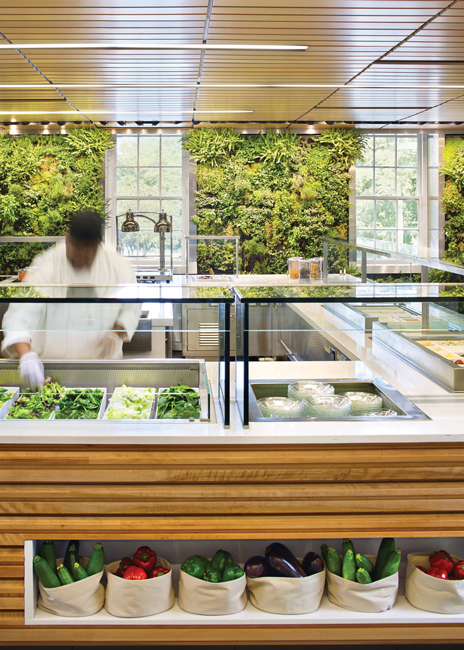 Undercounter cold storage can also hold ingredients for action stations, such as Mongolian grills, where patrons can obtain made-to-order dishes right on the buffet line. These features could also support omelet preparation during breakfasts and brunches. Such cooking stations add sensory appeal and a touch of class to a buffet line. "People like to see that the food is prepared fresh," Morales explains. The drawbacks, though, are slower customer throughput as people wait for their food to be prepared and the need to dedicate labor to the feature.
Where space is particularly tight, placing the buffet line along a perimeter wall typically makes sense. Allocating a narrow space between the wall and the buffet might be desired, especially if you will be offering some personal service, such as an action station like meat-carving. Where space is more plentiful, buffet stations in the middle of a room are advantageous as they allow customers access from both sides. This enables two lines to make their way through the buffet, speeding throughput.
Materials
Dirty and damaged surfaces are red flags for customers, indicating that the establishment's standards are subpar. Thus, material choices on customer-facing buffet elements should prioritize cleanability and durability. Quartz, which provides a low-maintenance, easy-to-clean surface, is an ideal choice for counters, Morales says. While some restaurateurs are enamored of granite, that material must be conditioned periodically, while quartz has no such requirement. Laminate, subject to cracking and chipping, is readily cleanable but less durable.
Buffet station facades experience less wear than counters, so laminate is an affordable, versatile choice here, Morales says. "Laminated panels allow you to swap them out every five to ten years," he says. "You can easily change the color and texture if you want."
For food guards, opt for tempered glass over less expensive plexiglass. The latter is subject to discoloring, making it look cloudy over time, and is more prone to scratching. For any custom millwork along a buffet line, use paint-grade or marine-grade wood so it will hold up against moisture.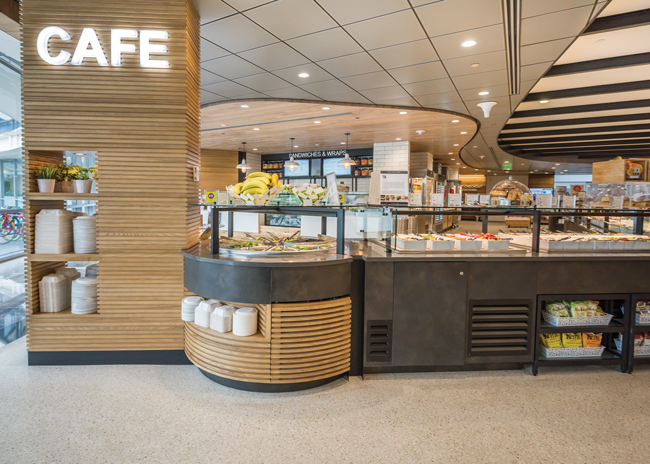 Image courtesy of BSI, LLC
Test
After constructing your buffet line, you should assess how it performs. "Walk the buffet as a customer would and see how it works," Oden advises. You might want to hold a soft opening for family and friends. Observe the flow of the line and note any bottlenecks. You may discover that repositioning an item or two makes for smoother operation.
It's worth tinkering with the layout because a well-honed buffet line is highly efficient at serving large groups of people with less staff. "You can set out food really quickly, which gives you higher table turnover," Morales observes. "You need only one full-time person keeping the buffet stocked versus multiple people plating and serving in a full-serve format."
A forward-thinking restaurateur might deploy robots to stock a buffet, Morales speculates. Some restaurants are already using server robots to deliver meals from the back of the house to tables. This eliminates some human interaction, however, and that might turn off some customers, many of whom patronize restaurants partially for a social experience, he says.
Even so, strategies to serve more customers with less labor are certainly appealing when labor is hard to come by. Buffets are a tried-and-true way to optimize your staff's efforts. This concept allows an establishment to offer a wide variety of dishes for patrons wanting speedy service. Don't forget, though, that close attention to detail is a must for a buffet to be successful.