Based in Baton Rouge, La., Rouj is a high-end Creole concept owned by City Group Hospitality. The restaurant, which opened its doors in 2019, was designed by Ritter Maher Architects, which handled both the architectural and interior design.

According to Steve Maher, principal with Ritter Maher, when creating the space, the owners asked for "an upscale dining restaurant that was authentic to the Louisiana culture and gives a unique experience." The spaced used to be occupied by a large casual-dining chain, so "to take it from being on one end, which is the most generic, cookie-cutter low design concept all the way to the other end of the spectrum, which is a more authentic, warm, inviting space the people of south Louisiana can relate to was a fun experience."

One of the challenges of this project was to have an open floor plan, as requested by the owners, but still offer different experiences. The designers achieved this by creating different zones using flooring, lighting and furnishings.

This can be seen in the banquette seating area, which is designed for more intimate nights out. This space features custom made bench seating with cushions upholstered in a soft but durable velvet-like material, according to Ritter Maher's Lead Interior Designer Samantha Bastion. Flooring in this section features a chevron pattern, while the light fixtures are smaller and more delicate than those found in other sections.

This space is also home to two murals hand-painted by a local artist, one celebrating Louisiana and the other Europe and its influence on Creole cooking.

Another featured piece in this section is an "R" sign, reclaimed from an old regional grocery chain.

"The neon was rehabbed but we did not repaint the sign. We wanted it to have that antique feel. We didn't want to brighten it up, just make it operational again," says Bastion.

The sign is one of just a few splashes of red in Rouj, she adds. While the restaurant's name means "red" in Creole, the color is used sparingly against a neutral color palette, helping it to stand out, along with the artwork and food.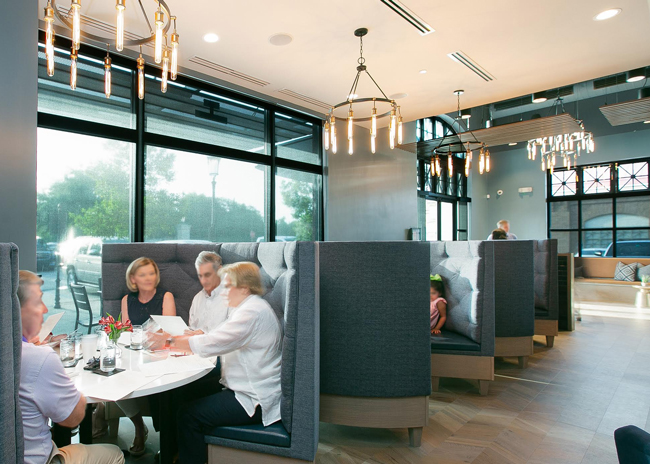 The designers also created private spaces for larger parties through the use of tall floating booths. These booths can seat six comfortably and are often requested by families or large parties that want to enjoy quieter conversation with their food.

According to Bastion, the booths were the brainchild of Rouj's owner. "He loves the idea of creating a room within a room. If a server is standing, they can see over, but when guests are seated, they really help keep the noise out. You almost feel like you're seated in a private dining room"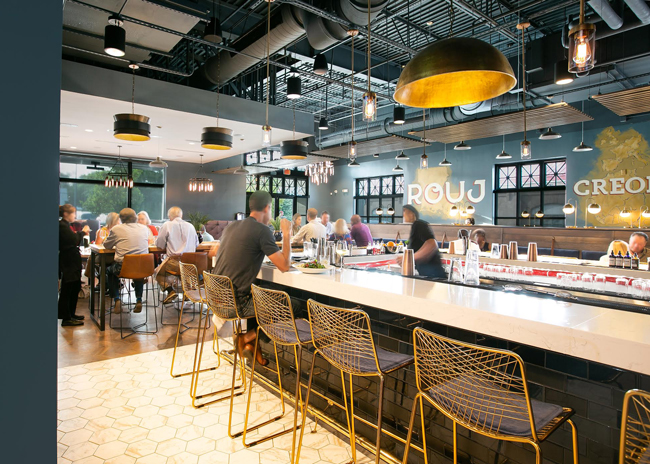 While the banquettes and booths both provide intimate settings, the bar and nearby high-top tables offer a livelier evening out.

This bar area is distinguished by its marble-look porcelain hex tile flooring and large light fixtures. The bar top is a solid surface material, while the face is clad in a dark blue tile.

"The bar is a mixture of gloss and matte finishes," Bastion says. "The contrast of the bar stools with the blue tiles is a really nice touch. It makes that area pop. It kind of sparkles and shines."


The chain created an additional section with the addition of a wine wall. This wall is a functional version of a screen, helping to separate the walkway to the restroom from the remainder of the restaurant without completely interrupting the space like a wall would, says Maher.

The walkway leading to the restroom also features Rouj's Instagram moment, another large mural featuring the Creole word for sweet.


"So many times that part of the restaurant can be overlooked. It was just a great spot for us. There was this big blank wall and so we asked what can we do here.This is a great spot where [guests] can go and have that picture and hopefully get some publicity for the restaurant at the same time," Bastion says.

During Louisiana's pandemic-induced lockdown, the restaurant provided carryout and delivery service, including meals for two with wine pairings. Thanks to relaxed state guidelines it is now offering outdoor dining.