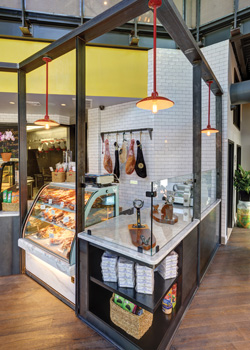 At Despaña Restaurant and Tapas Café in Princeton, N.J., the first floor is dedicated to retail space for Spanish food products. It was natural to provide a counter for takeout and delivery orders near the entrance on this level. A host station was placed next to the stairway leading to the second-floor dining area. Images by Michael Slack, courtesy of JZA+DFor most dine-in restaurants, to-go and delivery orders are a small but fast-growing segment of their business. Many are embracing the opportunity presented by the increased popularity of delivery services. Nearly 4 in 10 operators plan to invest more in expanding their off-premise segment in 2019, according to the 2018 National Restaurant Association Restaurant Trends Survey.
Third-party delivery services such as Uber Eats, DoorDash, Postmates and Grubhub make it easier for customers to dine at home on meals from their favorite eateries. Roughly 38% of adults are more likely to have restaurant food delivered than they were just 2 years ago, according to the 2019 National Restaurant Association's National Household Survey. Delivery is especially appealing to younger adults — half of Millennials say they are more likely to have food delivered than they were two years ago.
Even the fine-dining segment is getting in on the action, with 42% of such operators saying their takeout sales rose over the last 2 years, according to the National Household Survey. "Historically, popular opinion has been that places offering takeout are not as good from a culinary perspective," says architect Joshua Zinder, managing partner, JZA+D. "That has changed dramatically with online delivery."
As off-premise business increases, it puts pressure on existing systems and infrastructure to keep up. Operators must implement efficient methods to fulfill orders while ensuring that the to-go end of the business does not disrupt or degrade the dine-in experience.
Simple, inexpensive solutions can be enough to effectively service the increased delivery business. If not, a more significant remodel of the space may be required, depending on the growth rate of delivery service and how well the existing entryway, hostess stations and kitchen are set up to accommodate it. There is no one-size-fits-all solution, but if you follow a few key guidelines, you'll be able to devise space solutions and service protocols to meet the challenge.
Separate To-Go from Dine-In
At peak times, a long queue of pickup and delivery orders can impede the flow of foot traffic. Delivery people milling around the host station can make a chaotic first impression for dine-in guests. The best way to avoid these problems is to dedicate an area for customers and delivery people to pick up orders.
Full-service franchise Flying Biscuit has seen its off-premise business double from 10% to 20% of sales over the last few years as it partnered with app-driven delivery services. That hasn't required any major renovations of space, says Brent Fuller, brand leader for the chain. The front counter/bar area had a designated to-go/delivery section that was big enough to accommodate this growth.
Other restaurants have gone further to separate pickup from dine-in service. Evviva Trattoria in Marlborough, Mass., created a waiting area with a built-in banquette to hold to-go orders. Guests are encouraged to order appetizers and drinks in this area while they wait for their takeout, says David Rader, senior project manager for architecture firm Dyer Brown.
Rader is working on a prototype design for another client that will have two separate entrances, one for pickup and another for dine-in. Another Dyer Brown client is considering an innovative way to use a tried-and-true element. "The client is concerned about the guest experience and wants to use a takeout window exclusively for delivery services," Rader says.
Simple but stylish screens can be used to separate pickup from dine-in, Zinder notes. Elements such as recycled acrylics, which can be translucent or opaque, or half walls can be effective elements of demarcation. Hang a "pickup and deliveries" sign from the ceiling, or place one on a counter or even emboss it on a counter.
Sometimes, the footprint of the establishment enables an innovative approach. At Despaña Restaurant and Tapas Café in Princeton, N.J., Zinder took advantage of the building's three levels. The first floor is dedicated to retail space for Spanish food products. It was natural to provide a counter for takeout and delivery orders near the entrance on this level. A host station next to the stairway leads to the second-floor dining area.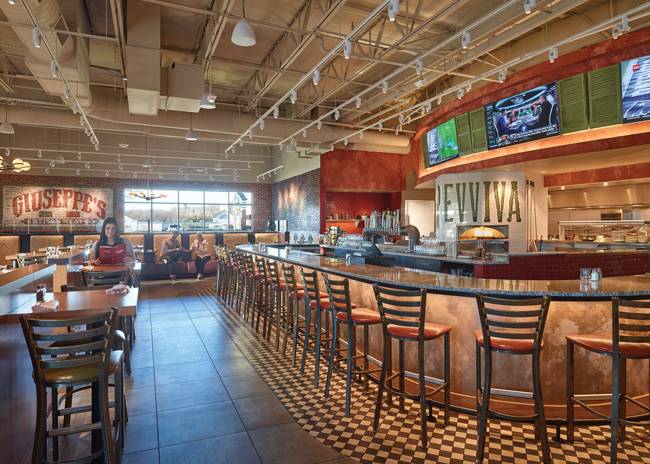 Evviva Trattoria in Marlborough, Mass., created a waiting area with a built-in banquette to hold to-go orders. Image by Jared Kuzia, courtesy of Dyer Brown
Stage Orders for Efficiency
The key space modification for Flying Biscuit's delivery service has been the addition of heated shelving to hold orders until they are ready for pickup. The 8-foot-high by 5-foot-wide by 2-foot-deep warming cabinet holds up to 10 orders at a time on 5 wire shelves. A to-go specialist, an employee dedicated to off-premise orders, picks up orders from the cabinet and hands them to delivery people upon arrival.
The orders are placed in high-end reusable plastic containers that maintain the proper internal temperature, Fuller says. It's important that the warming element be set to the right level to hold an optimal temperature taking into account the type of material used for the container. Orders are bagged and tagged to identify them before they are placed in the staging cabinet.
Other staging options include shelves built within millwork, soffit areas above takeout counters, or built-in banquettes, Rader says. "There are also manufacturers that make custom tables for warming and chilling," he says. A refrigerator for salads and desserts can be discreetly placed under a bar or counter.
Outside, some restaurants have dedicated a few parking spaces for pickup and delivery. For maximum efficiency, locate these in front of a separate door earmarked for off-premise business.
Russo's New York Pizzeria, a 50-plus-location franchise based in Texas, uses a design that neatly separates pickup and delivery from dine-in as if the former is almost a stand-alone business under the same roof. Anthony Russo, head chef and CEO, says the chain's newer sites have a walled-off 10-foot-by-15-foot area next to the kitchen exclusively for to-go orders. Pizzas and other items are stacked in warmers, awaiting delivery drivers. Located behind the beverage counter, this area is equipped with two point-of-sale systems and two to three phone lines to take orders. Drivers come and go discreetly through a dedicated back door.
The walls provide acoustic separation between the delivery area and the full-service dine-in space. "Nobody wants to hear phones ringing while they eat," Russo explains.
Consider a Ghost Kitchen
A surefire way to ensure that pickup service does not interfere with the dine-in experience is to establish a ghost kitchen. Located off-premise, a ghost kitchen prepares and cooks orders for delivery. This concept is gaining adherents as the popularity of food delivery services spikes.
Some entrepreneurs have set up ghost kitchens to rent out space to restaurateurs. For example, Uber Co-Founder and ex-CEO Travis Kalanick operates a ghost kitchen facility in Los Angeles. Uber itself reportedly has a pilot program in Paris, where it rents out commercial-grade kitchen space to restaurants selling food through Uber Eats.
Other ghost kitchens have popped up in cities around the U.S. Finding a location for a ghost kitchen close to the restaurant's existing customer base is recommended because prompt delivery to ensure food arrives fresh and hot is paramount.
Kitchen Tweaks
Most establishments have made only minor adjustments to the back of the house to accommodate more to-go orders. Those with open kitchens merely need to designate an area near the counter for this side of the business and add a warming station. Positioning of the latter element is important: Put it close to where workers will grab the order and hand it to the customer or delivery driver.
Some restaurants, such as Russo's New York Pizzeria, dedicate a staff member solely for pickup and delivery orders. This employee uses a separate POS system and functions as the fulfillment manager for all delivery sales. For this concept to work, the volume of off-premise sales has to reach a certain level to justify paying for this dedicated task.
Balancing Delivery Investments With Profitability
As the delivery business grows, operators have to reassess how they allocate space and invest in items to support growth. For instance, dedicating a refrigerator shelf or two for off-premise orders may be a suitable solution for now; however, as the delivery business grows, buying a refrigerator solely for to-go orders may become necessary.
Most owners are reluctant to reduce the number of revenue-generating dine-in tables; however, if delivery business grows apace, more space may be needed to fill and distribute off-premise orders. Some operators may have to consider rearranging a small portion of the dine-in area, even eliminating a table or two.
If delivery is an important part of your future, closely monitor growth of this market segment and its impact on the dine-in experience. Be prepared to adjust your space design and operations accordingly.