The arrival of spring may bring daffodils and gentle breezes, but it also signals the arrival of restaurant patrons who want to sit outside.
For restaurants with the space, outdoor dining can make an attractive and profitable destination. But these areas can't be an afterthought. "They have to be an integrated part of a restaurant's brand," says Howland Blackiston, owner, King-Casey, Westport, Conn. This means continuing colors, themes, decor and the general vibe of the indoors, which strengthens the overall brand.
"You want the outdoor space to be an extension of the interior of the restaurant, for the sake of continuity of experience," says Michael Harris, general manager of The Katharine Brasserie & Bar in Winston-Salem, N.C. The only time you might deviate from this, he says, is if you're offering a different menu, or concept, outside.
In general, however, try to position your outdoor space in relation to the sun's path, says Chris Michero, creative director, Duncan Miller Ullmann, Dallas. "Creating even just a small outdoor space enhances the guest experience; even if it's only used as a view from the interior," he says.
Visible or an Escape
Outdoor dining spaces can be located anywhere. In cities, they're usually on sidewalks, but they're not uncommon in backyard areas or even in gardens or on rooftops. If you have a choice, "it's best to put the outdoor space in an area of the most direct sun exposure, and then add in awnings and umbrellas," advises Michero.
These exterior spaces can be one of two things; Ideal people-watching spots where sidewalk dining can immerse guests in the neighborhood or as escapes, with landscaping and furniture offering the illusion of taking diners to another place.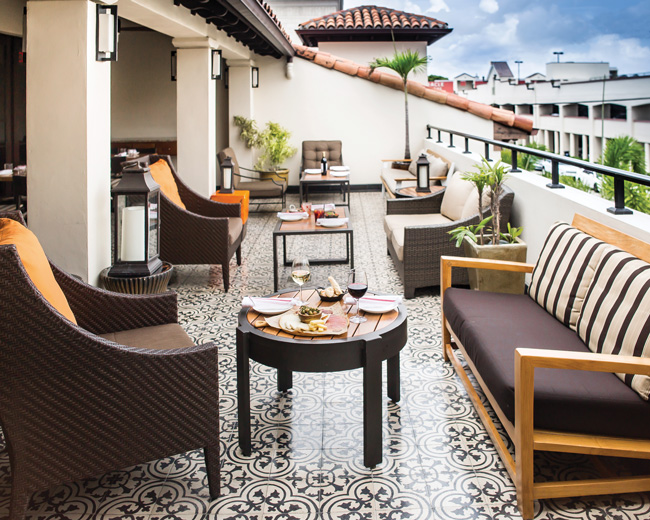 As Miami's Bulla Gastrobar expands, designer Vincent Celano hopes to maintain the strong patio element in each new location. Image courtesy of Bulla Gastrobar
Michael Harris says you should make the best of whatever you have. "If you have a great view of a sidewalk with ideal people-watching vantage points, you should minimize landscaping, as an example, to give your patrons an element of activity. If, however, your sidewalk is quiet, ramp up the landscaping with extra coverage to create an escape."
Outdoor spaces need to be designed in the context of their surroundings, says Justin Cucci, executive chef/founder of Edible Beats restaurant group in Denver, which has four restaurants with outdoor seating. "The more dynamic the view, the more you need to let your design recede into the background. Offer some comfortable chairs, neutral-colored tables and some greenery, which creates more than enough design to make an outdoor space successful," he says. "When you have beautiful surroundings, let them come to you."
Zones and Barriers
Cucci is a fan of creating zones, when possible, outside, "otherwise it can feel one-dimensional," he says. And, there's the safety aspect. "People instinctively want to feel safe and like to be by walls and in smaller spaces."
He creates zones with elevations and different tables, awnings, umbrellas and planters. Zones, he says, also create a sense of discovery for your guests.
Cucci's restaurant Linger, in Denver, has a huge rooftop dining and drinking area that's around 4,000 square feet and has six different zones. Zone 1, near the bar, offers high-top tables. Zone 2 features couches and a great view of the city. Zone 3 is a formal dining area. Zones 4 and 5 are under shade and heated. Zone 6 has an RV that functions as a bar where people can get a drink or wait for a table.
An additional advantage of having so many zones is that during slower times Linger can just open some of them and keep other parts of the roof sectioned off.
Even in smaller spaces, Cucci is a proponent of zones. At Vital Root, which has just 14 tables, he used planters to divide the area. "It makes it interesting and dynamic, and you can have something between tables that are just two feet apart," he says.
the curtain London's Lido restaurant at The Curtain Hotel features a retractable glass enclosure that makes half of the outdoor space useable no matter the weather. Image courtesy of Adrian Houston a.houston10
Candice Alinovich, a lead designer for The McBride Company in Manchester Center, Vt., says you can create zones simply, with material transitions and color, that can make a space feel a bit more intimate. Different flooring materials can also help create zones, as can elements like cabanas.
Zones work well but create a fine line to walk because you also need continuity between them as well as an outdoors that flows well with the interior, says Cucci.
"Everyone needs to feel they're part of the whole," he says, so don't make plant walls too high or push tables into a corner.
And ensure traffic flows simply inside, too. Cucci is a fan of making outdoor guests come through the restaurant first, both to keep track of them, "and to allow your guests to experience a part of the restaurant they might not ordinarily experience if [the outdoors] has its own entrance."
Even if you have no zones, you need a barrier around your outdoor area if it's on a sidewalk and something to break it up. Real plants keep the naturalness of a space, or Alinovich even sometimes uses preserved plants and trees, which require less maintenance.
Blackiston is not a fan of using artificial plants because they tend to not communicate the fresh feel most restaurants these days want to portray. "They are lower maintenance, but you still have to clean them," he points out. "If it's too much to maintain, pick a different plant or don't use potted plants. It's probably best to have real or not do it at all."
Michero says when circumstances only permit artificial plants, "we find creative ways to keep them a bit farther from guest traffic to keep the illusion." Items like plants can also work as blocks, he adds, against noise or visual distractions like headlight beams or sunlight reflecting off windshields.
Extra Elements
Cooler weather can put a damper on outdooring dining, but there are options to warm things up — and to set a mood with both fire and water.
"Things like fire pits are a great feature in an appropriate space. We like anything that can be done to create an outdoor room, enhancing the overall dining experience and atmosphere," says Peter Niemitz, head designer for Smith & Wollensky Restaurant Group and president of Niemitz Design Group, Boston.
Who doesn't love a fire pit? "It just attracts people in colder weather," says Harris. "You have the fire for warmth, and along with the food, it creates a destination." But you must do fire pits correctly, he says. There should always be a seating element to a fire pit — if not, he's more of an advocate of heat lamps. "Remember, if the fire pit takes up the space of two tables, it takes away that revenue. But if you have seating around the fire pit, you've incorporated a premium seating space."
"Everyone loves a focal point, especially ones that enhance sight and sound," points out Michero. "Plus, fountains can help with background noise, and fires create comfort and intimacy in the evening."
Multiple Season Design
With few exceptions, most outdoor dining spaces are not used year-round. It gets too muggy or too cold to make them feasible, depending on the climate. Closing your outdoor space for the season is something to consider. For example, where are you going to store all the furniture, barriers and planters?
And you have to ensure the off-season patio doesn't look like an abandoned space, says Alinovich. "It still has to have an appeal or a design element about it. So. you'd leave the planters and move everything else away."
Michero designed The Curtain Hotel's Lido restaurant, in London to weather the long English winter but to be open in the summer. "We designed the space so half of this outdoor venue is walled and roofed in a glass enclosure, nestled up against an industrial metal wall. It has a glass ceiling that can slide to become a fully open rooftop. The exterior glass wall that halves the permanent outdoor space from the main dining and lounge can also slide open on both sides to make the entire space one venue." This, he says, is great in the warmer months, "because it's all about keeping the energy connected, so if one area is less populated it can vibe off of an adjacent space."
And when the exterior is closed off in the winter, "guests are still able to enjoy the view of the sparkling festoon lights, lit mosaic pool and the beautiful city skyline beyond from the warm indoors," he says.
Vincent Celano, owner of Celano Design Studio in New York City, is a big fan of indoor spaces that completely open up to become outdoor spots in the warmer months. He often uses louver systems that can be opened electronically or manually and panels (usually glass, Plexiglas or vinyl) that can slide or scissor fold back on themselves. Designs like this, he says, "are costly, but pay for themselves with the extra tables you allow for and the extra year-round revenue."
Celano designed Bulla Gastrobar in Miami, and the brand is now expanding, but he's hoping to keep the strong patio element in all states to keep it consistent. So, he's using panels for flexibility. Another benefit of these, he says, is they can also act as a shade structure and have fans incorporated.