Many Americans are losing their inhibitions, at least when it comes to choosing to sit down and dine next to strangers. Communal tables are fast becoming familiar features in concepts that range from the hip and trendy indies that introduced them more than a decade ago, to fast-casual upstarts and the biggest of QSRs.
Stanya LeMay, design manager at Interior Systems Inc. (ISI), a Milwaukee-based design/build firm, says communal tables are now included in 95 percent of its restaurant projects. What's more, they're going into units in markets of every size all over the country.
"The trend has been developing over the past five years, but has become extremely powerful the past two years," LeMay says. Technology gets much of the credit, she adds. "It used to be that we all felt we needed our three feet of personal space. Now we can create our own personal space with our smartphones, our laptops or whatever gadget we have in front of us. We can choose to engage with others at the table, or we can engage with our technology."
Two years ago, the idea of incorporating communal tables was a much harder sell to clients, LeMay says. "They'd insist that there was no way their guests would be comfortable sharing a table with strangers. They've now seen that that's not the case. We've found that the seats at those tables are the ones that fill up the quickest and with a broader mix of people than you might expect."
In a QSR setting, she recommends that communal tables seat from 8 to 12 guests and be at least 30 inches wide to ensure that everyone has enough space for both food and gadgets. Typically, they're situated across from the service counter, maybe 10 to 12 feet away, and offer a good view of a television. Regular and bar-height tables work well, though lower tables are best in smaller spaces, she says. Where space allows, taller and larger tables can become iconic design elements. In every segment, locating the tables near a power source for charging tech gadgets is important.
Darren Tristano, executive vice president at Technomic Inc., says the trend is all part of a broader attempt by contemporary restaurants to offer versatile, mobile and flexible seating options.
"Communal tables help meet the growing need for restaurants to provide platforms that fit an array of consumer occasion sets," Tristano explains. "They're also particularly appealing to millennials, who look for restaurant destinations that can accommodate their desire to socialize, graze and linger."
Here's a look at how three operations, a fast-casual independent, a QSR leader and a full-service independent, have successfully incorporated communal tables.
Lincoln Station, Crown Heights, Brooklyn, N.Y.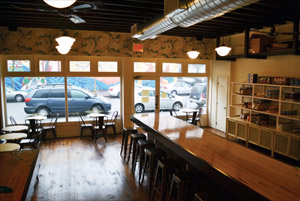 Opened in January, Lincoln Station is one of three Brooklyn restaurants owned and operated by Jacob Somers and Emiliano Coppa. Somers describes Lincoln Station, the most casual of the three, as a neighborhood café and deli that's loosely based on an Italian rosticceria (quality takeout).
At 1,200 square feet, the space can comfortably seat up to 32 guests — 16 of them at its custom-made 7-foot communal table. Made from reclaimed bowling alley wood, the table includes a base that's wired with three outlets on each side to handle charging up to a dozen cell phones, tablets or laptops at a time.
"My partner is from northern Italy, where it's somewhat Germanic and you find a lot of communal tables, and I'm from Northern California farm country, so big family-style farm tables are part of my background, too," Somers says. "Also, in Brooklyn, space is always an issue, so it makes sense in our restaurants. We have [communal tables] in all three."
During the day, Lincoln Station's communal table caters largely to the laptop crowd — freelancer writers, designers, bloggers and others who come for food, coffee and a comfortable spot to work. At night, "it's like a beer hall kind of experience," Somers says. "They sit and have their beer and eat their sandwiches. It creates a strong sense of community. All of these people who would normally be sitting by themselves at separate tables and never talking to each other are instead becoming friends."
He adds that communal tables provide better options for managing single-party seating. "You look around at some café-type places, and it's all little tables for two with one person and a laptop at each. We brought it all together and put the chargers at the communal table. It lets us keep other tables freed up for families or couples instead of for someone coming in alone and occupying a two-top for three hours while they work."
McDonald's USA, National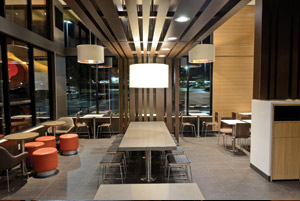 Over the past several years, McDonald's has installed communal tables in many locations as part of its mission to be as relevant as possible to as many consumers as possible, and to play to the changing ways consumers use restaurants. Danya Proud, a spokesperson for McDonald's USA, points out that while 65 percent to 75 percent of the company's business on a national average is drive-through, those same drive-through customers are also increasingly coming inside and looking for a different experience.
"For example, a mom who may be on her way to drop the kids off at school might drive through to grab a bite for them on the way. But that same mom might come back later on, maybe for a business meeting or just as a place to open her laptop, connect to free Wi-Fi and get some work done," she says.
Offering different types of seating, including communal tables, is a big part of being able to deliver the type of in-restaurant experience more consumers seek today, she says. "If you think about where we were 15 or 20 years ago, you remember the fiberglass seating drilled into the floor. Everything was on one level, there was one table design and a lot of booths. And if you think about how people's experiences out of the home have evolved, there's a need and desire for more moveable, comfortable seating. It's not unique to the restaurant industry, but it's certainly something that we've seen as a growing trend over the past several years."
Communal tables, she stresses, are just one element of McDonald's overall in-restaurant redesign. "It would be misrepresentative to say that they're in all units or a set part of our new design. It's more that comfort is part of our new design, and that takes form in a number of ways," Proud says. "In the context of the overall experience, we're adding new options to our menu that are driving in a different type of customer. Things like oatmeal and salads, perceived better-for-you items. Communal seating is part of what we're doing for the overall experience that's being really well received. I was at a location across from our headquarters this morning and sat at our communal table. There were five other people sitting there who did not come in together. I can't make a broad generalization, but I can say that they're being well used in many of our operations."
Oak Tavern, Miami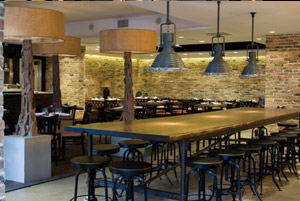 When chef David Bracha began planning his second Miami restaurant, Oak Tavern, he knew he wanted to incorporate a communal table. It fit well with the concept he had in mind — a casual, accessible, comfortable place with top-quality food — and with his notion of hospitality.
"When you own a restaurant you're kind of inviting people into your home. It's that kind of feeling that I want to create," Bracha says. "I was in Los Angeles before we opened Oak and visited a restaurant that had a big communal table. I decided that the next place I did would have one. Now that I've done it, I love it."
Oak Tavern, which opened in late 2012, seats approximately 140 in a total space of 3,700 square feet inside and 1,800 square feet outside. The communal table, made from reclaimed Florida cypress on a custom-made metal base, measures 16 feet long and seats up to 22 guests. Positioned between the bar and the dining room, and near glass doors that open out into a front courtyard, it's the best seat in the house for watching all the action, according to Bracha.
He notes that in a full-serve restaurant the communal table does present logistical challenges. The restaurant does not take reservations for the table, so it's first come, first served. Also, when the bar fills up, guests often grab a seat at the communal table because of its proximity, which can get confusing for servers.
"There's no structure to it, so you just have to be prepared to deal with that," he says. "There's definitely a learning curve."
Oak Tavern dedicates one server to the communal table. "We quickly learned that it's too complicated for someone to try to take care of that table plus others," Bracha notes. "We also provide a second server to back that person up. It's a lot to keep track of because people come and go at different times and are at different stages of their meal. You can have two deuces, two four-tops, a five and a couple of solo diners all at the same table, so it's really its own station."
Despite the challenges, Bracha says the table has become a key part of Oak Tavern's appeal, and it's done exactly what he hoped it would.
"I was watching one night at around 10:30, and there were two women who had come in together plus a party of four or five [other customers] who sat down later. They were so different, and all of a sudden they're talking, hanging out, drinking and laughing together. It definitely works. People respond to it."