Better burger fast-casual franchise MOOYAH Burgers, Fries & Shakes unveiled its updated prototype in Hoover, Ala.
MOOYAH's new design includes the following changes:
New dining areas and seating arrangement. MOOYAH restaurants now feature more community-minded seating areas with high-top tables. New buildouts will also showcase a flexible seating area where guests can move tables to accommodate larger parties in addition to booth seating. Additionally, a bench has been added near pick-up order shelving so guests have a dedicated place to wait.
Purposeful third-party and to-go areas. To keep up with consumer demand, MOOYAH now provides a designated area for shelving that holds pick-up orders.
Closing off the kitchen. Up until now, MOOYAH has featured open kitchens, but after gathering guest feedback and tapping into layout best practices, MOOYAH is now closing off the kitchens to create an improved guest experience, focusing on dining room elements.
Going digital: All locations moving forward will feature digital menu boards as well as back-of-house kitchen display systems to enhance throughput and accuracy.
Logo refresh: MOOYAH has updated its logo to a more streamlined, modern application, which began rolling out systemwide in January along with remodeled locations.
The new prototype and design come at a critical point for the brand, as the company is actively ramping up franchising efforts in new as well as existing markets across the U.S. MOOYAH plans to open 14 new locations in 2020, all of which will feature the updated design. The second new restaurant to open with the prototype will be in Orlando, Fla., in March, and two additional restaurants are being remodeled this month in Fitchburg, Wis., and Metairie, La. In addition to the new locations that will be opening with the elevated design, the franchise will work with franchise owners to remodel 10 additional existing locations in 2020, and all existing locations will remodel to the new design by the end of 2024.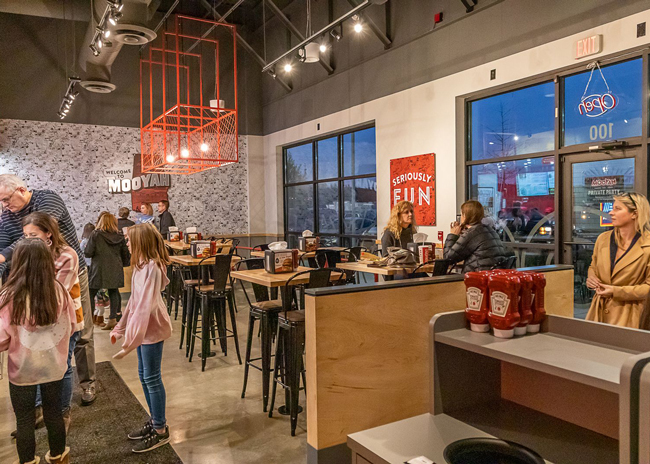 The remodel was visualized in collaboration with Livit, a Madrid-based company specializing in guest experience design. Livit's research involved a full brand immersion which included dining at multiple MOOYAH locations, as well as at competitor restaurants. Livit worked closely with the MOOYAH leadership team to complete brand analysis, concept rebranding, concept design and the eventual prototype.
"This new design and layout has set MOOYAH up for our next phase of growth," says MOOYAH Burgers, Fries and Shakes President Tony Darden. "This new approach allows us to be more accessible to our guests in the manner in which they want to enjoy their dining experience, whether that be through dining in, pick-up or delivery. We are confident this elevated design positions us extremely well to achieve our short- and long-term franchise development."