In July, Eggs Up Grill opened its first company-owned restaurant, in Spartanburg, S.C. This location is breaking ground in a number of ways: It features the Spartanburg-based company's new prototype and it's designed to help the company achieve the growth it envisions.
And that plan for growth is ambitious. Currently operating 36 locations in three states (10 of which have opened in the past 12 months), Eggs Up, which opened in its first location in 1997 expects to have more than 40 restaurants by year's end and to open more than 15 in 2020. Geographically, the growth will initially concentrate on the Southeast to tap into the brand's recognition, operational efficiency and support.
CEO Ricky Richardson talked to rd+d about the development of the brand and the new prototype.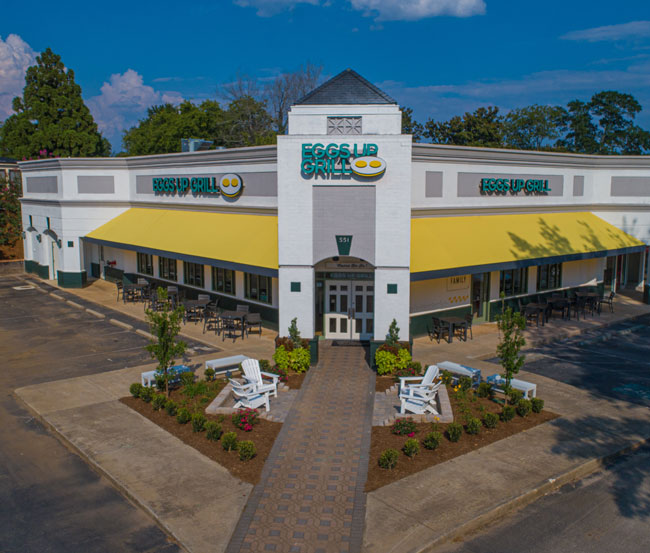 What are your goals with the new prototype?
RR: First, we want this space to be right for our guests. We want them to experience an opening and welcoming ambience with refreshing comfort that is unpretentious and charming. We want Eggs Up Grill to be a place that's truly home to the whole neighborhood, a gathering place that feels light, clean and comforting.
Operationally, we want our franchisees to experience a restaurant that is efficient to operate and conducive to successfully learning the ins and outs of our brand as they prepare to open their own Eggs Up Grill in their community. By having a test kitchen and classroom space, we're giving new franchisees the chance to learn in an environment that sets them up for success.
The new prototype also offers a meeting room that can be used by community groups, as well as classroom space for trainees. There's a coffee counter, serving hot and cold specialty drinks and the option to purchase grab-and-go food items like breakfast sandwiches, wraps, yogurt/fruit parfaits and warm muffins.
We'll also be using our new restaurant to continue to improve Eggs Up Grill, from incorporating technological tools and improved training processes to testing new menu items and features like the grab-and-go counter. The counter is intended to help us continue to explore how we assist our franchise partners in growing their topline sales both within and outside the four walls of their restaurant.
We're currently developing the integration plan to bring this design to new restaurants as well as existing franchise restaurants that are refreshing or reimaging their look.
Eggs Up Grill's new prototype. Images courtesy of Eggs Up Grill
How do you expect it to help with your expansion?
RR: To be a best-in-class franchisor, Eggs Up Grill will be top-notch at preparing our franchise partners to be successful in their own restaurant. Being hands-on every day in a company-owned and -operated restaurant allows our team to experience, each day, every aspect of the business our franchise partners do. That includes everything from development to recruiting and training a top-quality team to successfully executing day-to-day operations. Having this restaurant, training center and test kitchen in our backyard allows us to immerse our new franchise partners in the brand culture and training. As we fulfill our aggressive expansion plan, this flagship restaurant will play an integral role in continuing to evolve the highly successful Eggs Up Grill brand.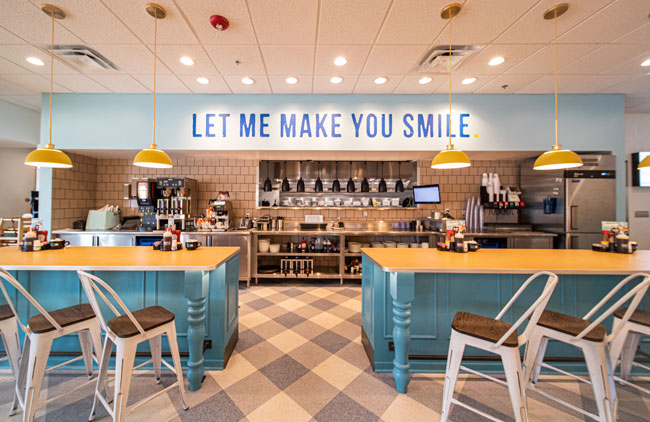 Eggs Up Grill's new prototype features a bright and cheerful color scheme.
How is the new location divided up?
RR: Everything operates together as part of the overall experience. Our guests will walk in and experience the atmosphere, the food and the service in our restaurant. A new franchise partner may greet them at the door, help prepare their dish or serve their table as part of the training — working side-by-side, our team members and support staff.
As part of our menu innovation work, our guests may also order food that's only on the menu at this location. The winning dishes will be something we'll roll out across our franchise locations.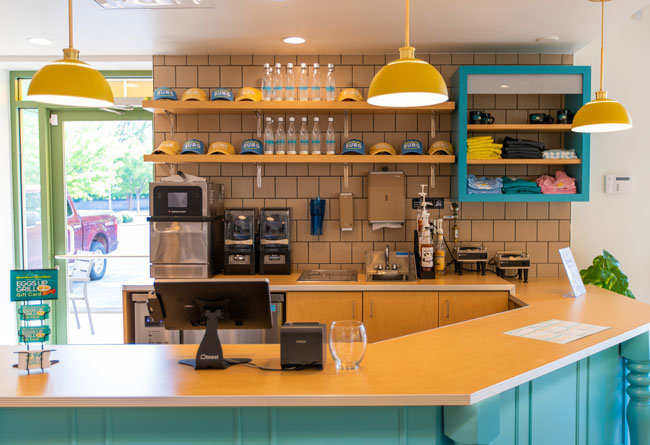 Eggs Up Grill new prototype features a grab-and-go counter.
Eggs Up Grill draws franchisees that are not typically drawn to the restaurant industry. Why is that?
RR: Because of the simplicity of the model and the enviable work/life balance (no night-time work) that the restaurant's hours afford, Eggs Up Grill doesn't require franchisees to have restaurant experience. In fact, 60 percent of the franchisees have diverse non-restaurant backgrounds including schoolteachers, insurance salesmen, pastors and more. The majority of the franchisees joined the brand based on their great experiences as guests.
From a support standpoint, Eggs Up Grill works one-on-one with franchisees from the first point of inquiry to the restaurant's opening — and beyond. The brand team has a strong support program that encompasses training, food safety, operational best practices, marketing, P&L support, analysis and more. Franchise business consultants partner with franchisees for ongoing support.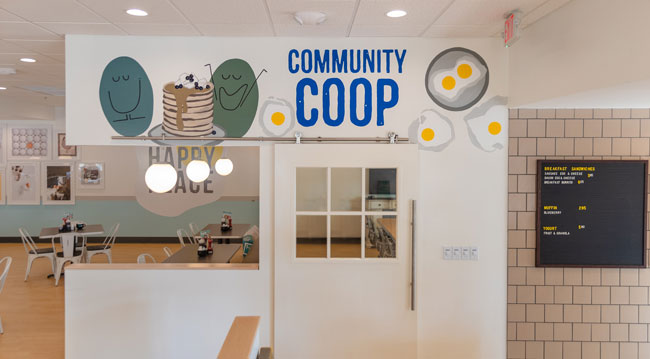 Eggs Up Grill features some localized design elements.
Do you plan to grow mostly via franchising?
RR: Eggs Up Grill's growth strategy is multipronged: Encouraging existing franchisees to continue investing in the brand and signing new, single-unit franchisees who are looking for a business to operate, as well as attracting multi-unit, multibrand franchisees looking for the next brand to add to their portfolios.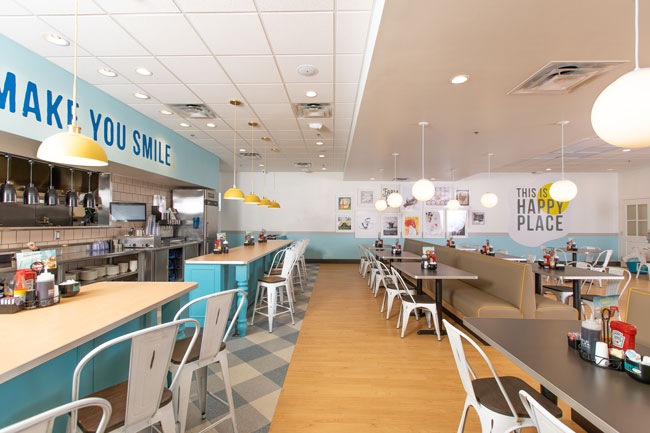 Eggs Up Grill new prototype features a variety of seating options and styles.