Everything's bigger in Texas, and Front Burner Restaurants has embodied the lone star state in one new 22,000-square-foot, three-story restaurants concept located in the Dallas suburb of Plano.
According to Judd Fruia, director of operations for Front Burner, at Haywire "each floor has its own lounge, its own patio, its own vibe and culture. You can have multiple experiences based on that."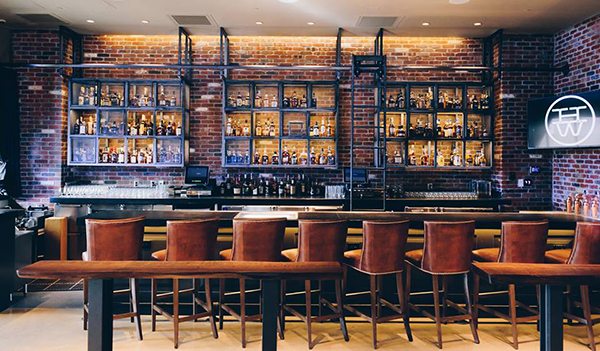 Haywire's first floor is an open seating lounge/bar area with high-top tables and couches. This section of the restaurant, says Fruia, is designed with a rustic look, including reclaimed wood on the walls, metal cages for liquor on the bar back and rebar built into the hostess stand.
"It's an homage to that old school West Texas, Central Texas look of iron, rebar, and oil derricks. That's what we're trying to portray. It's a comfortable feel, but also upscale," Fruia says.
Haywire's second floor has a mix of spaces. The restaurants private dining room features a large hardwood table and leather seating for 50. In addition to a see-through wine storage room, with 350 SKUs, the private dining area has an attached wraparound patio that can expand the space to serve another 50.
The second floor is also home to the concept's main dining room, a huge space with booths and tables. The flooring in this area, like on the first floor, is polished concrete, while wall art includes a mural-sized photograph on metal of a Texas landscape.
The dining room features the restaurant's open kitchen, which serves all three floors, and is accessed by service stairs and a service elevator. The open kitchen, says Fruia, helps add energy to the environment.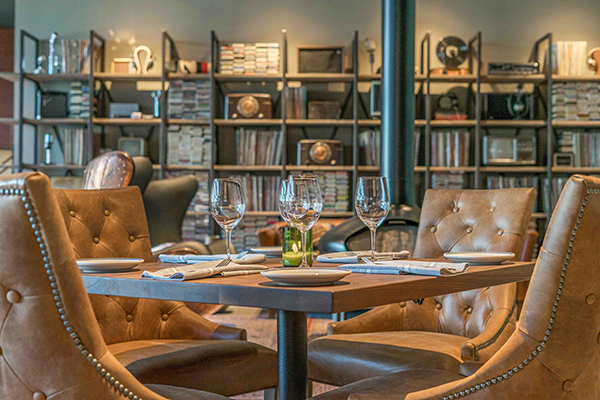 The second floor also features the library lounge, inspired by the Front Burner team's visit to a public radio station in Marfa, Texas, a well-known artist community in the western part of the state.
"It had LPs, it had CDs, it had eight tracks. Decades of music. So we did a little homage to the NPR radio down in that area," says Fruia. The space is popular for before or after dinner, drinks and dessert.
While Marfa served as the inspiration for the lounge, the second floor's patio area was inspired by Big Bend Ranch State Park. It includes park-like picnic tables and another photo on metal, this time of the park itself, along with a set of a coin-operated binoculars.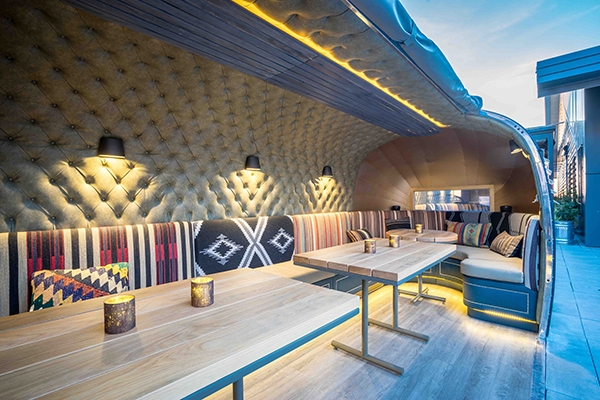 The restaurant's third floor is all outdoors. The centerpiece of this space is an Airstream trailer that's been converted into a mini dining space with its own heat and air conditioning as well as its own stereo system. Thanks to these features, the trailer is a good spot for smaller private parties, Fruia says.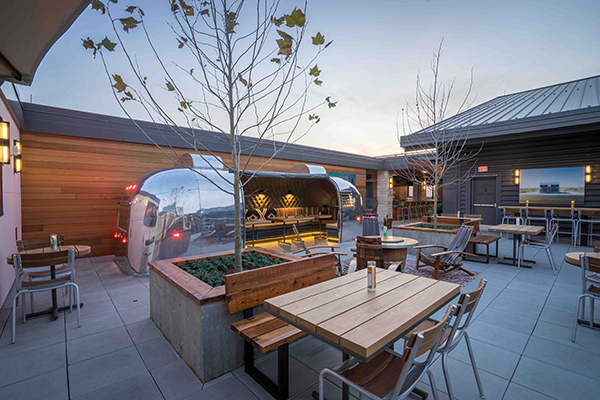 The third floor also features a variety of seating. These include covered high-top tables, regular four tops and Adirondack chairs surrounding a fire pit made from a wine keg.
Like the library lounge on the second floor, art in this area was inspired by the team's visit to Marfa. "We sent a photographer to all the places we went in Marfa, including the Marfa Prada [art installation]."
Other images include photos of the area's glamping opportunities as well as a large mural of the "Marfa lights," a phenomenon ascribed to everything from aliens to car headlights; it's a major aspect of the Marfa experience.