Page 1 of 2
Domino's Delivers a New Guest-Friendly Pizza Theater Prototype
With a business model built on delivery, Domino's Pizza never really required great-looking facilities. Clean, efficient and built for speed? Sure. Focused on atmosphere and selling the sizzle? Not so much. Like virtually everything else about Domino's, however, that was then and this is now. Over the past few years, the 10,000-plus-unit global pizza delivery chain has undertaken major overhauls of its menu, recipes, use of technology and, most recently, look and feel. Last summer, the company raised the curtain on an updated corporate logo and a next-generation, decidedly more design-driven prototype that it calls "Pizza Theater."
The new design project springs out of a central idea: transition Domino's bare-bones, utilitarian physical spaces from delivery-oriented production centers to inviting stores that the company's growing base of carryout guests enjoy visiting, spaces that bring the in-store experience in line with enhanced-quality brand messaging. "We've done a lot of transformation of our brand. We expanded our menu with things like stuffed cheesy bread and sandwiches, and in 2010 we even transformed our core pizza. This year we changed our logo," says Brandon Solano, vice president of store development for the Ann Arbor, Mich.-based chain. "But our retail space wasn't in keeping with the evolution of the brand or with bigger consumer changes outside of the brand."
Working with industrial engineering consultants and Columbus, Ohio-based strategic brand and design firm Chute Gerdeman, Domino's reimagined its existing prototype and footprint. The effort started with extensive research to understand consumers' impressions of retail environments and environmental cues that send strong messages about quality ingredients and dining experiences.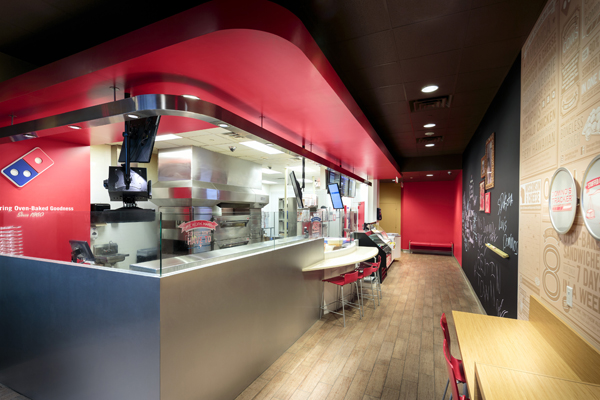 Dominoes prototype interior
Design Directive: Create Transparency
"Consumers are changing," Solano notes. "They want greater transparency in the cooking process; they want to be a little closer to the food, to where it comes from. That's what our research showed us, and we really wanted our stores to reflect where consumers had gone, where our brand had gone. When we look at our old stores, they don't reflect that vision."
In particular, Solano says, the older stores reflect a delivery mindset versus a restaurant mindset. "They were almost like a bank teller setup, with a kind of barrier between customers and our crew. Often, the crew would be busy in the back of the store, and sometimes people would come in and not be greeted or see a friendly face right away. They saw a counter and stacks of pizza boxes, which blocked their view into the activity in the back."
Creating greater transparency by giving guests a close-up view into the Domino's craft of pizza making became an overriding goal. Using the typical existing footprint, the designers essentially turned the store on its side to bring pizza-making activities out of the back and into the front.
"Most existing Domino's stores are in less-than-prime real estate, so we had to consider how a new design would work with the spaces they already had," says Lynn Rosenbaum, vice president, environments, at Chute Gerdeman.
"The issue was they had small front spaces but really long stores. You wouldn't know it to walk in one because you have only five feet that you can stand in between the door and the counter, but basically the stores went North and South. The pizza ovens, make tables, ingredients, coolers, etc. were tucked in the back, and no one ever saw those. But here was all this space that they were using for employees, and our thought was, well, they've got the space, we just need to turn the space on its side and begin to use the depth of the real estate and turn that into a restaurant that people could walk into and engage with."
In new prototype stores, which, like the older stores, average 1,200 to 1,500 square feet, roughly 40 percent of total space is dedicated to the front of the house. That's double the amount in the old prototype, according to Solano.