The emerging chain debuts a new eco-friendly design.
Thanks to an evolving prototype, "green" is as much about the dining environment as it is about the menu at Tossed, a fast-casual concept specializing in made-to-order salads, crepe wraps, grilled Panini, sandwiches and soups. As rd+d went to press, Tossed was about to cut the ribbon on the newest, most eco-friendly iteration of its prototype.
Michael "A.T." Toroyan, chief operating officer and chief development officer of the Fort Lauderdale, Fla.-based chain, says that since the company sold its first franchised unit in 2007, its design has evolved from what he describes as "institutional fast casual" to a warm, relaxed, inviting space that plays to an urban audience interested in healthy, affordable, convenient food choices as well as in sustainability. The new unit, which will be the company's second in the Boston market, delivers on that brand promise in a comfortable yet contemporary environment.
The chain is small — seven units as of mid-December — but widespread, with operations in Los Angeles; New York; Houston; Boston; Vancouver; Morrisville, N.C.; and Boca Raton, Fla. Lined up behind the new Boston location are development agreements for roughly 68 additional units in target markets including St. Louis; Denver; Phoenix; Dallas and Austin, Texas; Charlotte and Raleigh-Durham, N.C.; Seattle; Philadelphia; Toronto; Detroit; Chicago; and Washington, D.C.
"The good news is that right now we're not large enough to where we have to make a radical change to a huge number of existing units," Toroyan says of the new prototype. He notes that the Los Angeles unit, opened in early 2012, has many elements of the new prototype and that other existing units are being remodeled to incorporate elements of the latest design.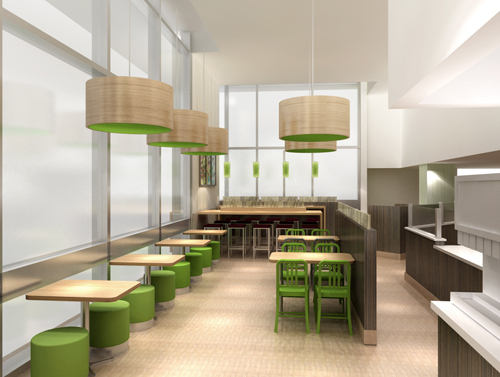 JBI Interiors, a vertically integrated design-build-install firm based in Long Beach, Calif., was brought in to help refine the new Tossed look and feel, and to bring a stronger sense of sustainability into play. "Tossed tends to locate in urban environments, downtown types of markets where they have young business professionals and groups of one and two coming in for a relatively short lunch period. People are in a rush these days and need a healthy, affordable and quick option for lunch, which is slightly different than just going down the road and getting a hamburger," says Jack Potter, vice president, national accounts, at JBI. "In the new prototype in particular, we're appealing to the health and environmentally conscious business professionals in the downtown Boston area. We developed a dining room layout and a design that would feel comfortable to those consumers by creating something like a home away from home where they can come in any time, dine for any period of time, hang out alone or meet up with friends. We also took the operation in a more environmentally savvy direction and Tossed challenged us to integrate finishes and products that help them accentuate that commitment."
To create the desired environment, the design team used a combination of blonde wood-grained paper-based laminates, stainless steel and earth tone finishes that serve as a backdrop for punches of color from seating, lighting fixtures, floating ceiling "clouds" and wall graphics. A prominent color is a vibrant lime green, which Toroyan feels is contemporary and helps to convey freshness, and the color ties into the company's logo. "You get the sense that you're in some sort of a market, a harvest type concept. And it goes well beyond our look and feel," he says. "All of our products are fresh and our produce is sourced locally. As much as possible, we look for organic, grass-fed products, anything that is sustainable. As long as the price is reasonable for our guests to bear, we're trying to inject sustainability in every aspect of our business."
Those aspects include compostable food packaging; recycling centers in the dining room that allow customers to separate glass, paper and plastic waste; and energy-efficient kitchen equipment and napkins made from 100 percent recycled paper and printed with soy-based ink. They also include newer initiatives being considered or under development, such as water-saving, low-flow toilets and reusable Tossed-logoed carryout bags that customers will be rewarded for using. "We're constantly looking for sustainable products and solutions that work for our business and we keep a close eye on what others in the industry are doing," Toroyan says. "Every six months or so we do a scan of what's new and in use out there that we might pick up on."
Sustainable Seating Stars
Among the features of the new prototype that stand out as most exciting to the development team at Tossed are the seating options. Top among them is the Navy 111 chair, which in and of itself tells a strong sustainability story. Each of the simply designed, contemporary chairs is manufactured in the style of the aluminum chairs used on U.S. Navy ships, but is made from 111 recycled 20-ounce Coca-Cola company beverage bottles, which comprise 60 percent of the total materials content.
"Our CEO was approached by Coca-Cola back in 2006 to help solve an environmental problem that they had, which was to take beverage bottles that would have headed to a landfill and recycle them into a structural item, such as a chair, that is made to last," Potter says. "So the challenge was to take PET plastic, which is originally intended for short-lived fabric in textiles, and to make it into a tough chair for the commercial restaurant environment. Tossed has widely incorporated the chair as an eco-friendly design element. It's a great fit, especially as they have a supply partnership with Coca-Cola for beverages. It brings it full circle and is cool for the customers to imagine that the bottle that their water is in could end up being recycled into one of the restaurant's chairs."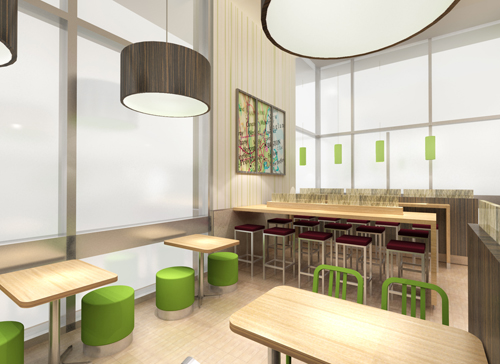 In addition to the colorful Navy 111 chairs, which Potter notes were in development for four years before hitting the market, the chain's stools represent another interesting design element. The stools feature 99 percent recycled water and raw materials used in production. "We're based in California and the environmental regulations here are particularly stringent," he says. "So on one hand we've designed the restaurant's dining room to be finished and built sustainably, but we also produce the furnishings and fixtures according to those California regulations so we can be as green, renewable and sustainable as possible on the back end, as well."
Creating Community
Still another seating option at Tossed is one that Toroyan is particularly pleased with, but not necessarily for its sustainability. Rather, it's a seating style that enhances the dining environment in another way for the chain's young, socially networked, plugged-in urban professional clientele. That option is community tables, which all new units will have at least one of, if not more, depending on the space available.
The custom-fabricated tables are simple, long rectangles finished in the same paper-based blonde wood laminate that tops smaller individual tables, divider walls, paneling and other interior surfaces. What's unique about the community tables' design, however, is the low divider that runs horizontally down their center. That divider, in turn, holds thin resin panels embedded with natural grass imagery as a subtle, artistic element. The panels, also used atop divider walls, serve to enhance aesthetics, strengthen eco-friendly brand messaging and offer a small sense of privacy for those who want it.
In addition to the resin panels as signature brand features, the base horizontal dividers on those tables in the new Boston unit are wired with electrical outlets. As such, in addition to being able to enjoy the restaurants' free WiFi, guests can charge their laptop or smartphone while eating their salad or crepe wrap at the community table — all without having to climb under the table or search around for a wall outlet.
"Part of making our environment warmer and more comfortable is also about community and making the space more functional for guests," Toroyan says. "I very much believe in community tables. If you're dining solo, it allows you to take a break from your workplace and maybe interact with others, meet people and sort of grow your community. The beauty of the community table with the divider and the power is that you can either engage with others there or comfortably engage with your gadgets."
Depending on the location, each community table will seat from 6 to 12 guests. The new Boston unit has 2 such tables, 1 seating 8 and 1 seating 12, according to Toroyan. "I typically don't do a community table with less than six," he notes. "You need a requisite number of chairs in order to promote conversation."
So far, response to this seating option has been overwhelmingly positive, he adds. "Americans are just getting used to this idea but Europeans have used community tables for years. It gives you a socially acceptable license to go sit next to someone, whether or not you strike up a conversation. And it also gives the operator a more efficient way to use limited seating space and accommodate single diners without taking up tables that could be used for larger groups. With or without the power feature, I think they're here to stay — especially in urban markets."
No LEED, for Now
While it might seem a natural next step given its brand focus on sustainability, the new Tossed prototype wasn't designed with LEED certification as the end goal. That decision so far has been based more on cost factors than on any lack of motivation to seek certification.

As a small chain, Toroyan says, the costs associated with becoming certified can put too much strain on franchisees. "There are some leading chains out there that have done a fabulous job of becoming LEED certified. Most are part of large corporations that can afford it," he says. "As a franchisor, if we mandated a LEED-certified build-out we would push the cost up somewhere between 30 percent and 40 percent. Most of our franchisees couldn't harbor that kind of a tariff."
Rather, Tossed has chosen what Toroyan calls the ongoing internal risk/reward analysis of as many eco-friendly items and environmentally sustainable products as possible. "We're looking literally every day to bring more in," he says. "I just met with a packaging company that's talking about an additive they can put into our plastic bags that makes them biodegradable. Really unique things like that aren't a huge cost but are something our guests will appreciate. Other things, like flooring, we're waiting for costs to come down on. We haven't found anything yet that we think is durable enough to withstand Midwest and Northeast winters at a price that makes any sense, but it doesn't mean we won't or that other people aren't thinking about it. Once the McDonald's of the world demand it then it will become more doable for the rest of us."
He notes also that while the new Boston store design is the chain's go-to prototype, it will continue to evolve. "We're not going to do 1 unit and say it's perfect and go do 40 of those. We're going to do one unit and then we're doing to evaluate it. And before we get to the 68, or to 100, we're going to tweak it as we go."
Project Team
Jason Chodash, president
A Michael "A.T. Toroyan, chief operating office & chief development officer
Brian Chodash, vice president, marketing
Diana Truong, art director
Jack Potter, vice president, national accounts, JBI Interiors
Katie Rifkin, project designer, JBI Interiors
Snapshot
Year founded: First franchised location in 2007
Headquarters: Fort Lauderdale, Fla.
Menu: Fresh salads, wraps, gourmet sandwiches, Panini
Service model: Fast casual
Services: Dine-in, takeout, delivery, catering
Average check: $10.71
No. of units: 7, all franchised (8th scheduled to open in late 2012 or early 2013)
Prototype size: 1,500 to 2,200 square feet
Average kitchen space: 600 to 800 square feet
Average check: $10.71
Typical location: downtown office buildings, malls, suburban
Design highlights: Eco-friendly, sustainable finishes and materials used as much as possible; seating manufactured from recycled and sustainable raw materials and with sustainable production methods; warm wood grains, ample natural light, stainless steel, earth tones, small splashes of color; localized wall graphics; community tables
Average equipment investment per unit: $100,000 (kitchen equipment, smallwares package, furniture)
Average build-out: 90 to 150 days
Expansion plans: agreements inked for 68 additional franchised units