Longtime Miami chef Rodrigo Ochoa's first visit to Portland, Ore., in 2020 was a life-changing experience. He fell in love with the city's vibe, with its trees and its dog-friendliness, with its foodie culture and welcoming, collaborative chef community. Ready for a change, he and his wife decided to make Portland their home and, in turn, the setting for Ochoa's next culinary chapter.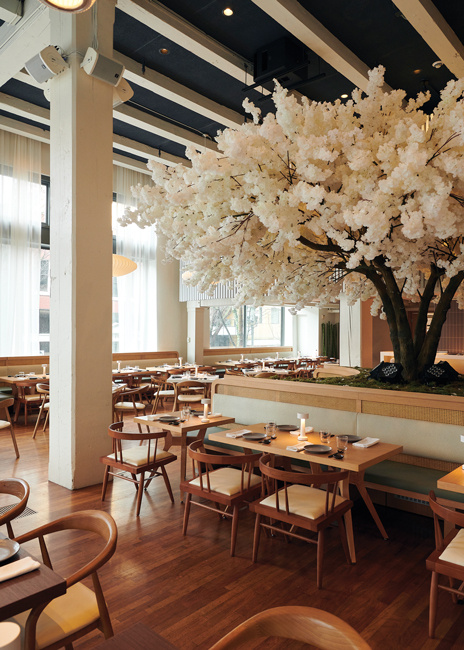 Original hardwood floors and beams were retained, adding natural warmth and character to the space. Image courtesy of Thomas TealA native of Medellín, Colombia, Ochoa had spent 20 years in Miami working his way up through the kitchens of some of the city's most renowned chefs including Douglas Rodriguez and Michael Mina. He had also developed a passion for Asian cuisine, gaining experience and expertise at Zuma, a buzzy Japanese izakaya restaurant, and as executive chef at Southeast Asian hot-spot Komodo.
Upscale, special occasion dining had long been his milieu and the pandemic underscored for Ochoa the special community-building and celebratory roles restaurants play in guests' lives. In Portland, he wanted to create a restaurant that would fill those roles, a special and celebratory restaurant where great ingredients, culinary craftsmanship, polished service and immersive design would combine to deliver a uniquely delightful dining experience.
In November 2022, he and his team opened the doors to Janken, a Pan-Asian concept in Portland's Pearl District, where warehouses and industrial buildings have been repurposed into galleries, retail shops, restaurants, offices and residences. The philosophy behind Janken, a Japanese word for the children's rock-paper-scissors game, is offered on its website: "Our ambition goes beyond serving exquisite Japanese-Korean fusion cuisine. We strive to build a space that encourages connection, conversation and camaraderie, a place where every meal becomes a cherished memory. We believe that the dining table is more than just a piece of furniture — it's a meeting place of hearts, a space where relationships are deepened, stories are shared and laughter is abundant."
Jade Joseph, co-founder of Portland-based creative and brand strategy firm Based Experiments, led Janken's design. She notes that by virtue of the space alone the restaurant stands out, with its 9,000 square feet, 19-foot ceilings and floor-to-ceiling windows. "It's a magical space," Joseph says. "It's not just large, but very tall and grandiose. That's unique in Portland, where restaurants generally tend to be quite small and intimate."
Chef Ochoa, thinking big from the start, says the space fit everything he and his team were looking for. The location was ideal and its size, with room for up to 130 seats, a large kitchen, and a separate area in back for private dining and events (still being developed as of mid-summer), was right on target. The fact that it had housed a renowned fine-dining restaurant, Bluehour, for 20 years prior to its pandemic-related closure in 2020, also meant converting the space into his vision for Janken could be relatively straightforward.
"We were lucky because not much demo was required," Joseph says. "We removed a few built-in banquettes and did tear out the bar but put the new bar in the same location. We also enclosed the kitchen, which was exposed at Bluehour, and created a sushi bar along the back wall. But the project was almost entirely one of cosmetic changes and installing new equipment in the kitchen."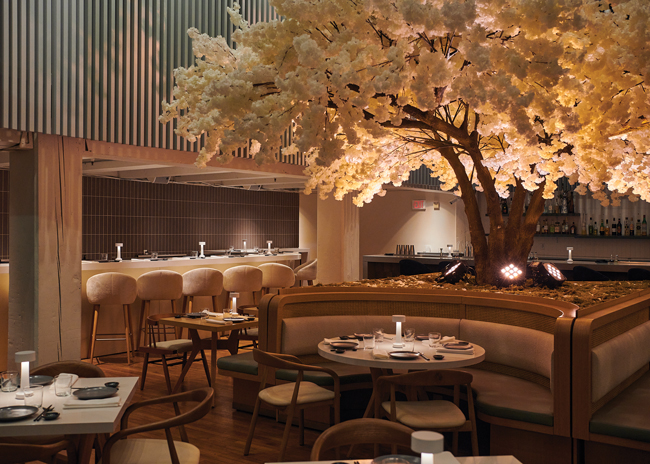 The designers added lighting beneath the 15-foot faux cherry tree and installed banquettes around its base. A sushi bar glows against the back wall. Image courtesy of Joey Wrinn
Channeling Wabi-Sabi
Taking cues from Ochoa's plans to showcase elevated Japanese-Korean fusion cuisine, Joseph and her team turned to Japanese principals for inspiration when designing Janken. Specifically, the concept of wabi-sabi played a role in grounding and guiding the design approach. With roots tracing to Zen Buddhism, it embraces the beauty in nature, simplicity and imperfection. "We wanted the space to feel very inviting, of course, but also very intentional and purposeful," Joseph notes. "Wabi-sabi was the principal that resonated the most with us. It is inspired by nature. Nothing in nature is perfect or permanent and there's so much beauty in that. We tried to distill that and what it meant to us in the space."
Above custom furnishings, including wishbone-style chairs, lantern pendants give the dining room a warm glow. Image courtesy of Joey WrinnThe space itself and existing materials provided just the right elements of natural imperfection on which to begin building the Janken aesthetic. Original, well-worn hardwood floors, for example, were kept, adding warmth, character and a sense of history. And original wooden beams throughout, both in the ceiling and as floor-to-ceiling supports, were highlighted simply without attempting to hide their rough imperfections.
"The natural tendency is to want things to be perfect when you're creating a new restaurant. We had a lot of conversions around that. But there's a lot of history here and it's beautiful. We tried to highlight those aspects of the space itself instead of covering or changing them into something else," Joseph says. "We then layered in newly designed things to add fluidity and symmetry, things that play off of those original aspects of the building to lend a feeling of the way nature works."
Headlining those newly designed elements is a custom-manufactured 15-foot-tall blossoming cherry tree with a 24-foot canopy. The centerpiece of the restaurant, the tree adds visual drama against the otherwise simple, neutral interior and brings the scale of the space down to a more intimate level. Ochoa says it also hit the mark for him personally, as someone greatly inspired by nature, and conceptually, for creating the quietly elegant Pan-Asian aesthetic he envisioned for Janken.
"I love nature and trees, and bringing this tree into the design really brought everything together into my heart," Ochoa says. "Seeing people dining and celebrating under the tree, which evokes the beautiful trees of Japan and Korea, is so exciting. We wanted a very open, flowing restaurant, but it's anchored by that tree. Everything flows around it."
Joseph's team added lighting beneath the tree to let it shine and installed banquette seating around its base. Those seats are highly requested, she notes, but from the moment guests enter the restaurant and no matter where they're seated, the tree is visible and integral to the dining experience.
A second key element is what Joseph calls a wave wall positioned above the back wall and bar area. Created from lightweight wood-look aluminum slats mounted on a steel frame, its sections are painted ombre-style, grey to black. Ochoa adds that the feature works well visually but also subtly supports Janken's menu style, which spans light sushi options to extensive, multi-course meals highlighting top-grade Japanese beef and seafood.
"It kind of waves around the back of the space," Joseph says of the wall. "When people first come in, they might not even notice it. But it does help draw your eye to the sushi bar. And without that element in the space the tree wouldn't really work. And without the tree, the wave wall wouldn't work. Together they add depth, intimacy and warmth and support the uniqueness of the concept. The biggest challenge for us on the project was just the scale of the place. We didn't want it to feel empty and cold, but at the same time we didn't want to over-design it. These two feature elements were just enough."
A heavy, grey stone bar with textured, concrete-look tile face and dark stools juxtapose against lighter materials and tones used elsewhere. Photo courtesy of Joey Wrinn
Drawing on Nature
The blossoming cherry tree may be the most overt nod to bringing nature into Janken's design, but materials used throughout the restaurant support that strategy as well. Natural wood (oak and walnut), stone, ceramics and leather figure prominently in the custom-fabricated furnishings, the 8-seat bar and 10-seat sushi bar elements. Colors are soft and neutral, with a palette of cream, natural wood tones, grey, green and black, and rounded shapes providing both a sense of comfort and energy.
To add some texture and warmth, Joseph chose soft white, nubby-textured boucle for banquette backs and a wasabi-green leather for their seats. "Everything has the look and feel of being natural," she says. "We have a lot of heavier things, like the wood and stone tables, and a very heavy grey stone bar, so we tried to juxtapose lighter, cozier elements, like the boucle fabric, against them and also to include a balance of light and dark tones throughout."
Neutral-colored ceramic tile, placed vertically, lines the walls behind the sushi bar and main bar. Their simplicity, Joseph notes, is an example of the team's attempt to insert concept-support elements without over-designing the space and to balance perfect, symmetrical materials against imperfect ones, such as roughly ridged, cement-look tiles on the main bar face.
Lighting, too, is simple, with warm white lantern-style pendants selected as feature lights. The lights were one of the first design features to be installed toward the start of the project. "That was such an exciting moment," Joseph recalls. "When the lanterns went in, I could finally begin to see the design that had been floating around in my head for five months taking shape in the space."
Textured walls, which Joseph notes would have been cost-prohibitive to cover in wallpaper, were simply painted a warm white. Floor-to-ceiling windows are finished with sheer organza curtains that provide softness while also letting in natural light and revealing a welcoming interior glow to passersby on the street at night.
Since opening, Joseph adds, two additional service stations have been added to Janken's front of house. "That was a key learning for us," she says. "We initially did not have sufficient stations for the number of staff members on the floor. We experienced traffic jams that were slowing service times. We started with two stations and now have four, three of which are equipped with iPads so the servers don't have to stand around waiting to access them or input orders. The restaurant has been super-busy since opening, so those extra stations have made a massive difference."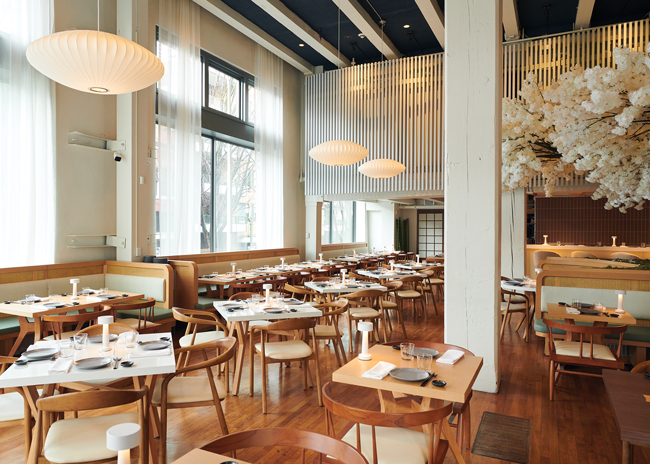 Photo courtesy of Thomas Teal
Snapshot
Location: Portland, Ore.
Concept: Elevated Japanese-Korean fusion cuisine
Opened: November 2022
Size: 9,000 square feet, 130 sets
Signatures: Sushi, Wagyu Gyoza, Kimchi Fried Rice, Peking Duck, A5 Wagyu Hot Stone
Average check: $100 per person
Design highlights: Wabi-sabi inspired materials and aesthetics; 15-foot faux cherry tree centerpiece with banquette
seating around; ombre-painted slatted "wave wall"; grey stone bar; white quartz sushi bar and table tops; custom wishbone chairs; "wasabi-green" leather and creamy boucle banquette upholstery; simple painted white walls; lantern-style pendant lighting; original hardwood floors and wooden beams; 19-foot exposed ceilings; floor-to-ceiling windows 
Project Team
Owner, Executive Chef: Rodrigo Ochoa
Design: Based Experiments; team: Jade Joseph, Cristy Montoya