East Coast Wings + Grill has discovered it can do more with less. The Winston-Salem, N.C.-based chain has demonstrated strong unit economics with less
Sam Ballas, CEO and president, East Coast Wings + Grillsquare footage in multiple locations, so developed a fast casual model that's around 30% smaller than other units, ideally around 2,800 square feet
The re-engineered model is designed with reduced overhead costs and maximum unit output in mind. The model, ECW 2.0, led to a reduction of approximately 30% in development costs and 27% in square footage while sustaining unit-level sales of the original, larger store layouts. Existing locations that converted to the 2.0 full-service model posted an average increase of 12.5% in gross sales. 
Due to the success of the 2.0 model CEO and President Sam Ballas relocated the brand's Clemmons, N.C., restaurant to a smaller location with only 14 tables and four patio seating areas. The 2,290-square-foot restaurant had reduced development costs of roughly $100,000, with less staff requirements, and sees annual revenue of $1.6 million.
Here are eight best practices for designing an effective small kitchen.
1. Use overhead storage
Jared Bradley, AIA, NCARB founder and president of The Bradley ProjectsSalamanders and shelving can be placed above a line to hold items like pots and pans. You can also keep heavy bins of ingredients up here, says Jared Bradley, AIA, NCARB founder and president of The Bradley Projects, Nashville, Tenn. If he knows he's going to be mounting shelves for heavy items, Bradley runs solid plywood behind the walls in new builds so he can attach shelf brackets that can withstand some weight. 
Below the counter include refrigeration to hold either ingredients or prepped dishes that are ready to fire.
2. Think flexibility
These days Kip Serfozo, LEED AP, WELL AP, director of design, Cini-Little International, Germantown, Md., tries to put up fewer walls, or no walls, in kitchens so operators "can plug and play and move things around," he says. All kitchen work stations are strategically located next to each other with the correct adjacencies and code distances, and hand sinks are shared, he points out, as are many larger stations, like prep areas.
One thing to look out for with this type of design, he says, is avoiding any cross traffic of dirty with clean. "We accomplish this with strategic location of 'clean' food and material storage. And we ensure the trash and dirty dishes have a dedicated route, with ease of trash removal from the facility."
Designing without walls isn't easy. "It takes a lot of thought process and creative design solutions, when we go this route," he says.
Serfozo also tries to put as much as he can on casters from refrigerators to heaters for easy moving.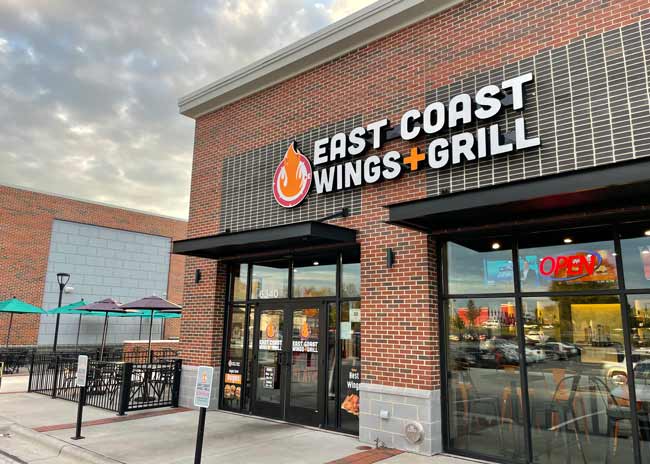 East Coast Wings + Grill has re-engineered its model with reduced overhead costs and maximum unit output in mind.
3. Use multi-functional equipment
High speed ovens, combi ovens, pressure cookers and convection microwave ovens can do almost everything from steaming to baking so operators can usually get by with much less equipment, which will do more tasks. Just eliminating two burners can reduce the size of a cookline by a foot, says Bradley. And combi ovens can produce food that's almost as good as fried, so if operators reduce the number of fried items on their menu, they can probably manage with just a combi.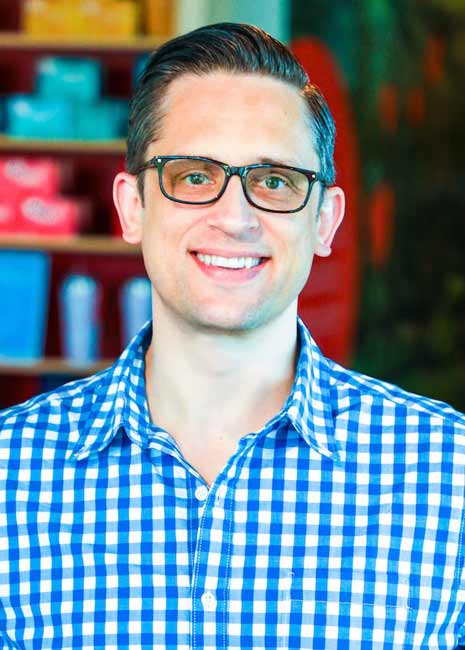 Nathan Lester, senior director, drive-thru innovation, Scooter's Coffee
Scooter's Coffee (Omaha, Neb.) recently shifted from classic espresso hand tamping coffee machines to automated espresso machines, which take up about half the space. "It provides consistent, quality beverages in a fraction of the the time and it takes less time to train baristas," says Nathan Lester, senior director, drive-thru innovation.
4. Stack equipment 
A lot of modern equipment, like combi ovens and convection ovens can be stacked. Ideally, says Kip Serfozo, buy them from the same manufacturer, so they fit together more seamlessly — and safely.
5. Think small
Serfozo specs smaller equipment when he can, so instead of one 10-foot stainless teel table he might include two five-foot tables. "A smaller, well-designed kitchen is better than a large kitchen, any day of the week," he says.
6. Reduce steps
East Coast Wings' new kitchens are much smaller. "We've maximized kitchen design to have more of a time and motion — almost a cockpit motion — so employees only need to move one step in each direction," Ballas says.
The brand shortened the length of the cook line and better positioned equipment. "We also reprogrammed our KDS to send tickets to the appropriate stations, driving down consumer wait times," Ballas points out.
Serfozo is a fan of work triangles, so employees can reach everything they need with no more than one step in every direction.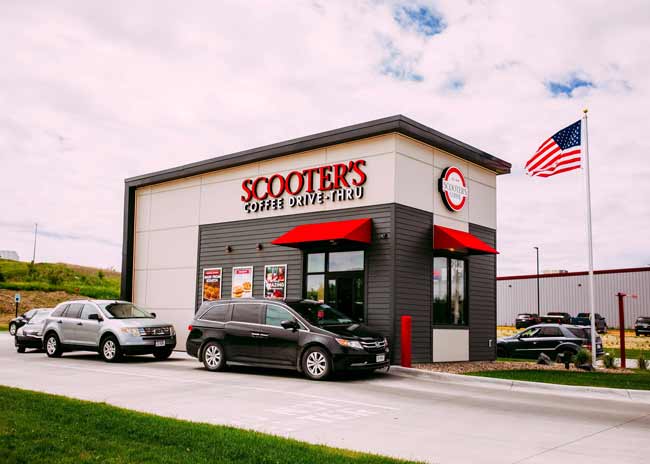 Scooter's Coffee designs its tiny 664-square-foot kiosk units with its drive-thru-only model in mind.
7. Design around a process
Scooter's Coffee designs its tiny 664-square-foot kiosk units around a process. A barista sees (or hears through a headset) the order come in and starts it off; then he or she might need to add drizzle or whipped cream, then it needs a lid and handing to the customer. "Look at the process of the steps and where it makes sense for one person to hand it off," says Lester. "You're designing towards starting furthest away from the window."
8. Reduce the size of the bar
East Coast Wings has reduced the size of its bars, mostly by cutting its beer taps from 24 down to closer to 12 and focusing instead on craft beers, which have smaller barrels, which can be kept right under the taps instead of having to run lines to a cooler. That reduces the cost of the bar and means cooler space in the kitchen isn't taken up with beer barrels, Ballas points out.
The concept has also minimized liquor inventory to top sellers "so we need less shelving in the bar and less space in the back of house for backups" says Ballas. "It's about keeping a tight inventory." Another plus is the smaller bars require fewer bartenders, he adds.
The bar is also located just inside the premises so it can handle off-premise orders and pickups, keeping them away from the kitchen.
Full-service operators can also cut down the size of a bar by creating a separate service bar, where servers can fulfill wine and beer orders, reducing the impact on the bar.