David Bizon, CEO of Snooze, an A.M. Eatery. Images courtesy of Snooze.Patios have always been a good revenue generator, with customers clamoring to sit outside on sunny days. And, thanks to COVID, customers have become more willing to bear chillier days, too.
Patios are integral to business for Snooze, an A.M. Eatery, and, "if something like COVID happens again, it puts us at a competitive advantage," says David Bizon, CEO of the Denver-based chain.
It's also free space, he points out, because restaurant owners and operators don't pay rent on the patio square footage. Most of his restaurants are around 4,000 square feet with a 700-square-foot patio, though in a climate like California's, he may opt to build a 3,000-square-foot interior with 1,500 square feet of patio space.
And now that landlords have fully grasped the popularity of patios, some are trying to monetize them, Bizon points out, especially in bigger markets like Los Angeles. But, he says, "it's something we fight tooth and nail because it's how we make our economics work."
Snooze has 52 restaurants and plans to open another eight or nine by the end of the year. Beyond 2022, Bizon plans to open 12 to 13 restaurants annually, all of them corporate-owned.
Here are some best practices for creating a restaurant patio space:
1. Weatherproof the patio.
Bizon's patio budget is dictated by how many days he'll be able to use the patio per year. Enclose the patio or part of it if you can, to extend its use by a few months, or even make it a year-round venue.
Griz Dwight, AIA LEED AP, founder and owner of GrizForm Design Architects likes to add permanent overhead structures to patios. "Many temporary frames will weaken faster and become tattered in more extreme weather because they're lower quality. To maximize the usage of a fixed patio space, try to provide as much overhead coverage as possible," he says. "A sturdy, permanent framework can also be successful if it can support a thicker, warmer, canvas that will lock in heat during colder months."
2. Include a bar when possible.
A patio bar can generate additional revenue because it welcomes casual guests and overflow dinner guests. The bar also adds critical ambiance, says Bizon, who points out that you have to look at how to "bring the energy outside so people are getting the full experience."
Snooze patio designs start with the bar and the restaurant falls into place around it. The bars usually take up around 200 square feet and are long and skinny with about 20 seats, or around 40% of the outside seating.
Bizon draws attention to the bar by a shelving unit behind the bartender that's become known as "the big green monster." Lighting under the shelves pushes light up onto the bottles to create energy. "Every shelf is stocked to the brim with alcohol, so it looks like we're in the bar business," Bizon explains.
3. Vary seating.
A patio should feel like a welcoming living room and an easy way to do that is by using varied seating – soft seating, high tops, regular tables, lower seating with coffee tables. "That creates this really great vibe," Bizon says. Conversely, he avoids banquettes and booths on patios because they interrupt the flow and the energy.
4. Create zones.
There's a lot more flexibility when designing a patio because there are no walls, Bizon points out, so it can be nice to use the seating to create little nooks. Plants can also act as dividers and add privacy.
Screens and dividers can also separate areas, and Bizon likes to add games like cornhole or ping pong that can add an element of fun and break up the space. Games also add great energy, he adds, "and can be really enticing to drive-by traffic."
5. Continue the branding.
Extend the design and decor from the interior of the restaurant to the outdoor space, says Dwight. If you have a high-concept interior, the exterior should follow suit, with similar tableware, servingware and so forth. "Match the colors, materials, and any other style choices to create a seamless transition from indoors to out."
Bizon uses Snooze's signature bright orange in umbrellas and the orange and some yellow in the furniture.
Dwight is also a strong proponent of outdoor music. "We've started working with micro-speakers that get tucked into planters; this way, they're heard but never seen," he explains.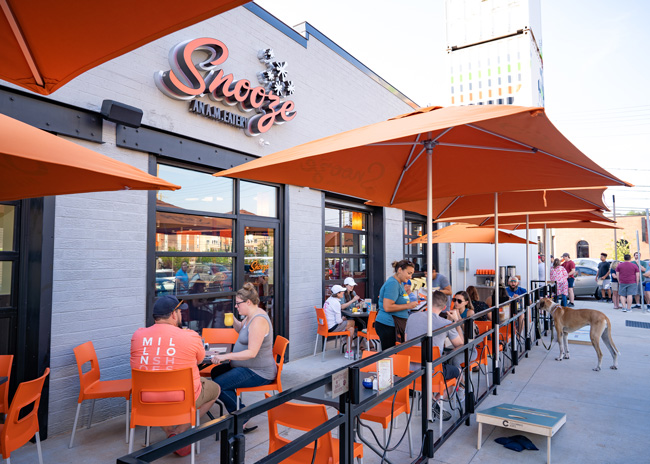 6. Consider flow.
The flow of the patio, within itself and from the inside to the outside, is important, both for servers and customers. Ideally, guests enter the restaurant through one door then enter the patio through a different one, so they're not backtracking, and "we are taking them on a nice path through the restaurant to start that energy," says Bizon.
In urban areas, guests don't want to feel like they're sitting on the street, says Dwight, so they need a form of protection from it. It's also a good idea, he points out, "to orient patrons back toward the restaurant to make them feel like they're a part of the place."
To ensure the flow works, Dwight always walks the path of each user: the guest, the hostess, the server, the cook, and so on. "This way, I can filter everyone's point of view into the one final layout that will be practical for all. It's best practice to have a separate door for guests and for service workers to maintain proper flows of traffic."