Owned by Castle Hospitality Group, JoJo's Milk Bar in Chicago is a diner-inspired concept offering elevated comfort food and a full bar as well as over-the-top desserts. Matching this over-the-top approach is a design with several eye-popping, social-media-friendly elements.
"There are a lot of groups coming to [this neighborhood] with commercial concepts," says Robbie Schloss, managing partner with Castle Hospitality. "You see a lot of sports bars and restaurants that you can find in other places. I wanted to do something that was really fresh and interesting and unique."
With Jojo's divided into multiple levels, guests can find these unique design touches in every space. One such element on the ground floor is a wall with images of three celebrities (Bill Murray, Queen Elizabeth and the Notorious B.I.G) with milk mustaches, an homage to the iconic "Got Milk" ad campaign. 
Milk is indeed celebrated throughout the ground floor, most clearly in the restaurant's back bar display made of hundreds of milk bottles painted white on the inside, giving them the look of being full.
While the bar face is covered in mint green tiles, the bar top is a white solid surface material that carries on the milk theme. It also, says Schloss, help's the restaurant's food stand out.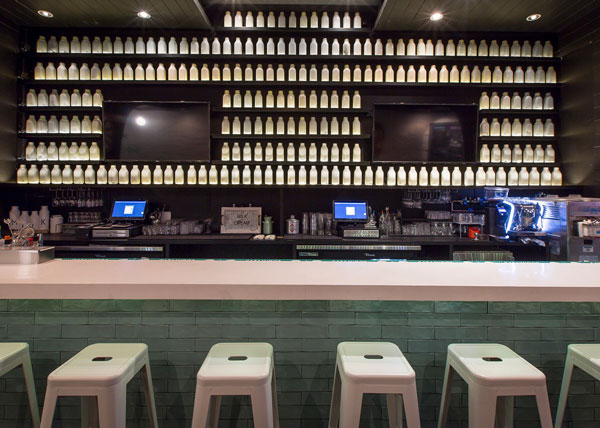 "We try and be pristine and clean where food hits the surface. Where food is not being showcased I want that to be dark to create that great contrast to showcase our food and our shakes."
The restaurant's second floor, says Schloss, has a somewhat opposite color palette with mint green chairs, butcher block tables and a generally brighter space. "The upstairs will lend itself to our Saturday and Sunday brunches. It's a little earlier in the day and we want people to be a little more comfortable in a little brighter space," Schloss says. 
This space also has a steampunk theme expressed in custom made light fixtures and shelving built with plumbing pipes. Along those lines, the seats at the bar include bike pedals and chains.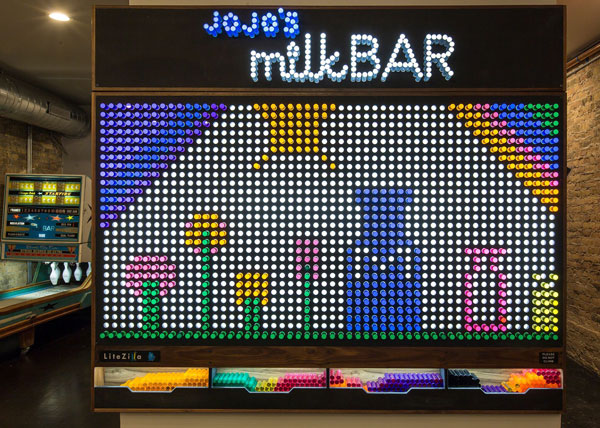 While these elements add to the restaurant's sense of whimsy, they're only part of what makes Jojo's upstairs special. This space is actually dubbed "the playroom" with a giant Lite-Brite measuring 64 square feet taking center stage.
"There are more than 1,000 different colored pegs, with LEDs that light up from behind just like an old-fashioned Lite-Brite. We have kids and adults come up to this thing to create their own art pieces. It's just a lot of fun," Schloss says.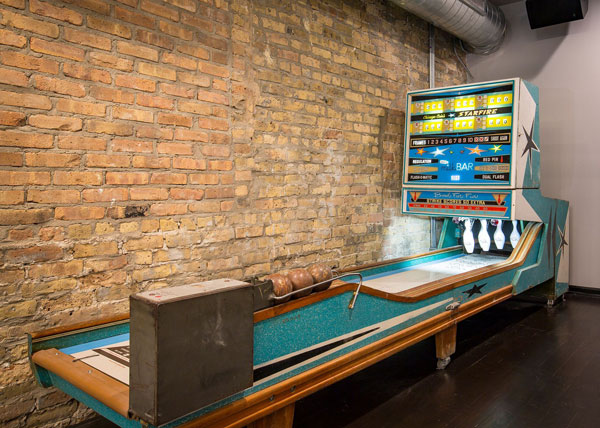 More fun can be had with the restaurant's arcade games. These include cocktail table-style cabinets decorated with custom art as well as an old school tabletop bowling machine that's free to play and equipped with a custom scoreboard.