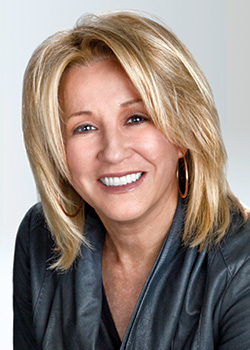 English opened her multidisciplinary firm in 2000. It offers a full range of design services from architectural and interior design to graphics, decor, and millwork fabrication and installation. Here, she shares with rd+d some of her favorite trends.
Experiential Spaces Within Grocery Stores. At the Los Angeles-based Shuffle Bar, we wanted to explore a growing trend of blending food and entertainment within a Whole Foods Market. The environment takes on the comfortable and familiar feeling of a neighborhood hangout for regulars to play, observe, drink and dine. Drawing on the LA area's pub tradition, we integrated play into the space through a central dominance of a regulation shuffleboard table adapted to add high-top bar seating. Additional cues taken from the game are repeated within the space as patterns on the ceiling, windows and signage.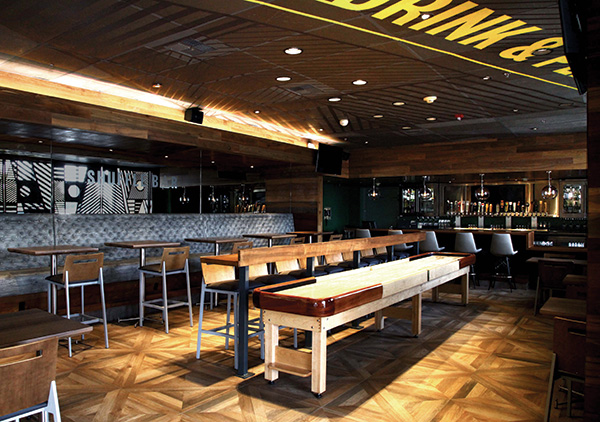 Creation of Place Through Bold Color. We designed the 2nd Bar to include a combination of Mexican visual heritage with both traditional and colorful contemporary abstract forms to define an experiential food and beverage destination for the community. Paying homage to one aspect of the early history of El Segundo, Calif., as part of a Mexican land grant, the design takes cues from Mexican modernism through its use of color, light and space. The composition of materials, both polished and aged, combines shapes, aesthetic and textures with the feeling of local craft.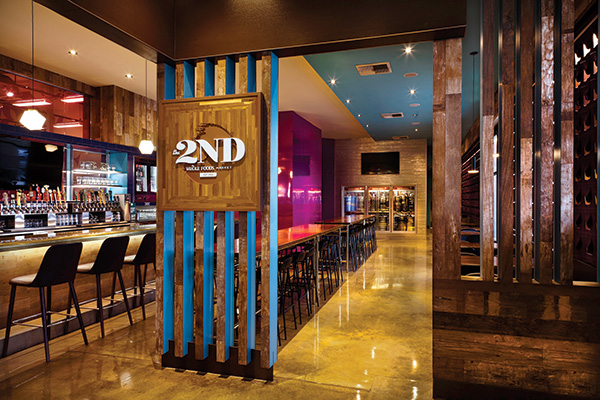 Aspirational Graphics. Instead of looking for direct correlations between cultural history and this relatively new community in Irvine, Calif., we turned to the spirit and aspirations of the area and developed architecture, decor and graphics that speak to the local energy. The design is informed by the community's attitude and expressed in bright, festive colors, materials and graphics, inspiring people to keep moving forward and "dream big!"
Lighting Selection. Our task with Mendocino Farms and Hangar Bar was to join two independent food-and-beverage units that shared a common space and completely different look and feeling. We combined the two spaces together by creating a dynamic, visually compelling custom lighting structure spanning the shared seating area. Our inspiration was a tensegrity design, broken down to its essence and simplified to provide a targeted focus to the space.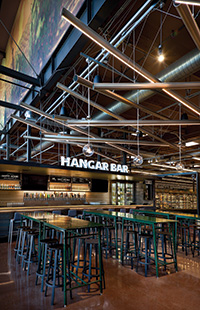 Celebrity Chef Partnerships. Often referred to as the father of the food truck movement, Roy Choi would tweet his location to his passionate followers willing to wait to enjoy his uber-popular Kogi food truck. No more! Through Choi's partnership with Whole Foods Market, we retrofitted an existing underperforming space within the El Segundo, Calif., store with his first-ever brick-and-mortar location for Kogi. We combined architectural opportunities with his bold brand graphic identity to create a visually powerful yet playful venue inside a larger space.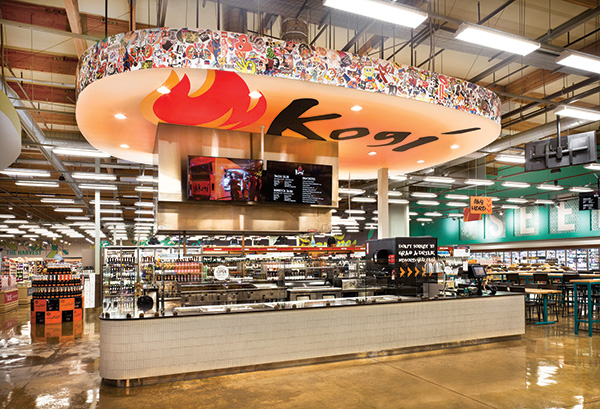 Meaningful Integration of Local Culture. Bold architecture, vibrant color and expressive multicultural signage signal a dining and food retail experience for the residents of El Paso, Texas. We designed the space to capture the regional flavor of this border city through lively, festive decor. Each section of the space is given its own identity through changes in materials, colors and lighting. Signage in both English and Spanish designed, fabricated and installed by our firm appeals to the bilingual and bicultural customer base.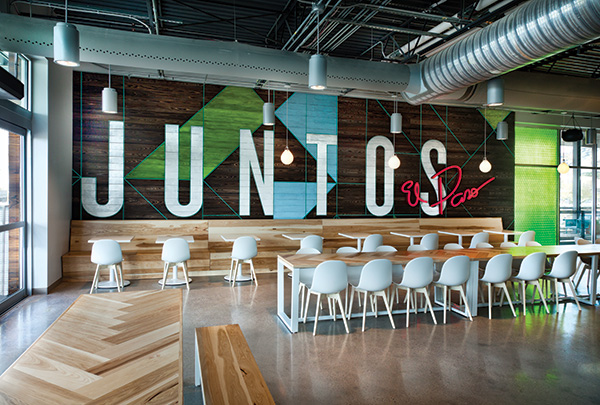 Socializing the Dining Experience. Located on a busy urban street corner in downtown Los Angeles, The Eight Bar at Whole Foods Market includes seating for 250 inside and outside the restaurant. Three sides of the space are glass or open, optimizing audio/visual connectedness to the city beyond. With a fast-casual approach to food service, multiple seating options, plus a large flexible space for live entertainment, the space is often filled to capacity, spilling out into adjacent public areas and inviting the neighborhood inward.