Page 5 of 5
Sustainable Seating from MTS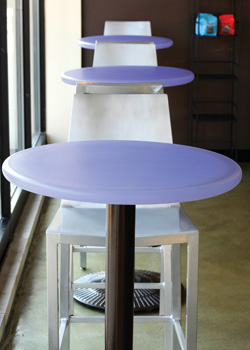 MTS Seating's SierraSolid table tops are made from recycled acrylic material.A restaurant that wants to be truly sustainable has to look at every part of its operation. Changes in the HVAC system can help use energy more efficiently. Water consumption needs to be carefully monitored to avoid overuse. Spent resources, such as wastewater or garbage, must be disposed of in ways that are friendly to the environment. In short, every part of the restaurant's design and operation needs to be considered in terms of sustainability and efficient use of resources.
One area that's sometimes overlooked in sustainable restaurant design is the furniture — especially the tables, chairs and barstools. How they're made, and what they're made of, is just as important as the other facets of the operation when it comes to sustainability.
For years, MTS Seating has focused on producing its products sustainably and efficiently. Since 2009, the entire line of MTS chairs and barstools have been GREENGUARD® Indoor Air Quality Certified. This means that seating products manufactured by MTS do not contribute to indoor air pollution. To attain the internationally recognized GREENGUARD certification, products must undergo rigorous third-party testing to determine their impact on indoor air quality and must be retested regularly to maintain the certification.
By using GREENGUARD-certified products and materials, operators can reduce the amount of indoor air pollutants to a fraction of current levels. GREENGUARD-certified products are recognized by a number of sustainable building programs, including the U.S. Green Building Council LEED Rating System and the National Association of Home Builders Green Building Guidelines.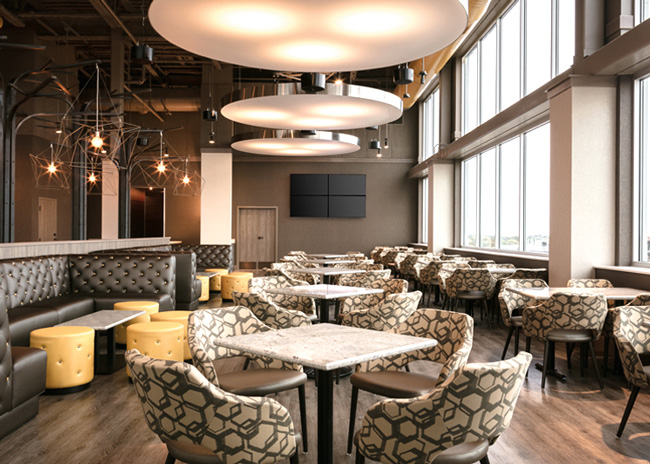 MTS Seating's Inessa barstools in VUE Rooftop in Iowa City, Iowa, have a recycled steel frame and plant-based foam.
Working Sustainably
Making products that are GREENGUARD certified is just one of the ways that MTS Seating acts sustainably at all points in its manufacturing process. Take the Innovative Resin Technologies (IRT) used in the Dine Focus line of chairs. IRT recycles common plastic items, like liquid detergent bottles, into a durable seating material. The water-based wood stains and clear coats MTS uses, as well as its powder coat metal finishing, avoid the release of solvents into the environment. The COMFORTbliss foam padding used in MTS chairs contains natural plant polyols in place of petroleum-based polyols. All veneer wood products used by MTS are procured through Forestry Best Management Practices established by the EPA. On the production line, recycled and sustainably produced products are used as much as possible. For example, the steel used in MTS products contains approximately 35 percent recycled material. Every year, the company recycles more than four million pounds of scrap steel, aluminum, wood and corrugated materials from its three manufacturing facilities in Michigan. And at the end of their life-span, an average of 84 percent of the materials used in MTS Seating products can be recycled.
All of these efforts can help operators attain sustainability-based certifications. More importantly, they are critical parts of MTS Seating's SynerGreen philosophy — making continuous environmental improvements in its processes and products while practicing sound business principles that focus on satisfying its customers' needs.