Page 2 of 3
MTS Seating: Combining Design and Durability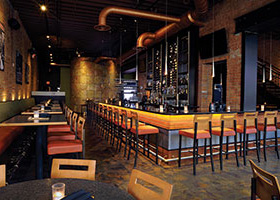 The Strom series of chairs and barstools "on location" at M'Osteria in Toledo, Ohio.It may be an understatement to say that furniture is an important part of a restaurant's décor. Few things in a restaurant can deliver a concept "message" as quickly as seating and tables. Whether it's a high-end, white tablecloth establishment or a QSR, the proper seating and tables let diners know exactly the kind of experience they're going to have. "Seating is one of the strongest design elements in a room," says Josh Swy, furniture design consultant for MTS Seating. "Not only does it make a visual statement but there is also the physical interaction with seating that enables it to become a truly unique part of the space."
At the same time, chairs and tables have to be durable and functional to withstand the heavy usage they'll take. No one understands that better than MTS. Its products strike the balance between durability and stylish design. Take a look at some of its current lines, and you'll see how they accomplish this. The Emma series, for example, has a sleek "retro modern" look that features an optional maple veneer wood shell. With their exclusive MTS COMFORTweb Seats®, Kilo chairs and barstools add a touch of design flair to lounges and dining areas. The Dine Focus® line of chairs and barstools is the ultimate combination of design and comfort, with a full 5" padded seat.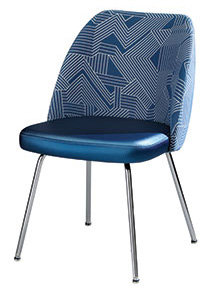 The stylish Emma series chair is available with both a fully upholstered shell or a with a finished wood back with upholstered seat.And of course, they're durable. Many MTS products feature a combination of a high-strength steel frame or aluminum frame, with wood seat and/or back components. This tough frame, combined with a wide range of powdercoat frame finishes and wood stains, gives you the beauty of wood with the strength of steel or aluminum.
MTS produces all its seating products proudly in the USA, in its three production facilities in Temperance, Mich. All the design, engineering, prototyping, testing and production occurs in-house, so you're assured of consistently safe, durable and stylish furniture delivered quickly.
If you need a custom piece, that's no problem. The MTS Custom Shoppe gives designers the opportunity to adjust an existing piece – or even construct a completely new one.
All those capabilities come together in what the company calls "The Art of MTS." "The Art of MTS means looking at everything we do differently, from the products we create to the relationships we maintain to the way we treat our customers, partners and employees," says MTS President Bart Kulish. "It means always keeping quality and innovation as our goals. It means taking responsibility for the way we work and the impact those practices have on the world around us. It means giving back to the people and communities we serve. By striving for excellence in all of these areas, we can elevate our everyday work into something we think of as art."