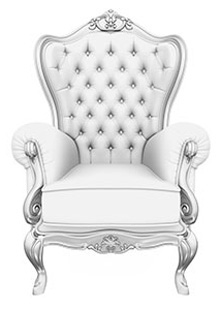 Furniture for lodging and hospitality usage has to do double duty. Not only does it have to look appropriate for the location, it has to be durable as well. That's especially true for a busy restaurant-wine bar concept like City Winery. With locations now in six major metropolitan areas, City Winery Founder and CEO Michael Dorf has had lots of experience with furniture. We asked him to give us his thoughts on the subject.
What trends are you seeing in furniture for restaurants or hospitality?
Michael Dorf: Thicker textures and wood.
There's a movement toward using more natural materials in furniture these days. Is this a good thing?
MD: Yes. There are lots of sustainable materials, and it's a good thing for business, for comfort. It is harder to fire-retard than ugly plastics, but it can be done and looks much better.
What's more important when you're looking for furniture – style or durability?
MD: Style. But we try to find things with at least a 10-year life cycle.
Complete this sentence: "My biggest pet peeve about the furniture I've bought for my operation is…"
MD: …when it makes noise against the floor. People just consider the visual and not the sonorous element of what an unbalanced table or flat footed, non-soft bottom chair sounds like when moving it around or when one sits in it.
If you're in the market for furniture, check out the stories on the next few pages for some creative new ideas.
MTS Seating: Combining Design and Durability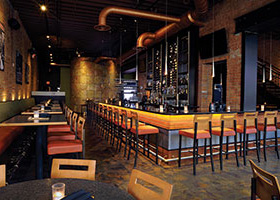 The Strom series of chairs and barstools "on location" at M'Osteria in Toledo, Ohio.It may be an understatement to say that furniture is an important part of a restaurant's décor. Few things in a restaurant can deliver a concept "message" as quickly as seating and tables. Whether it's a high-end, white tablecloth establishment or a QSR, the proper seating and tables let diners know exactly the kind of experience they're going to have. "Seating is one of the strongest design elements in a room," says Josh Swy, furniture design consultant for MTS Seating. "Not only does it make a visual statement but there is also the physical interaction with seating that enables it to become a truly unique part of the space."
At the same time, chairs and tables have to be durable and functional to withstand the heavy usage they'll take. No one understands that better than MTS. Its products strike the balance between durability and stylish design. Take a look at some of its current lines, and you'll see how they accomplish this. The Emma series, for example, has a sleek "retro modern" look that features an optional maple veneer wood shell. With their exclusive MTS COMFORTweb Seats®, Kilo chairs and barstools add a touch of design flair to lounges and dining areas. The Dine Focus® line of chairs and barstools is the ultimate combination of design and comfort, with a full 5" padded seat.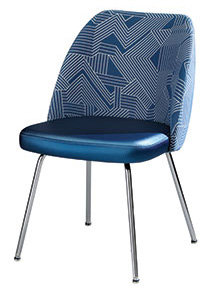 The stylish Emma series chair is available with both a fully upholstered shell or a with a finished wood back with upholstered seat.And of course, they're durable. Many MTS products feature a combination of a high-strength steel frame or aluminum frame, with wood seat and/or back components. This tough frame, combined with a wide range of powdercoat frame finishes and wood stains, gives you the beauty of wood with the strength of steel or aluminum.
MTS produces all its seating products proudly in the USA, in its three production facilities in Temperance, Mich. All the design, engineering, prototyping, testing and production occurs in-house, so you're assured of consistently safe, durable and stylish furniture delivered quickly.
If you need a custom piece, that's no problem. The MTS Custom Shoppe gives designers the opportunity to adjust an existing piece – or even construct a completely new one.
All those capabilities come together in what the company calls "The Art of MTS." "The Art of MTS means looking at everything we do differently, from the products we create to the relationships we maintain to the way we treat our customers, partners and employees," says MTS President Bart Kulish. "It means always keeping quality and innovation as our goals. It means taking responsibility for the way we work and the impact those practices have on the world around us. It means giving back to the people and communities we serve. By striving for excellence in all of these areas, we can elevate our everyday work into something we think of as art."
Vermont Farm Table: Natural Quality, Modern Design
What trends are you seeing in furniture for restaurants and hospitality today?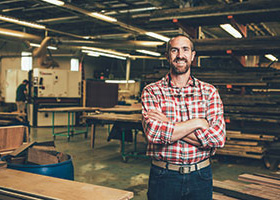 A Q&A with Dustin Glasscoe, Co-Founder Dustin Glasscoe: The big thing globally in this category is communal tables. And power and data integration in tables for hotel lobbies, public working spaces, shared office spaces and coffee shops. We're seeing a lot of metal and wood combinations. We're having a lot of folks asking for solid wood, not veneer, and not composites. We're certainly getting questions about LEED certification and other sustainable business practices.
Tell us about the Vermont Farm Table operation because it's rather unique.
DG: We were founded nine years ago by my wife and myself, and we still run the business day to day. Currently we have 20 employees. We use traditional woods with simple designs and take more of a utilitarian approach, so we're not making overly ornate furniture. We stick to the basics. We're a mass-customized manufacturer and we make everything ourselves in Bristol, Vt.; we're not outsourcing any of the production.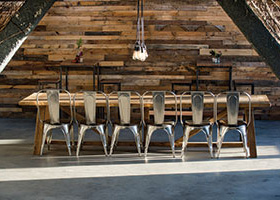 We control the whole sales process. We don't use reps and we don't have outside salespeople. We're not working through distributors or furniture companies. So start to finish, you're working with Vermont Farm Table.
You also have a unique business model.
DG: We're not trying to strip out as much cost or make the product inexpensive; we're trying to make the best product that we can deliver to the marketplace and we price it accordingly.
For example, many furniture companies use a fastening screw that can be purchased at a hardware store and you can almost break it with your fingers. We use a #14 gauge stainless-steel screw for all our connection points, which is probably one of the heaviest screws you can put into the product to ensure that it doesn't fail over time.
Why are your products especially good for restaurant and hospitality operations?
DG: The warmth of the natural materials, the quality of real wood, the durability and longevity of our product. With the whole farm-to-table movement and interest in local and sustainable food, consumers want the environment of the restaurant to match the food. There are a lot of restaurant designs where the natural materia l just bolsters the concept of the food that the restaurant serves.
And you have fast turnaround, too.
DG: We have a responsive sales team and same-day quoting. Our lead times are typically two to four weeks, where it's anything from a 6 to 14-week lead time with other industry players.
The value proposition that we bring to the marketplace is that with Vermont Farm Table, you're getting more bang for your buck.
To get in touch with Vermont Farm Table, call 1-888-425-8838.