Founded in 1964, Huddle House is celebrating its 50th anniversary this year by rolling out a new prototype and adding new units. We touched based with CEO Michael Abt to talk about the longstanding brand.
rd+d: Huddle House is celebrating its 50th anniversary this year. What do you think accounts for the company's longevity? What are some lessons the company has learned and integrated into its philosophy?
MA: One of the major principles that has contributed to Huddle House's success through the decades is our effort to stay true to the core values our brand was founded upon and to avoid chasing food fads as they come and go. How many restaurant concepts can you think of that emerged with a bang and became all the rage for a few years, then ended up fizzling out just as fast? Take, for example, health-conscious juice bars, countless self-serve yogurt shops, or the endless "new and exciting" ways to eat a hamburger. While our model might not be trendy, we simply think to ourselves, "Why not serve the meals that our customers already know and love?" Our success can also be attributed to the way individual Huddle House restaurants assimilate into their neighborhoods, becoming a vital part of the local community.
By continuing to serve classic, value-priced Southern-inspired comfort food and the best breakfast in town, we have experienced annual increases in system-wide same-store sales the past three years.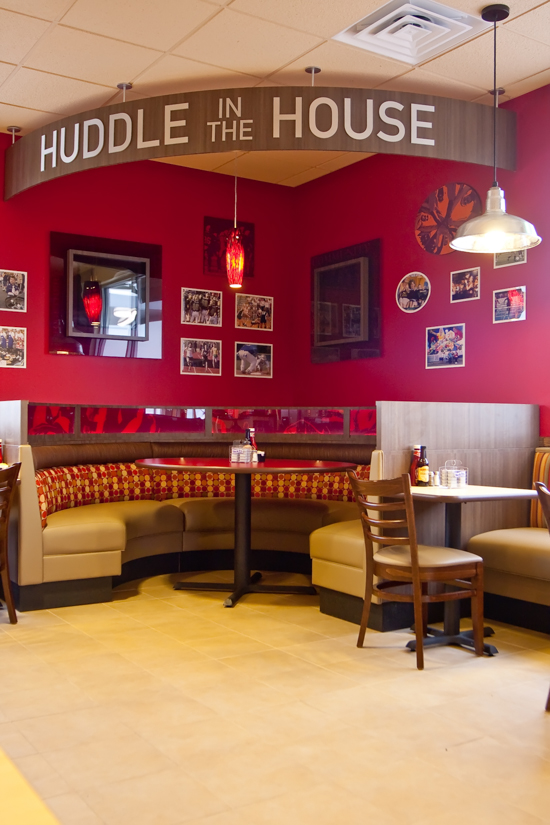 rd+d: What was the impetus for growth given the longevity of the company? How is Huddle House managing growth with the announcement that they expect to add 135 new franchised restaurants between 2013 and 2017?
MA: The popularity of breakfast across the United States continues to grow year after year and Huddle House is uniquely positioned to satisfy this need with wholesome, high-quality menu items, combining the traditional with the more adventurous. Huddle House has built a strong brand presence throughout the southeastern United States during our first 50 years of business, with some recent growth slightly outside of our core region. In fact, in the first quarter of 2014 alone, we have signed 10 franchise deals in the state of New York.
However, as we expand geographically, we continue to identify hundreds of potential locations already within our core region, which is where our primary development efforts are focused. We will continue to leverage the brand recognition in the Southeast, where most of our growth is occurring.
rd+d: It was announced that sales have increased 15 percent in redesigned restaurants. How did Huddle House go about developing its new prototype?
MA: We used an outside firm to develop our new "Evolution" prototype and ultimately tested the design through remodels in our company locations. Once proven, we developed well-received incentives to support remodeling efforts by our franchise partners.
The new Huddle House remodel features a signature tower entrance, plush seating, contemporary furniture and vibrant lighting. The exterior of the restaurants have been modernized and emphasizes brighter colors. These changes add on to the overall ambiance, comfort and modern feel of the restaurants. Since launching the new design, 20 percent of the system has adopted the new Evolution look and by the end of 2014, that number is expected to rise up to 30 percent, depending upon how many new stores open, how many older image stores close, etc.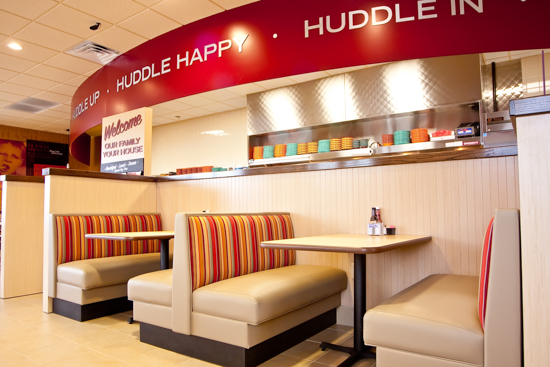 rd+d: What did the new design do for the overall ambiance of the restaurants? And what has the company done to incentivize its franchise partners to adopt the new design?
MA: After the remodel, the restaurants now have a more modern look and feel, and guests are more comfortable with the new seating and overall interior.
Implementing a new prototype is not as simple as telling the owners to do it and then expecting an immediate agreement and action. It is very important to assure our owners that we really do believe in the new prototype. To do this, Huddle House Inc. set aside $2.5 million to go towards a new financial incentive program for the franchisees that agree to switch to the new prototype. The first 100 franchise partners who committed to the remodel by July 31, 2014, were given a portion of the funds in order to offset the costs of the remodel of their restaurant and for local marketing efforts.
rd+d: Beyond the new prototype, what has Huddle House done to refresh its brand and guest experience in other areas?
MA: Over the past two years, Huddle House has hired several experienced and accomplished restaurant leaders in key positions: Tyrone Counts as our chief operating officer, Jonathan Benjamin as our chief development officer and Alison Glenn Delaney as our chief marketing officer. Each new member of our team brings a fresh perspective to the company and keeps us young, even as we reach half a century.
Additionally, just this summer, we launched two new LTO menu items: the Stuffed & Smothered Omelets and our 50th Birthday Cake Milk Shake. This is how we keep our menu fresh and relevant, introducing items that entice non-users and keep current customers interested and engaged.
As a well-established brand, how has the company's plan for expansion balanced the needs and concerns of faithful patrons with the need to appeal to new guests?
We listen to our guests, both current and potential. Both groups want the same thing: wholesome, Southern-inspired comfort food, good portions, reasonable prices with friendly servers in a warm, comfortable and contemporary environment. Provide those things consistently and you keep faithful fans. Introduce these offerings to new guests and their interest is peaked to take another look. It's how we deliver those elements that will be tweaked over time, in a way that gradually brings current guests along, while simultaneously attracting new users.