Diverse, chef-driven food, local culture and community all under one great big roof? Meet the modern food hall, a fast-growing phenomenon that is completely rewriting the old-school food-court playbook. Led by pioneers such as New York City's Chelsea Market and Chicago's foodlife — as well as Italian import Eataly, which now operates in both cities — carefully curated food halls keep popping up in cities across the country and becoming red-hot culinary destinations.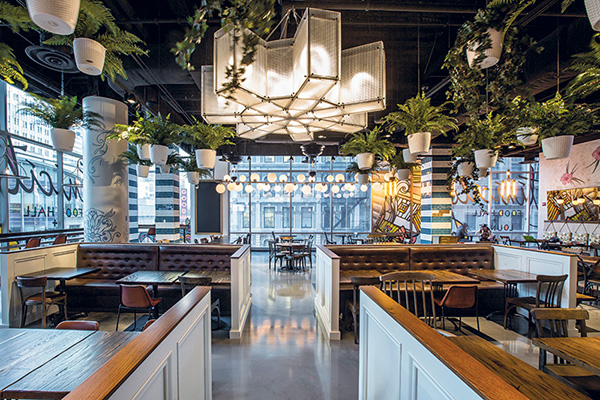 Creating an elevated design aesthetic was a key strategy for the Latinicity team. Photos by Marcin CymmerFrom a development standpoint — and much like their food-court predecessors — they're typically part of something bigger, be it a retail center or mixed-use development. But unlike the often bland and predictable suburban mall food court, modern food halls have a mojo all their own. They're fresh, urban and, in many cases, helping to spur neighborhood renewal through creative adaptive reuse.
Here's a look at three food halls that have recently come on the scene — and that are doing lines-out-the-door business — in Atlanta, Chicago and Portland, Ore. Each offers its
own unique twist on the modern food hall experience.
Latin Flavors, Elevated Design Distinguish Latinicity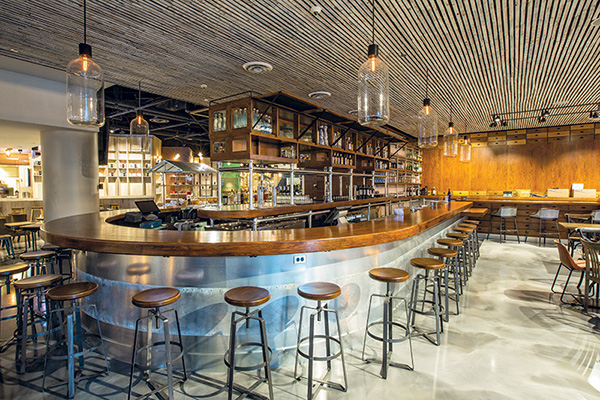 Latinicity's large bar, which serves up Latin beers, wines and specialty cocktails, is situated between the food hall's central food stall corridor and its open and airy common dining area.Eataly, the massive food hall/market pioneer that celebrates all things Italian, was the inspiration for Latinicity, a hot new Chicago food hall that celebrates Latin food and culture. Opened last November, the concept, described as "an experiential dining marketplace," is part of the redevelopment of Block 37, an urban shopping, dining and entertainment destination in the city's downtown Loop district.
Set on the third floor, the 22,000-square-foot operation is a collaboration between two high-profile, multiconcept restaurant operators: Chef Richard Sandoval of Denver-based Richard Sandoval Restaurants (RSR) and Chef Jose Garces of Philadelphia-based Garces Group.
"We had started talking about doing a Latin variation on a food hall four or five years ago, but it had to be the right space," says Bart DeLorenzo, executive director of new business development at RSR. "We had a prior relationship with the new owners of this building. They came to us and said they had an opportunity for us to do a food hall here. It had already been slated to be a food hall, but the previous owners went bankrupt and the project stopped. It meant that much of the infrastructure we'd need was already here. The location is great, and the space had a lot of potential, so we thought it would be an easy way for us to test and refine the Latinicity concept."
The group came in with the idea of creating a food hall that would be differentiated by its fresh, authentic, Latin-inspired cuisine and more polished, design-driven appearance and ambiance. Phase one of their plan, primarily focusing on foodservice, has been a big hit since its November opening. Phase two, which DeLorenzo says will begin over the next several months, will expand Latinicity's retail offerings to include more specialty Latin foods, spices and beverages as well as handcrafted, artisan products and culinary items marketed by celebrity chefs.
"We operate 42 food concepts around the world now, but this is our first food hall," DeLorenzo says. "There's nothing simple about it, and there's nothing written that says 'here's how you do it.' We're learning every day and adjusting accordingly."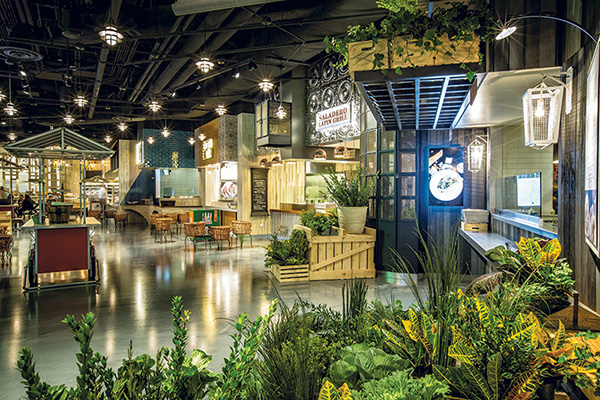 Chicago's Latinicity features 12 specialized, pan-Latin restaurant concepts with menus developed by co-collaborators Richard Sandoval Restaurants and the Garces Group. It sits on the third floor of a major new retail, entertainment and dining development in the city's Loop neighborhood. Photo by Marcin CymmerAs of early June, Latinicity was comprised of 12 unique food stalls lining a wide central corridor. All were specially created by the collaborating chefs to fit the Latinicity concept and footprint. Chefs work from a large central kitchen, where everything is prepared fresh daily. Each stall or kiosk is equipped for finishing and assembling foods that are served primarily fast-casual style.
Among the stalls are Saladero Latin Grill, Sushi and Ceviche, Tortas y Cocas, and Mariscos, a seafood concept serving crispy fish and fresh oysters on the half shell. Customers with more domestic tastes can visit Burguesa for American-style burgers and fries with Latin-inspired sauces, cheeses and breads. Coffee, smoothies and desserts are available as well.
A retail market selling specialty cheeses and meats, wines, beers and other beverages and culinary items sits on one side of the main entrance, while a full-service tapas restaurant, Pata Negra, flanks the other. There, guests can sample a wide variety of globally inspired tapas, as well as cheese and charcuterie, in a comfortable, casually upscale setting.
The main corridor leads to a large, horseshoe-shaped bar and open common dining area with a variety of seating options for up to 200 people. Floor-to-ceiling windows overlook the city below.
Portland's new Pine Street Market has spurred urban renewal in an area of downtown that was on a decline and missing out on the city's vibrant culinary culture. It houses nine high-profile, chef-driven micro-restaurants. Photos by Alan WeinerWorking initially with Barcelona-based designer Lazaro Rosa-Violan, the team sought to create the experience for guests of "walking a day in the life of Barcelona or Madrid or a Latin American city," DeLorenzo says. With the overall direction set, he and his team then value engineered the design and completed the balance of the project internally, selecting more affordable materials and custom building as much of the furnishings, fixtures and millwork as possible, including nearly all of the light fixtures.
While individual restaurants throughout Chicago offer a wide variety of foods from Spain, Portugal, Mexico and other Latin locales, they're often limited in their scope and less sophisticated in their design, DeLorenzo says. "We offer a really diverse, pan-Latin dining experience in one place. And we made the decision up front to spend the money on a high level of finish. We didn't want a stripped-down look just because it's a food hall."
With business at Latinicity already booming, RSR has plans to enhance the concept with a casual cervecería and to begin delivery service to nearby office buildings. And while operational and conceptual adjustments continue to be made as the group gets its food hall footing, plans are already underway to export Latinicity to other markets.
Pine St. Market Touts Portland's Best
Renovation of Pine St. Market's historical building involved removing layers of materials that had been added to the space over the years, restoring windows and adding skylights to maximize natural light. Each restaurant concept has its own look and feel, and the majority of seating is in large common areas.Pine Street Market in Portland, Ore., opened May 1, 2016. The 10,000-square-foot food hall occupies the entire ground level of a 30,000-square-foot historical, three-story building on the west side of downtown. Jean-Pierre Veillet acquired the property in late 2013 through his development firm, Northwest Sustainable Properties, and led its design and $7 million renovation through Siteworks Design | Build, which he also owns.
"It's the old Carriage and Baggage Transfer Building that was constructed in 1886, the year the railroad came to Portland. It was well preserved but mostly boarded up and under-utilized," Veillet says. "The neighborhood around it had been in decline for many years despite the fact that it is near the epicenter of downtown — close to the water and walkable from hotels and office towers. It's also a very popular area for high-tech startups, which now occupy the top two floors of our building."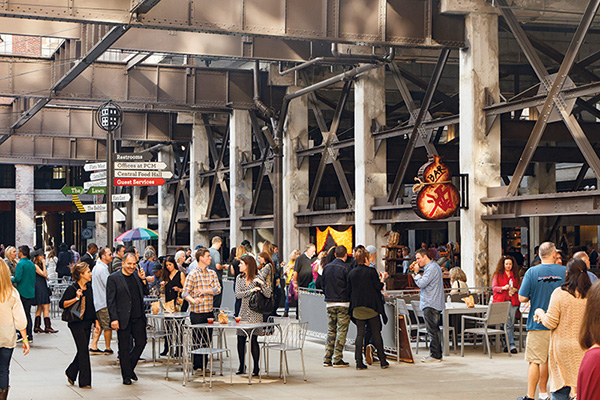 Developers have transformed Atlanta's old Sears, Roebuck & Co. building into Ponce City Market, a vibrant, mixed-use community hub. The facility's Central Food Hall is a primary draw, offering 25 diverse foodservice concepts in an open, airy environment. Photo by Ben RoseWhat the area didn't have was a piece of Portland's thriving culinary scene. Most of the city's hottest new chef-driven restaurants reside across town, Veillet notes, a bit removed from the downtown action. "It was an opportunity to bring a lot of our favorite restaurants over to the west side, where there's actually more tourism," he says. "It was a way for those chefs and restaurateurs to set up shop here in a different way — on a smaller, more affordable scale — and for more people to discover them. It's a very high-volume, low-capital expense proposition for these guys, which is central to helping our concept succeed."
Pine St. Market uses a tightly choreographed model: It's built to house nine micro-restaurants surrounding a large common seating area. Some have their own immediate counter seating area and provide fast-casual-style service out into the common area. The restaurants share certain amenities and infrastructure — things like restrooms, mechanicals and grease traps.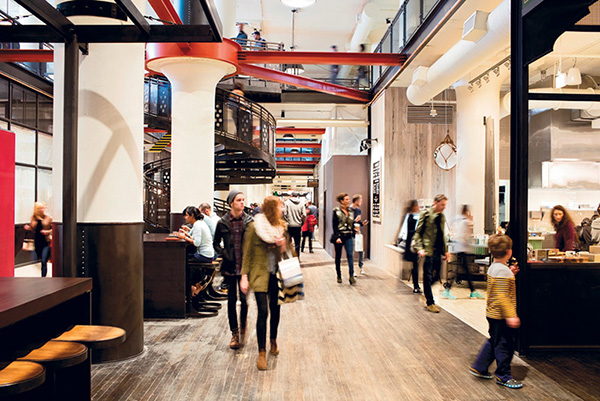 Design highlights at Ponce City Market include a wrought-iron circular staircase that connects the Central Food Hall to the second-floor gallery and original hardwood floors, columns and steel beams. Photo by Ben RoseAll of the tenants have five-year leases, and they're a carefully chosen group. "Mike Thelin, who's the organizer of Feast Portland and a great advocate for the Portland food scene, did the curation," Veillet says. "He was central to the outreach and authenticity of who we brought in. Four of the tenants are James Beard Award-winning chefs. After we had our first couple of concepts signed, we had a massive amount of people wanting to get in. We had to vet them carefully and address things like who wasn't going to be too competitive with other concepts already planned."
Unlike many food halls, there's no retail or grocery component at Pine St. Market; the chefs and restaurants serve as the stars of the show. Offerings range from specialty ramen to high-end coffee, cold-pressed juices, fresh baked goods, artisan hot dogs and sausages to Spanish tapas and chef-inspired twists on soft serve.
Each concept has its own distinct space and unique branding elements. Some owners used designers with whom they'd worked on their original concepts, while others relied on Siteworks. "The only requirement was that their space had to somehow fit with the historic look and feel of the market," Veillet says. "Each has its own interpretation of that, but they all worked within the context of the building and its primary elements — brick, timber, steel and glass."
From a development standpoint, Veillet admits that the multi-operator food hall approach at Pine St. Market is challenging but feels it's the only way to create a true local culture experience. "It's more work to manage all of the relationships and to figure out how the common operations are going to happen. It's not just plugging something into a pro forma," he says. "Designing the buildings and doing developments is one thing, but in the end, it's about how people experience a space like this."
The overall renovation project itself, Veillet adds, wasn't overly complex. The project started with good bones, and much of the design process involved removing elements and materials that had been added over the years to expose the original timbers and brick. Original windows were restored, and efforts were made to maximize access to air and light. "We put in a 60-foot skylight through the third-floor ceiling that carries light through the atrium to the market level," he says. "We added festive lighting, heavy timber tables and seating areas that are comfortable and warm. It's a space that I think transports people a little bit back to a time when there was a greater sense of community. That's a really nice thing that's happening here."
Size, Mix Matter at Ponce City Market
While the culinary offerings and energy that restaurants bring to the food hall party are central to their success, there's a lot more to the equation, according to Michael Phillips, president of Jamestown, the real estate development and management firm that opened Atlanta's Ponce City Market (PCM) last year. As adaptive reuse projects go, it's a biggie: The multi-year renovation breathed new life into the historical Sears, Roebuck & Co. building, a classic, 2.1 million-square-foot structure that Jamestown transformed into a vibrant mixed-use community hub.
At its heart is the 85,000-square-foot Central Food Hall that's surrounded by another 50,000 square feet of food- and lifestyle-focused retail. That mix, Phillips says, is what makes food hall concepts unique. "We believe that food halls have to create a cooking culture for the home cook so they feel like there's credibility in the offerings. They have to always be able to either enjoy a meal there or assemble a meal from the variety of raw and specialty ingredients found at the food hall."
Phillips speaks from experience: Jamestown also owns New York City's 15-year-old Chelsea Market, a pioneer in the food hall segment. Similar in size to the PCM Central Food Hall, Chelsea Market draws more than 6 million visitors a year and is one of the city's most cherished shopping and dining destinations.
For those concepts tapped to be part of the carefully curated food hall collection, the exposure is terrific, the volume is high and the investment is relatively low. "We believe that the most successful food halls are part of a bigger project footprint, so you're creating an integrated consumer and baseline revenue model for your tenants," Phillips notes. "That factors a lot into how we think about the tenants that we curate, and it allows us to invest more dollars in infrastructure — venting, plumbing and commissary kitchens — those things that tend to be the challenges for restaurant tenants to finance from small-footprint businesses. Their ratio of employees to square footage is fairly high, and they need to be able to sell high volumes of product."
In most cases, that means Jamestown seeks operators who can provide focused, specialized menus. The Central Food Hall includes 25 restaurant concepts, a diverse group that ranges from full-service fine dining to quick-service, casual food counters and pop-ups. There's a little something for everyone, and for every occasion, which Phillips says is critical to ensuring that business remains brisk day into night. "A lot of food halls make the mistake of being designed mainly to be occupied during the day hours or lunch period," he says. "At night, people don't tend to want to eat food standing up or from a counter. For dinner, they want a more relaxed, comfortable, complete dining experience."
Included in the mix are concepts from James Beard Award-winning chefs, big-buzz local and regional restaurant groups, and food purveyors offering everything from fresh seafood to classic burgers, cold-pressed juices, locally made kimchi and steamed buns, artisan gelato, and specialty cocktails and wine. Careful attention was paid to celebrating the region's unique food culture as well as to honoring the building's history and design. "We wouldn't accept a tenant that didn't have a kind of evolved aesthetic in their proposal to us," Phillips notes.
Phillips adds that the curation process involved a blend of outreach to operators and operators showing interest in being included. "You have to figure out what you want and go get it," he says. "From our perspective, that's what makes it authentic and local versus just another food court. We have architects, designers and F&B specialists on staff, and we help the people we want in get in and figure out their business plan for operating in this unique type of venue. It's mostly fast casual, but fast casual times five."
Physically, the Central Food Hall spans a wide, roughly 900-foot-long central corridor on the main floor. A couple of "tributary environments" offer quieter moments and additional concepts to discover off of the vibrant main hall, and a second-floor gallery includes space for additional retail, as well as a coffee bar and upscale restaurant and bar, The Mercury.
Sizes and lease arrangements vary widely, ensuring maximum flexibility for the developers. "It's across the board from a one-year lease agreement to a six-month pop-up to a 15-year lease," Phillips says. "We don't have a one-size-fits-all approach to it. Is something really on trend right now but may not be in a year? Then we may do something short term. Is it something that's a fundamental, baseline kind of crowd pleaser that people are going to want for a long time? Then we'll do something long term. We have a number of spaces that we've fully built out from an infrastructure standpoint, down to the shelving, so that we can be flexible and agile in responding to trends. If someone said they're in on a Friday, they could start on Monday. That's the minority of spaces we have, but I think it's important for food halls to have that."