Smooth traffic flow, menu variety, finding a balance between self-service and exhibition stations, and maintaining food quality throughout service are the hallmarks of successful buffets.
Buffets attract customers looking for a community experience, one that features large quantities of food attractively displayed. Paying a flat fee for an all-you-care-to-eat menu remains a valuable dining option for many consumers. Some buffets charge extra for premium menu items such as lobster and prime cuts of meat. Many casual restaurants featuring table service offer buffet components for special events, featured menu items or dayparts. For example, Brazilian churrascarias offer a combination of table service, as passadores (meat waiters) come to tables, offering meat on skewers, and a lavish salad bar with at least 100 selections. Though buffets may seem easy and user-friendly to the customer, their successful implementation to ensure the optimal guest experience requires thoughtful development and design.
Planning
At Harrah's Waterfront Buffet, the food counter measures 290 feet long and includes nearly 190 food items.Before designing a buffet restaurant or a smaller buffet within a foodservice operation, deciding the theme represents a crucial first step. All stakeholders, including management, must agree on the concept, which determines the design, the decor, the type of equipment to purchase and the necessary staffing levels.
Next, decision-makers must determine whether to theme other concepts under the umbrella concept. "In the planning process, the development team must determine how much self-service and how much exhibition-style cooking in front of customers should be incorporated into the design. A combination of serving styles works best," says John Egnor, principal, JME Hospitality, The Woodlands, Texas. Over the course of his career, he has designed more than 200 buffets in casinos, resorts and stand-alone restaurants in America and internationally.
Determining the menu for each station must take into consideration staffing, pricing and traffic flow. "Perhaps the menu designers want some high-end foods such as broiled lobster tail or 16-ounce rib-eye steaks," Egnor says. "If these are offered every day as part of the overall offerings, the all-you-care-to-eat price must cover the costs. Or, maybe it's more sensible to up-charge for these items or offer them as specials on one or two days a week."
With the theme-related decisions made, the project team must then determine the number of seats. "The amount of food and numbers of stations varies greatly when serving 100 or 600," Egnor says.
The number of customers and price points also influence the size of the back-of-house kitchen and how much equipment this space will require in relation to the front-of-house stations. Designs that allow customers to see at least some of the preparation in the back of the house minimize the need for equipment at the stations and vice versa.
Entrance, Exits and Seating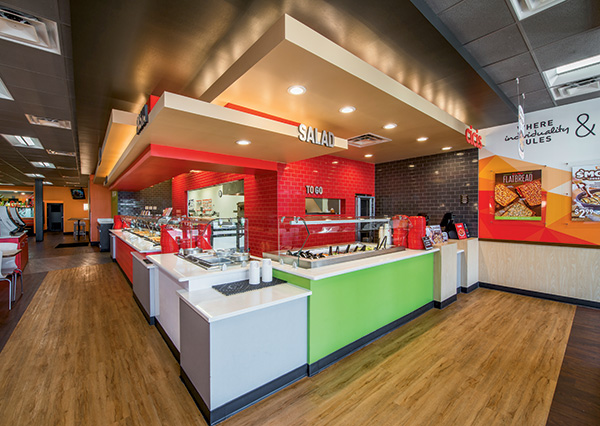 Harrah's Waterfront Buffet in Atlantic City, N.J., seats 630 people in the 11,700-square-foot restaurant.Similar to other restaurant concepts, the entrance must be inviting and memorable to set guests' expectations. While customers wait for a host or hostess to seat them, allow space for guests to congregate. This space often includes benches or lounge chairs for the guests' comfort.
In large operations, defining the space for queues must be considered as a means to control the integrity of the entrance. Casino buffets, for example, often provide lines for VIPs and other patrons.
At exits, operators can offer mints or other confections as a thank-you or offer opportunities to purchase take-home desserts such as gelato or other house-made products. These retail offerings generate additional revenue but should be easily accessible and available in packaging that contributes to a positive guest experience.
The target market and menu will help determine the most suitable type of seating, including two-tops, four-tops, banquettes and community tables.
Egnor recommends centralizing the buffet within the seating area. "Placing seating areas as equally distant from the buffet serving lines as possible balances the room," he says. "An unbalanced layout creates operational challenges in bussing and staff's access to tables for beverage delivery and guest support."
At Harrah's Waterfront Buffet in Atlantic City, N.J., the 630-seat, 11,700-square-foot dining area divides into separate and distinct sections. This prevents customers from feeling like they are in a mess hall during busy dining periods, yet they don't feel lost during slower times. Diamond-status guests can sit in a specially designated area that overlooks the pool. Customers can also sit in a rotunda that overlooks a promenade; in a large area near the server stations or in one of four 40- to 60-seat dining rooms.
Equipment and Lighting to Consider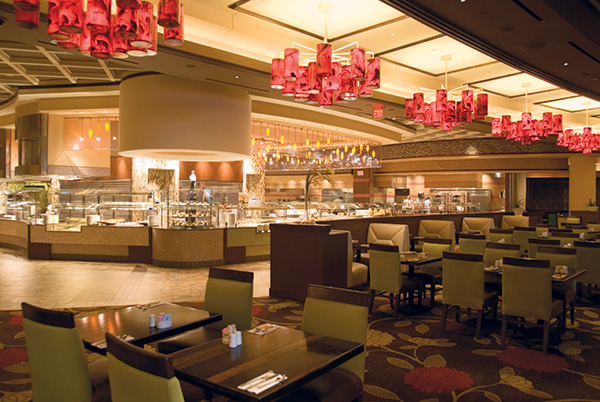 Cici's has a new prototype that offers an improved dining experience and a more efficient kitchen.The method of service (will guests serve themselves or will staff serve them) and the level/amount of action cooking or product display, as well as how customers interact with the service staff, are subjective criteria that require discussion and analysis by the design team to determine the most cost-effective and functionally interactive ambiance for the buffet.
In contrast to the old-style straight buffet lines, new buffets contain stations distinguished from one another by equipment, countertops and countertop fronts. For example, pizza buffet chain Cici's has a sleek, easy-to-clean, L-shaped buffet configuration that features red tiles on the sides, glass food shields and a manufactured solid surface. The longer part of the L contains pasta, pizza and desserts, while the shorter part of the L displays salads.
At Harrah's Waterfront Buffet, concepts include American, Italian market, rodízio, down-the-shore coastal cuisine, Asian wok and Mongolian barbecue, sushi bar, dim sum, salads and desserts. The food counter is 290 feet long and features nearly 190 food items. The "wow" features in the servery include a round churrasco grill for cooking meat, poultry and fish on rotating metal rods over an open flame; a fire pit that rotates clockwise while terrets holding whole fish revolve counterclockwise over the open fire; a wok station where the cooks face customers; a Mongolian grill; a dim sum station where customers help themselves to hot, steaming products in baskets; and a dessert tower. Also contributing to customers' experience are hot pans placed on a heated electric plate, which maintains dishes' steam and sizzle; seafood that is chilled in an iced and refrigerated seafood display; and open-air screens that keep chilled food fresh while giving customers easy access to products.
No matter the decor, proper lighting is crucial for a buffet. "Lighting throughout a buffet restaurant or buffet line must be clean and bright to allow the food colors to come out and not mask the color of the food," Egnor says. "Fluorescents are terrible. New LEDs are ideal."
The myriad choices of equipment may seem daunting. Each selection must complement the style of service and overall ambiance. Induction equipment is becoming more popular on buffet lines because it is easier to clean than traditional ranges. "If a buffet is temporary for breakfast, for instance, you may not need a hood. But if the stations are permanent, a hood is required," Egnor says.
Plates and Serviceware Placement and Food Waste Controls
Placement of plates and serviceware is a key factor in the functional success of a buffet. Plates on a cart can be positioned in the center of an area, at each station or both. "Most important is to be sure the plates and serviceware are easily accessible," Egnor says. "Placing plates under counters is a good look, but I prefer the plates not to be on the buffet but rather at an island or a column near the buffet. Plates at individual stations can create a long line. If plates are more centrally located, customers can walk around to various stations to get what they want."
At the stations, displaying smaller portions of food and replenishing often helps reduce food waste. Many restaurants send excess shelf-stable food to area food banks. Laws vary locally and must be researched before setting up donation programs. For disposing waste, new environmental technologies such as biodigesters reduce the carbon footprint to zero.