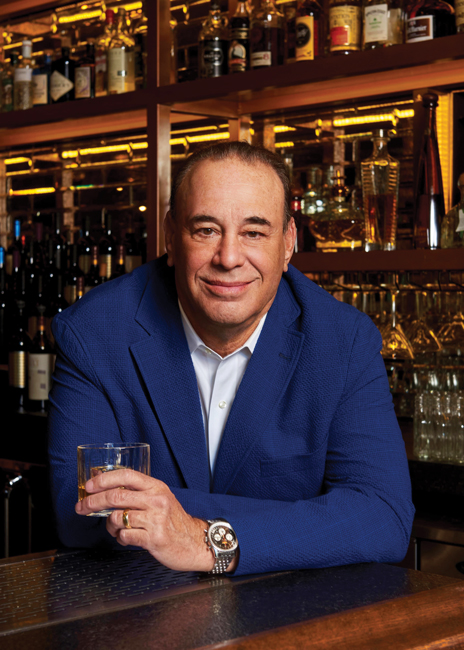 Jon TafferJon Taffer rose to celebrity status as the executive producer and host of Bar Rescue, a reality TV series in which he applies tough love, business smarts and the occasional angry rant to help transform failing bars into profitable businesses. He's also a New York Times best-selling author, a hospitality and business consultant and a serial entrepreneur. His latest creation, launched in 2019, is Taffer's Tavern, a "new casual" dining franchise. Among the pub-inspired concept's key points of difference: Its kitchen relies on hoodless, ventless sous vide technology, which enables speedier service, a smaller footprint, lower build-out costs and reduced kitchen labor.
The first Taffer's Tavern unit opened in August 2020 in the Atlanta suburb of Alpharetta, Ga. The company has since opened a nontraditional, counter-style unit at FedEx Field in Landover, Md., and has units opening this year in Washington, D.C., Massachusetts, Nevada, Georgia and Florida.
Taffer discusses his vision for the casual-dining restaurant of the future, how his concept marries old-school hospitality with modern technologies, and his optimism for the 2020s.
What was the impetus for creating Taffer's Tavern as a concept with a full, traditional menu but without a traditional commercial kitchen?
JT: We are in an industry plagued with a human resources problem. When we started three and a half years ago, unemployment was low and nobody could find employees. I visited friends and clients who run casual-dining operations and they'd typically have six people in the kitchen. That's just not sustainable — it wasn't then and it certainly isn't now. I wanted to find a way to infuse technologies to reduce the kitchen labor burden by 60%. If I could do that, then I wouldn't have to cut labor in the front of house. I could maintain that connectivity with the guest that's so important in our industry.
Operationally, how does it work?
JT: We have a relationship with Cuisine Solutions, a sous vide supplier that works with us to create and produce signature menu items. They've also since become a Taffer's Tavern franchisee. Similar to a commissary, they provide all of our products sous vide. The foods are perfectly cooked to our specifications and, depending on the item, either refrigerated or frozen. Our employees simply open the vacuum-sealed plastic bags and put the items into a computerized combi oven to bring them to temperature, and, in the case of some proteins, add a charbroiled finish. The food is delicious, consistent and safe. We have a full menu and our average ticket time is four to six minutes. And because we have no raw proteins in the restaurant, we don't need two-color cutting boards, separate prep areas for raw and cooked items, or specially trained kitchen employees. Our walk-ins have no open-air products and we get shelf lives much longer than for raw products. So we solved a lot of operational problems, from inventory and labor to consistency, safety and quality by embracing not only cooking technologies but food technologies as well.
Is technology part of the front-of-house guest experience at Taffer's Tavern?
JT: When you walk in the front door of a Taffer's Tavern, you don't see any technology. We do have tablets and QR codes and such, but we're very careful about protecting the connectivity of that front-of-house experience. We reduced labor in back, where it's most expensive, but we increased it in front. I worry that the big shift we're seeing to customer-facing technologies causes a loss in brand equity and guest experience. As the limited-service side of the industry embraces more and more technology, it becomes an almost institutional dining mentality in which brand differentiation is ultimately minimal. We're very big on connectivity, so our core model is a traditional service experience. That being said, we as an industry have to understand that we are in two businesses now. It's like Amazon: Our distribution channels have changed. We sell retail in the store and we sell out of the store through platforms. If we master those divergent channels, we'll do great.
How does your full-service model seek to master off-premises channels?
JT: We've made a real commitment to takeout and delivery, but it's challenging. Not everything travels well, so we've looked hard at our menu and removed anything from the to-go/delivery menu that we've determined doesn't travel well. As an industry, we're all trying to figure out how not to have to pay 25% or 30% on third-party deliveries. That's just not sustainable, and I think the delivery providers are starting to get the fact that they have to provide a lot more value, particularly on the revenue side, to justify those fees on an ongoing basis. At Taffer's Tavern, we pay a flat fee per delivery versus percentages. We've also added a pick-up unit accessible from the exterior wall at the back of the restaurant. On the interior, there's a locker. When the food is ready, it's placed in this warm locker and a QR code is put into the system. When driver, or to-go guest, pulls up, they don't go into the restaurant at all. They simply hold up their phone with the code, the exterior door of the locker opens, they take the food and go.
---
Images courtesy of Taffer's Tavern.
---
Since opening in 2020, in the depths of the pandemic, have you made significant prototype or development shifts ahead of what looks like aggressive franchise development?
JT: No. We haven't needed to change anything. The design is working really well. Our average unit is 4,500 to 5,000 square feet, except for the one opening in D.C. in March. That's closer to 8,000 square feet. We see a huge opportunity in that market, so the restaurants are a little bigger there. Right now, our big focus markets, in addition to D.C., are Boston and Tampa. Michigan, Chicago and Dallas are also strong targets. We know there's high Bar Rescue viewership in those markets, so we already have great Taffer brand awareness. We also have some units going into stadiums and we're negotiating a few airport locations. Our concept is great for airports because sous vide and automated cooking technologies ensure very quick ticket times. The biggest question for us now is what downtown locations look like if office workers don't come back as much or as often as businesses think they will. When we look at locations, we look at lunch very differently now. It's more an icing rather than a core business in many markets because it's so unpredictable.
Despite it's very rough start, you profess to having a bullish outlook for the balance of the 2020s. Why?
JT: I think we come out of this stronger than ever in a number of ways. We've learned a lot about sanitation and about how to run our operations with fewer people, for example. We've been forced to and we've adapted. We've reworked systems, revised job descriptions and infused technologies. As an industry, we find solutions. But the big thing is that the outlook from a revenue standpoint is outstanding. Consumer craving for new products and new brands is extremely high. Younger consumers don't have the commitment to legacy brands that previous generations did, so the opportunity for new brands and new categories to develop are huge. It's extremely exciting. The challenges are how do we do it knowing that we have an ongoing, very tough labor issue and understanding we have to be prepared for fluctuations in food prices and availability. But with smart management of those issues, I think we're looking at a heck of a decade in revenue.