Villa Restaurant Group is betting hard on airport locations for its growth.
Next year, the Morristown, N.J.-based operator will open the seventh of seven brands at the brand new Terminal B at La Guardia airport in New York; it operates five concepts in the Orlando airport and has just signed a contract with another major airport location.
Airports, says Chris McNamee, senior manager of business development, "are phenomenal for brand awareness and publicity. They're also money makers and have the potential to produce two to three times the sales and profits of traditional locations."
However, there are challenges: small spaces make design and operations tricky and getting all employees through federal background checks is a hurdle. Food and labor costs are typically three to ten times higher than in traditional locations, too, though this varies by location.
Here are six best practices for developing restaurants in airports:
Budget for increased buildout costs.
Buildout costs for airport locations can be two to five times more than in traditional locations, McNamee says, and often you get no assistance from your landlord. But largely, the high costs are because very few companies are certified to work in the post-security area, leading to above-market rates. Better equipment, higher-end finishes, and more durable materials also add to the cost.
Also add in more time for buildout. Airport locations can take 18 to 24 months until they're ready to open versus six to eight months for a traditional location, with 120 to 180 days for buildout, versus 90 days for traditional spots.
Also, many airports are outdated and you often "have to gut everything down to the studs and start over," says McNamee. This is often because codes change so frequently in airports, he adds, but also because airport locations really get "used and abused."
Brand new terminals are no bed of roses either. "Some new builds can be more difficult because you're often up against tight deadlines and publicly-announced opening dates," McNamee says. "So, you have competing interests between general contractors, base building architects, and concessionaires, all who have opposing needs and utility requirements."
Image courtesy of the Orlando Airport Food Hall
Downsize your prototype.
Airport locations are around half the size of traditional restaurant locations. Villa's Green Leaf's brand typically operates out of 800 to 1,000 square feet but the La Guardia location is 500. "We've had to change the concept and the service style," McNamee says. Here, the company created a simpler menu; moved to more digital ordering and moved prep to a commissary.
"The whole purpose is to streamline so everything fits and because we have to get people through the line as quickly as we can. And, we have to find space for grab-and-go, which can be a tremendous revenue source in an airport."
Build for durability.
Airport locations get beaten up much more than traditional locations, McNamee says, so buy very durable equipment and furnishings, since customers' bags frequently hit things they shouldn't. And higher volumes lead to a need for more regular equipment maintenance. "Be prepared to renovate often," he says. "We've had to replace the furniture in Orlando after just five years and we used the most durable furniture we could find."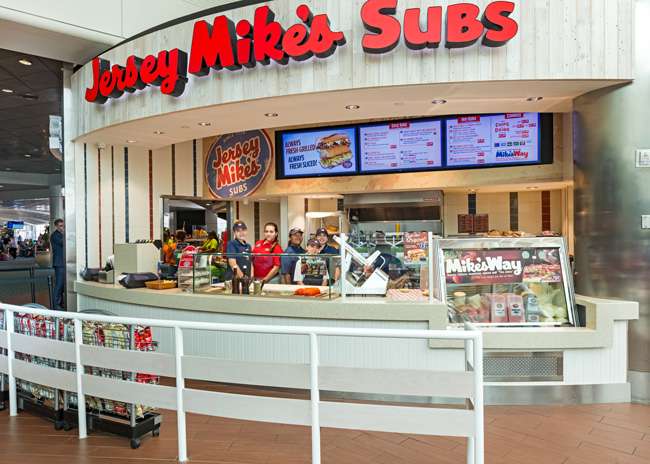 Image courtesy of the Orlando Airport Food Hall
Retain your branding.
Villa will have to reduce the number of beer taps in its Office Tavern Grill brand from 40 to 20 when it opens next year in a new airport, and the team had to ask if this compromise diluted the brand too much. In this instance, the answer was no, but it isn't always.
Keep your airport location as much like your traditional restaurants as possible, even if you have some different equipment and a larger grab-and-go section. "It's all about speed, efficiency, functionality: How do you get people through and away from your counter and register," McNamee points out.
Consider your equipment.
Also ask yourself what equipment you can do without and negotiate for a commissary in the terminal if possible or necessary. Villa uses commissaries to do prep, store equipment and keep an office.
Think, too, of what you can do with ventless cooking equipment, McNamee points out, because airports often provide no ability to vent, yet want a full restaurant. "You have to get creative with what you can make with your menu."
At the end of the day, McNamee points out, "design of airport locations is critical because these people are here to fly, not to eat. A well-designed store can be the difference between a dismal day or great success. So airports are going to become a place with cutting edge design."