True Food Kitchen, the healthy-food brand founded by Sam Fox of Fox Restaurant Concepts and integrative medicine guru Dr. Andrew Weil, is looking at all types of locations as it ramps up expansion to around 10 new units a year. High on its list of targets are plum spots in the burgeoning mixed-use development arena.
Designed as walkable, high-energy urban or suburban environments in which consumers can live, work, play, dine, shop and, in many cases, enjoy community-building special events, mixed-use developments deliver built-in traffic and a solid mix of both business and residential density.
"We need that mix because our model calls for a 50-50 split between lunch and dinner," says Chuck Chavez, vice president of real estate and development for the Phoenix-based chain, which is approaching the 30-unit mark. "That's one reason we really like mixed-use. But we also like it because those environments speak so well to how so many people want to live today, whether it's Millennials who want a lot of options and amenities without having to drive or empty nesters looking to downsize and enjoy the benefits of urban-style living."
In recent years, True Food Kitchen opened in mixed-use developments including Vertis Green Hills in Nashville, Tenn.; Solaire Bethesda in Bethesda, Md.; BLVD Place in Houston; and Ballston Quarter in Arlington, Va. The chain plans additional openings at Avalon in Alpharetta, Ga.; The Julia at St. Charles in New Orleans; and Midtown Tampa in Tampa, Fla.
Each unit has its own vibe, and each requires design and operational flexibility that Chavez says is simply part of the territory when considering mixed-use development locations.
Vet HVAC Capacity, Access
To wit, while restaurants are a critical part of the mix in terms of creating a development's desired amenity vibe and buzz, the fact that they're often directly below residential and/or office spaces creates unique challenges. The biggest among those can be managing air quality.
Many developers build ground-floor shell spaces designated for restaurant use, but they often do so without knowing the level of mechanical infrastructure that future restaurant tenants will ultimately require. And with other tenants already in place above or adjacent to restaurant spaces, modifying a building's systems to accommodate higher loads can be challenging, disruptive and extremely expensive.
Houston-based architecture, design, planning and consulting firm Gensler's project portfolio includes full mixed-use developments as well as individual restaurants within them. It recently completed work on Houston's Memorial Green, where Jonathan's The Rub, a comfortably upscale New American eatery by chef-owner Jonathan Levine, anchors one of two office/retail towers. This was a case where the building was constructed prior to its main restaurant tenant being selected, posing design and construction challenges for the Jonathan's team, according to Stephanie Wherry, technical designer on the project.
"The kitchen is one of the biggest issues because it has so many requirements; there's so much that needs to run into and out of it," Wherry says. "Depending where it's located within the site, where the restaurant is within the building and where the shafts to the roof are, it can be difficult to figure out how to route that out without disrupting other tenants and/or compromising interior design. For Jonathan's, we had a shaft, but its placement and our timing were bigger issues. A salon next door was already far along in construction before we began, and access to the shaft was on their side of the wall instead of on the restaurant's side. We had to contend with trying to go inside a space that wasn't ours, a space that was already constructed, to do what we needed to do."
True Food Kitchen opened a 7,100-square-foot unit at Ballston Quarter in Arlington, Va., in May. Replacing an outdated mall, the new mixed-use site includes residential and office towers, a public plaza, restaurants and boutique retailers — even a food hall and ice arena.
When considering spaces in mixed-use developments, start by determining if the community's demographics are right and whether a particular space has sufficient capacity to meet revenue goals, Wherry says. With those boxes checked, the biggest question to ask is, "How am I going to get the kitchen, HVAC and mechanicals I need in here to make my concept work?"
Chavez agrees, noting that many times, retail landlords put in systems that fall well short of what restaurants with full kitchens need. "Yes, they're designed for restaurant tenants but often more for simple cafe or sandwich operations that might have 10-foot hoods," he explains. "Our cookline is 38 feet long and generates a lot of exhaust. Add in air conditioning and makeup air, and it's a big load to manage for air quality. In some cases, we've had to install special air-cleaning systems and/or route exhaust down to a garage or up several stories to a rooftop."
That's not just an extra development cost, Chavez notes; it's also an ongoing maintenance challenge. "In mixed-use situations, having the right service company is critical," he says. "Access can be difficult, and you need to be sure to use technicians who are knowledgeable and experienced in these settings. If not done correctly, or if they can't get proper access, you risk grease fires and/or smoke and odors in the restaurant, which is both unsafe and a big turnoff for residents, workers, shoppers and others utilizing the development."
Understand Operational Implications
More mundane but important considerations for potential restaurant tenants in mixed-use developments include the proximity of receiving areas and dumpsters.
"True Food's menu is all fresh. We're constantly getting deliveries, particularly of fresh fruits and vegetables," Chavez says. "In a mixed-use development, our employees typically have to travel farther to receive orders and take the trash out. It's different than just having a dock and dumpster right behind the building, so we have to plan for and manage that in terms of labor as well as safety and security."
While walkability is a major draw of mixed-use environments, car parking still matters. Adam Schwegman, partner and senior vice president of retail leasing at North American Properties, which develops hospitality-driven mixed-use communities, says prospective restaurant tenants often overlook parking.
"You may have residential density above you or right nearby, and more customers seem to be arriving via ride-sharing services, but you still need to think about where parking is and what route customers will take to get from their cars to the restaurant," Schwegman says. "Parking is shared and usually a bit farther away. But the flip side is that we find a lot of groups will decide to head over to a mixed-use development as a destination in its own right and decide where to dine after they park and walk around a bit. So now the restaurant is part of this larger place that's walkable and offers a variety of retail, entertainment and dining options."
North American Properties typically dedicates at least 25 percent of its retail space to restaurants, which play a critical role in creating the desired vibe and catering to key customer groups, according to Schwegman. While restaurants represented by brokers familiar with local markets and new development plans often reach out, North American proactively seeks concepts that its team feels are "the best, the brightest and that bring something unique to the project," he notes.
If it's a concept that hasn't previously opened in mixed-use developments, Schwegman first suggests they find a good contractor and/or architectural engineer with experience building restaurants within the confines of these environments. "We provide the shell, but the restaurant tenant takes it from there, so it's important to know what you're getting into well before signing a lease," he advises. "Mixed-use means certain things for restaurants, like chases, running black iron long distances up a shaft, longer HVAC lines. Development timelines can be longer. You're working in a space with things above and below, which means some aspects of construction are more challenging. You may have to take the trash a little further, and you may have to keep things more tidy than in an outparcel. Try to think through the operational as well as construction implications for getting what you need."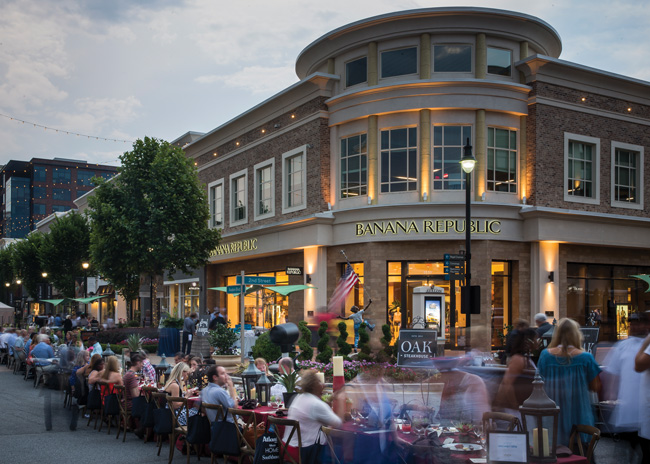 North American Properties highlights hospitality at its mixed-use developments, hosting events such as Savor the Boulevard at Avalon. Designed to promote Avalon's restaurants, each of which hosts a table, the event is billed as the community's largest alfresco dinner party. Image courtesy of North American Properties
Investigate Design Restrictions
Design and layout implications come into play as well and can vary significantly in terms of the level of freedom restaurant brands enjoy in mixed-use settings.
Chavez says it's important to fully vet developers to understand restrictions that could impact a brand's design decisions. And he recommends carefully considering not just the restaurant space, proper, but also what's above and below. "Acoustics can be an issue," he says. "There's usually a concrete deck above and below, but think about things like plumbing. Are pipes well insulated? Where are restrooms located in the spaces above yours? You might not want your dining room situated right below them and risk guests hearing toilets flushing during dinner. Do you have the flexibility to design the space in a way that takes things like that into account?"
Gensler's Adriana Oxford, lead interior designer for Jonathan's The Rub, says some developers have more rigid requirements for exterior design, while others are open to a unique appearance for each concept. In the case of Jonathan's, restrictions were few for interior design, while stricter guidelines came into play outside. "We collaborated with the developer and ultimately were able to do some beautiful big windows," she says. "And we used a local artist to create a really cool front with custom brass pulls. So we used materiality to help make it unique."
Inside, the design team had largely free reign. The restaurant encompasses a 4,500-square-foot corner space on the ground floor with double-height ceilings. Seating 150, the restaurant includes a large open kitchen and an outdoor patio facing a courtyard between two towers.
A residential approach drove the division and design of interior spaces. "Jonathan wanted a space that made guests feel like they're coming into a family home to connect over a meal," Oxford says. "That was our driver for the design, so when we started to divide the spaces, we approached it like a house — the foyer, the kitchen, the living room (formal dining room), den (casual bar area), etc. It fits the concept and the chef and also makes the space feel more intimate."
In mixed-use environments, restaurants like Jonathan's The Rub are keys to creating intimacy and a sense of community, Wherry adds. "Unlike traditional malls and retail strip centers, the scale in mixed-use is different," she says. "Even if it's much grander, even if the buildings are high-rises, developers are looking to scale down the actual spaces within them and create a boutique feel. So in the base of the high-rise, you'll have this lively retail space. The exterior design works to bring the scale down so you don't even realize there's a big tower overhead when you're engaging with those spaces."
Schwegman suggests that while timelines can be significantly longer than in more traditional, single-use locations, operators have greater design flexibility the earlier they sign on for locations in new mixed-use developments. Doing so allows ample time for design and build-out and also creates opportunities for operators to collaborate with the developer and secure approvals for things like unique storefronts or cool outdoor dining areas designed for efficient flow of pedestrian traffic.
"If you're in early, the odds of getting what you want and need in terms of design and the many nuances that can greatly impact restaurant operations go up," Schwegman says. "That's better for both of us. As a developer, we have much more leeway to do what we can to support your success early rather than late in the process."