The right number of tables in a restaurant is a balancing act between generating revenue and creating the perfect ambiance for guests.
I t's every restaurant owner's dream: a packed restaurant with a customer in every seat — and lots of seats.
But how many seats are too many? There's a natural urge to take advantage of every square foot of space, but before doing so, operators and designers should consider a number of factors: ambiance, service, design intent and the overall guest experience. In other words, how can you maximize revenue opportunities without compromising the guest experience?
One standard measure calls for dividing the total restaurant space, including the restrooms and kitchen, by 30 or 35 square feet to find the number of seats it comfortably holds, says Rick McCormack, president of Studio McCormack in Costa Mesa, Calif.
In terms of efficiency, a Pullman booth represents the most efficient seating option, McCormack says, since it requires no extra space to pull chairs out and sometimes an extra person can squeeze in, especially if it's a child. "You can also squeeze those booths in back to back," he says. "But it's a fine balance, because with tables you can push them together and be more flexible with seating."
Then there's the temptation to fill a restaurant with two-top tables to prevent couples sitting at four-tops. The problem, McCormack explains, is you can fit many more seats into a restaurant with four-tops than with deuces. In fact, he says, "Roughly 60 percent of tables should be two-tops, and the rest should be four- and six-tops, not including booths."
Providing a variety of seating allows restaurants to squeeze in extra seats without it being an obvious ploy for revenue generation, says Clare Marino, a partner with GTM Architects in Bethesda, Md. "High and low seating used together can make a restaurant feel larger and not too crowded," she adds. But, she cautions, "If you are on the lower seat, it can sometimes feel a bit awkward."
There should be no bad seat in the house, Marino says. With a less desirable spot, "You can sometimes put a planter or something with visual appeal next to it so it feels more like part of the design."
Avec Nous,
Los Angeles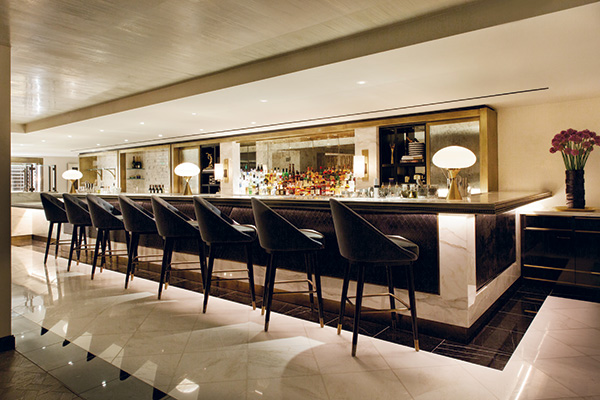 When guests first enter Avec Nous, they encounter the lounge and bar areas. Avec Nous opened in March in the Viceroy L'Ermitage Beverly Hills hotel. It has 76 interior seats, split between the restaurant, lounge and bar, plus another 20 on an outdoor patio.
"In designing the layout for a restaurant space, while it is important to try to make every guest's experience comparable regardless of where they are sitting, we also recognize management's desire to maximize seat count — or revenue — as far as is practically possible," says Kara Smith, president at SFA Design in Los Angeles, the restaurant's designer.
The door to Avec Nous opens into the lounge and bar. Traditional bar-height seats line the bar, while the lounge features lower seats. Mixing up the heights of the chairs fools the eye into seeing fewer seats, Smith says. "Using different types of seating — height and shapes — also keeps it interesting."
In the main dining room, banquettes line two walls in French bistro style so they face each other, with tables and chairs in between them. The space also includes two semicircular banquettes that can seat up to 5, and all the tables in the center are modular two-tops that can connect to seat up to 10. The dining room also includes two booths with oblong tables that can seat 8 people.
"We like banquette seating because people can squeeze and it allows for some flexibility," Smith says, "and you can also combine tables without it feeling awkward." Using the banquettes also helps because they're against a wall so you don't have to worry about circulation for a chair, she adds.
The center of the lounge includes five cocktail-height tables and lounge chairs. "By having the cocktail tables lower, it differentiates the area, and it says we are a restaurant with a lounge and don't just offer formal dining," Smith says. "It offers a more fun ambiance."
As with any restaurant space, Avec Nous features a couple of less-than-desirable dining spots. "In those situations, we look to enhance the guest's perspective through strategic design accents, such as the placement of an eye-catching piece of art or the installation of intimate lighting," says Smith.
One less-than-desirable area sits between the lounge and the restaurant. This area features five contained banquettes with curtains on two sides, creating a cabana-like feel. This area is near the entrance, says hotel manager Nick Rimedio, but the curtains block the entrance "and give the feeling of privacy." Each of these "cabanas" can seat up to five people and contains either two deuces or a four-top table at dining table height. This area has a couch on one side and chairs on the other.
Seating on Avec Nous' 894-square-foot outside patio is dense "to create more energy but also to accentuate the amazing weather we have in Southern California and the lack of patios in the city," Rimedio says.
Back Yard Burgers,
Nashville, Tenn.
The first redesigned Back Yard Burgers will open in June in Gulfport, Miss.Back Yard Burgers is a quick-service, better-burger concept with 61 locations in 13 states.
A few years after opening as a double drive-thru, the chain started adding seating, and now 40 percent to 50 percent of its customers eat in the dining room.
But after 20-odd years, it was time for a refresh. Come June, the first redesigned Back Yard Burgers restaurant will open, in Gulfport, Miss., with three more slated to follow in the second half of the year. "It is part of deepening the brand's connection with their existing customer base and demonstrating to new customers who they are and what they stand for," says David Zapata, principal and managing partner of the new space's designer Cakewalk Creative in San Francisco. "It's connected to building loyalty and letting customers know the brand understands their needs, and seating is an important part of that."
The new design will downsize the dining room in new builds to 2,000 to 2,500 square feet from the current 3,000 to 3,500 square feet. As such, the restaurants will be able to seat 40 to 50 customers instead of the previous design's 80-plus. To fit as many seats in as possible without overwhelming the human eye, Zapata and Back Yard Burgers decided on a design that offered different styles of seating and different elevations of chairs.
"Our intent was by having different elevations, we'd be appealing to different needs and comfort levels people had. It also breaks up the space and makes it less static and linear," explains CEO Dave McDougall.
The new design features a high banquette along one wall, which faces out across the restaurant, in the direction of the windows. The banquette features both two-top and four-top tables and is flanked by barstools with backs.
The middle of the restaurant includes traditional back-to-back four-top booths, which can seat up to six, or more with a chair at the end. Customers can enter the booths from either side. Signature lighting hangs above these tables, almost creating a dropped ceiling. "If you are seated at the booths in the center, you feel you're in a room within a room and feel secure in your group," Zapata explains.
At the window are freestanding circular tables and chairs, the design of which matches the higher barstools. The windows are floor-to-ceiling glass, which was important, Zapata says. "It can be easy to feel trapped in a small space with a wall. If you're seated in four-tops and two-tops along the window, you have a sense of greater space and comfort because the distinction between inside and outside is blurred."
The seating layout, Zapata says, "was very carefully considered so as not to give one seating height an advantage over the other and clearly giving patrons a choice."
The newly designed restaurants lose a few seats since a partial glass wall separates the POS station from the dining area. "We wanted to keep the POS in another area so hopefully the dining room will be more relaxed and have less foot traffic," McDougall says.
But the concept doesn't want guests to be too relaxed. "Our dining rooms aren't designed for people to lounge and linger for a long time, but we do want them to feel comfortable and for energy to flow through the dining room," says McDougall.
The Mercury,
Atlanta
The Mercury's bar area can seat up to 36 people. Photo courtesy of Raymond McCrea JonesThe seating plan at The Mercury in Atlanta, Ga., creates a series of intimate spaces.
"We wanted to create a social club atmosphere — somewhere you can engage the patrons you're with but also have a casual run-in with your neighbor," says Brian Buckner, designer and project manager at Square Feet Studio, Atlanta.
The 4,500-square-foot space, which serves classic American food and has a robust bar business, uses pre-existing architecture, which adds some eccentricity to the space, Buckner says. This includes 10 columns, which break up the restaurant; a giant metal door 10 feet wide by 8 feet tall; and the original walls.
For seating in its private dining space, The Mercury uses a u-shaped banquette. Photo courtesy of Raymond McCrea JonesThe space manages to maximize seating yet retain its charming mid-century interior "by collecting heavy volumes of seating in different areas, so they're intentionally compressed versus accidentally compressed," Buckner says. "So, the dining room is a very active space, separated by sheer curtains from the more heavily trafficked bar, which makes you feel the closeness in there is intentional, as opposed to the lounge, which is looser."
The addition of draperies also creates more intimate spaces, but they are transparent, in a ripple fold style evoking the mid-century feel that the restaurant's all about. The draperies help prevent the different areas from having a claustrophobic feel, Buckner says. "They allow you to feel part of the space next to you, but you also feel protected, and it really helps break the space down," he explains.
The Mercury seats more than 170 customers — 94 in the restaurant, 20 in the lounge, 36 at the bar and 22 in the private dining area at the back of the restaurant.
In its lounge area, The Mercury uses lower seating with molded plywood chairs and tables. Photo courtesy of Justen ClayGuests can eat in the dining room, in the lounge or at the bar. Banquettes flank two sides of the dining room and one side of the lounge. The banquettes feature leather or vinyl upholstery with no endcaps, with the goal of squeezing in an extra person when necessary. The banquettes also have two different styles of chairs across from them. In the middle of the dining room are two- and four-top tables, again with the two different styles of chairs.
Each of the three groups of banquettes in the dining room has a slightly different feel, Buckner explains, which also breaks up the space. In the bar and private dining room, the banquettes feature an accentuated vinyl headrest that evokes an old-style car, and there are accent seatbacks with two-tone bench seats; in the dining room, the banquettes have upholstered backs with vertical flutes and a headrest, both referencing auto details; and in the lounge, the banquettes have horizontal deep channels. Seating in the lounge is lower, with molded plywood chairs and tables. A sheer curtain separates the lounge from the dining room.
"We used a variety of round and square tables to give diversity so it wasn't so repetitious and it broke the space down," Buckner says. Having so many different styles of seating means guests can have a different experience every time they visit, he explains. "You can literally come here half a dozen times before you have the same seating experience."
The private dining space is a u-shaped banquette that seats 22, although that number can go up to 24. "It's designed to be a flexible space since you can add tables," says Brooks Cloud, one of the restaurant's partners. This area can be enclosed with transparent drapery so it can be made completely private for parties, or it can simply be used for large groups on busy nights.