Café Gratitude didn't start as a passion project for CEO Lisa Bonbright. But it became her passion about 13 years ago. That's when Bonbright took a trip from her home in Beverly Hills to Northern California to help her in-laws with a move.
A big believer in healthy eating and wellness, Bonbright decided to spend her time away eating raw. After asking around, she got the name of a small local vegan chain to check out. She fell in love with the restaurant, Café Gratitude, on her first visit. The quality of the food, the fresh and natural feel of the space and the intentional approach and attitude of the staff all appealed to her.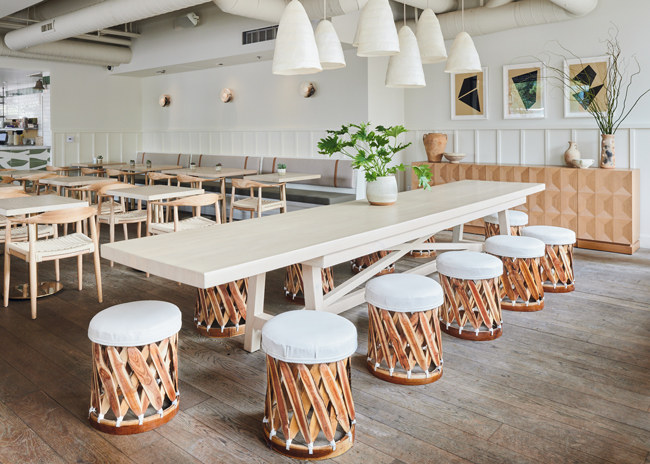 Images courtesy of Café Gratitude
"I walked in, and I don't know what happened to me but I felt, 'Oh my god, what is this place? Why don't I know about it? I feel so good in here!'," Bonbright remembers.
After eating at Café Gratitude every day for two weeks, and introducing her husband, Chris, and daughters to the concept, she set up a meeting with the founders, Matthew and Terces Engelhart, to discuss bringing the concept to Los Angeles. Bonbright and her husband work in commercial real estate and offered to help facilitate a move to Southern California.
The Engleharts, though, weren't looking to expand. However, they were looking to move out of the restaurant business and pitched Bonbright on opening an L.A. location herself. Chris initially said no. He'd seen too many restaurants shut their doors in his real estate career, but Lisa was undeterred. "I was pissed, because I want to do this. I said, 'I've had your kids, I've done everything you've ever asked, I've managed your properties. This is something I'm really passionate about, and I think we should do it.'"
Chris got on board and, with the Engelharts as 50/50 partners, they raised $850,000 to open a Café Gratitude in the Larchmont neighborhood of Los Angeles. That restaurant soon found supporters that were almost as passionate as Lisa herself. More locations followed, including a second Café Gratitude opened by the Bonbrights, this one in Venice, Calif.
It was that store that recently underwent a remodel, the first in a planned series of updates.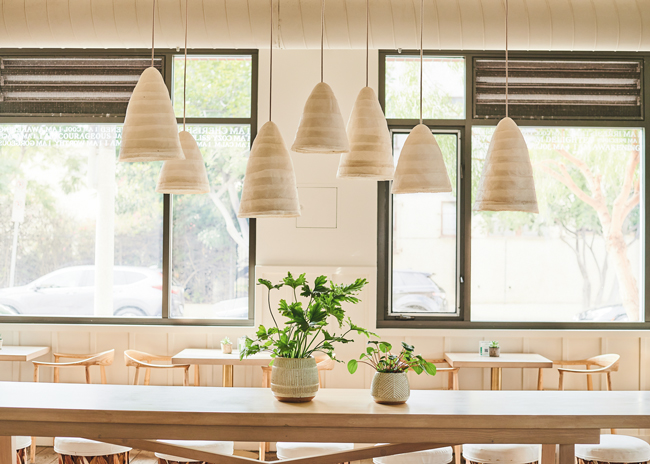 The designers chose the woven light fixtures for their natural material and unique look. In combination, they create a lighting installation, says lead designer Katie Hodges.
Why Now?
The reason for refreshing the Café Gratitude Venice location was timing. The restaurant had been open nearly ten years and was simply looking tired, says Bonbright. While that was the motive, COVID was the opportunity. With dining rooms shuttered and facing a decline in the number of people who wanted to eat a restaurant meal indoors once they opened, the time was simply right to update.
"When COVID hit, we closed all of our stores for three months and thought it was time to take this opportunity," Bonbright says. "With the restaurant business being seven days a week, you don't ever close the store except for Thanksgiving and Christmas Day. There's not enough time to do any renovations."
The renovation project began in early 2021.
One of the first steps in this effort focused not on the look and feel of the new design but on operational improvements that could be implemented as part of the effort, says Bonbright.
"The first thing we did was have an in-store meeting with the general manager and the director of operations. We asked, 'if you had a wish list, what would you change? What would you do differently? What works and what doesn't work?'"
That effort yielded changes that influenced the look and feel of the restaurant. The legacy dining room chairs were too heavy, so the design team knew they had to specify lighter seats. Throw pillows on the banquette tended to get in the way, so those were nixed. Blinds for the space's large windows were hard to raise and lower and broke often, so motorized units were installed.
Bonbright communicated these changes to Katie Hodges, principal designer and creative director of Katie Hodges Design, who oversaw the creation of the new look.
Hodges herself is a longtime Café Gratitude patron, so she understood the restaurant's approach and appeal. With feedback from Bonbright, she developed the initial design concept and worked with her team to finalize the approved look.
Notably, there were some big constraints on the design effort. First, the refresh could only involve surface-level changes, nothing structural or architectural.
Second, while the space needed a new look, it couldn't be too different from the legacy restaurant. Café Gratitude in Venice has a particularly loyal customer base. Bonbright didn't want to turn any of them off or, even worse, lead customers who have been absent during the pandemic to think that the restaurant shut down and another operation had moved in.
"When people walk into the store, we didn't want anyone to say 'I don't like this, what did they do? I want my old Venice Café Gratitude back.' I wanted people to walk in and say 'Wow, what is different? I can't tell but I love it. It feels so fresh and modern and clean.'"
Fortunately, the legacy design's neutral color scheme fit with a fresh and clean update. In this case fresh and clean are filtered through a beachy, California-infused design aesthetic showcasing neutral tones and natural materials. The space features tans, whites and beiges with subtle colors appearing through the use of tile, fabric and potted succulents.
This, it should be noted, is a departure from the design of many plant-based restaurants that use a green color palette and fruit and vegetable imagery. That was a conscious choice made by Bonbright and the designers.
"I'm not sure we need to just put all the pictures of carrots and the plants on the walls. I wanted it to feel like a normal restaurant. There are plant-based restaurants that scream plant-based. I wanted it to be mainstream," says Bonbright.
Personality was added to Café Gratitude's bar thanks to a new tile face. The stools were chosen to allow the tiles to shine.
Tiles and Tones
One of the biggest changes to the space impacted the bar area. With a bar face that matched the floor, the bar didn't have much pop or intentionality in the design, Hodges says. To give it a fresh look, the face was clad in green and white tile from Morocco. This element gives the space a sense of fun while connecting the restaurant to other Café Gratitude locations that also have eye-catching tile installations.
While the new bar tile was chosen for its pop, the bar stools were selected for almost the opposite reason. With so many chairs at the bar and in the restaurant overall, Hodges "didn't want it to look like a furniture gallery…I sort of wanted these stools to disappear but be very comfortable. I just wanted to keep it pared-down and clean, not jump out too much and make sure that the title is visible through them."
Another big change came in the form of the restaurant's chairs and tables. The chairs in the dining room feature danish cord (a material similar to ratan). This fits in with the restaurant's commitment to natural materials while also keeping the chairs lightweight, as requested by the operations team.
The dining room tables, meanwhile, got an eco-friendly update. The table bases were swapped out from black to bronze, but the tabletops were kept and refinished. The decision didn't save significant money, given the man hours it takes to refinish a table for commercial use, but it did stop dozens of tabletops from getting junked, states Hodges.
In addition to the standard dining room tables being reused, Café Gratitude's large community table is also a refinished legacy piece. This table has been paired with equipale-style stools from Mexico. These pieces stand out in a restaurant with many elements that are designed to be subtle.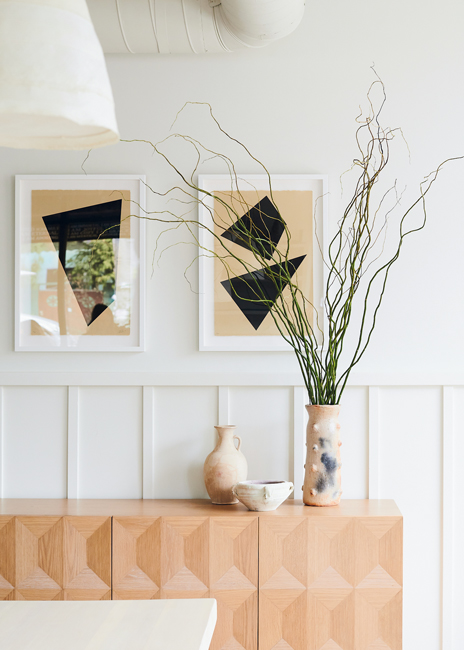 Café Gratitude's accessories were chosen for their natural look and slightly ethnic and eclectic feel."This is one of the more punchy elements. They are such a busy restaurant we needed so many dining chairs. I thought there are so many legs here we have to do something solid. But we also needed something lightweight that is easy to move, and we need it to be interesting and continue with the theme of the design," Hodges says.
The final major piece of furniture in the space is a cabinet used for front-of-the-house storage. Instead of going with an off-the-shelf product, the designers opted for a custom piece with geometric shapes built into the doors.
The extra effort and expense was worth it given the constraints of the project. The building and space itself isn't particularly compelling, says Hodges, so the designers added dimensionality and visual interest where they could.
Similar thinking went into the restaurant's lighting fixtures. The feature fixtures sit above the community table. Made of woven fabric, they have a natural, organic feel and a fun, eclectic shape. While these fixtures are soft, the design team went a different direction with the fixtures above the banquette. Made of stone and crafted in Mexico, these pieces are not meant to compete with other design elements but are meant to add more pop to the restaurant than some basic white fixtures.
The attention paid to the light fixtures also helps draw the eyes of customers upwards, highlighting the restaurant's high ceilings and mechanical elements, such as the duct work. These have been painted the same color as the walls, adding a feeling of intentionality to the space.
"It was painted but not the exact colors of the wall. Everything was a bit mishmashed. Nothing really stood out as being off, but without taking care of the aesthetic of a restaurant continually, I can see how things begin to fall apart or start looking inconsistent," says Hodges.
Connective Tissue
With the design completed since last fall, Café Gratitude and Hodges are now working to update the chain's other locations.
These aren't going to be cookie cutter copies of the Venice restaurant, though. Each will have its own personality. The restaurant in Hollywood will have a slightly more urban vibe, while the Los Angeles Arts District location will be more sophisticated and artsy, for instance.
The goal with these redesigns, then, will be to make sure each store has its own personality while all still looking like a Café Gratitude. According to Hodges, all updates will keep the relaxed, California-infused design. Key elements that will likely carry through will include tile that's patterned or has some other visual pop as well as the woven and stone light fixtures, she added.
Not all Café Gratitude locations will take inspiration from California in the future, though. That's because the chain is taking the first steps outside its home state, with potential store openings in Colorado, Arizona and Idaho. The first of these locations should open in 2023 if not sooner.
According to Bonbright, the design of these stores will take inspiration from their own regions, with desert-inspired design informing any Arizona locations, and mountain-inspired looks inspiring the look of Colorado locations.
"I believe customers are a little different in each community we go into. The thread is whenever people walk into [one of our restaurants] they say, 'Oh yeah, this is a Café Gratitude.'," says Bonbright.
Wherever Café Gratitude opens and whatever the look, though, the chain's appeal will stay the same as the day Bonbright first walked in the door. "A lot of our customers take really good care of their bodies. They do yoga, they do Pilates. They are obviously eating healthy," she says. "Our customer loves coming in because we have the latest and greatest healthy eating trend that we have vetted. Between the vibe of the restaurant and the customer, it is really a perfect match."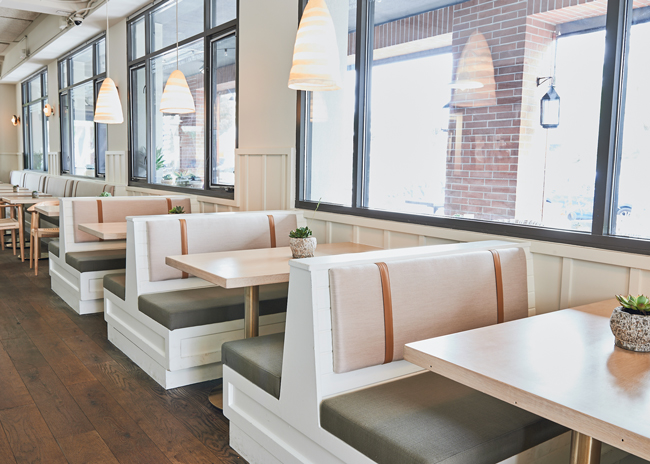 Booths got a fresh coat of paint and new upholstery.
Snapshot
Concept: Vegan cafe serving flavorful, healthy dishes ranging from baked goods to Mexican-inspired bowls and entrees
Headquarters: West Hollywood, California 
Concept owner: Love Serve Remember
Interior design: Katie Hodges
Project timeline: Design work began in 2020. First materials were ordered in early 2021. Project completed In Fall 2021.