What if demand for fine dining isn't dead at all? What if, after all the quarantining, sacrificing, Zooming, loungewear living, home cooking and contactless food deliveries, consumers are ready to dress up, head out and savor some culinary posh and polish? Apparently, they are, at least in Dallas.
That's exactly what Chicago-based restaurant development firm What If Syndicate hoped would be the case when it debuted Monarch at the Thompson Hotel and Residences in The National, a new 51-story luxury mixed-use residential, hospitality and retail project in the city's center. In development since late 2019 and opened in March 2021, the same day Texas' governor lifted mask mandates and restored 100% capacity for businesses, Monarch sits on The National's 49th floor. Via menu, service and ambiance, the restaurant promises guests "the ultimate expression of luxury dining in Dallas."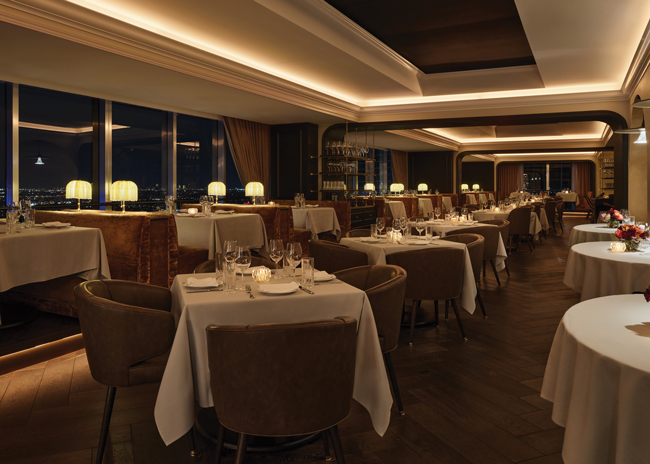 Indirect lighting lends a warm glow to the north dining room, while varied seating styles maximize flexibility to accommodate different size groups. Images courtesy of Nathan Kirkman Photography
Business is booming, says What If's Managing Partner David Pisor. Seven months in, Monarch was operating at 160% of initial projections and the wait for prime-time weekend reservations could exceed two months. "We're off to a great start," Pisor says. "We thought it might be difficult to get people downtown, but that hasn't been the case at all. Everybody's really excited about coming out and enjoying the product that we've put together."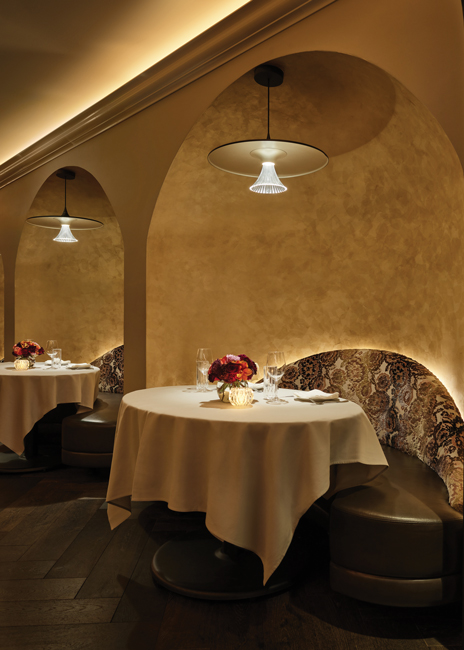 Inset, curved seating nooks along the interior dining room wall are covered in gold leaf and softly lit from behind as well as from above.Modern Italian dishes, dry-aged, large-format steaks and fresh seafood star on Monarch's menu, overseen by What If Syndicate partner and two-Michelin-Star chef Danny Grant. A key signature menu item is giant king crab shipped live from Alaska and held in a huge salt-water tank. Offered as a sharable, "for-the-table" specialty prepared in a variety of ways, it's priced at $1,000. A recent Alaskan crab offering included chilled lump lettuce wraps, spicy mini buns, tableside rigatoni and wood-oven-roasted legs.
An open kitchen with large, wood-fired hearth oven, visible from one of Monarch's two dining rooms, is central to Grant's culinary mission, while sumptuous finishes and lighting, a unique residential-inspired layout and unobstructed high-rise views combine to create a highly differentiated experience. It's an experience that Pisor says was conceived of specifically to meet developer Shawn Todd's desire for a luxury, signature restaurant at The National.
"Shawn wanted something that would attract people to the property and to the Thompson Dallas," Pisor says. "The redevelopment of The National — originally the First National Bank building and, at 51 floors high, once the tallest building West of the Mississippi — was a massive, half-a-billion-dollar adaptive reuse project. His family's company, Todd Interests, is a well-established developer in Dallas, and they had the budget to help make it happen. It was exciting to partner with them on this project, in part because the Dallas market is so interesting. People here still really enjoy getting dressed up and going out. There's a strong culture around fine dining, so we spent a lot of time designing the restaurant to appeal to that clientele and stand out in that segment."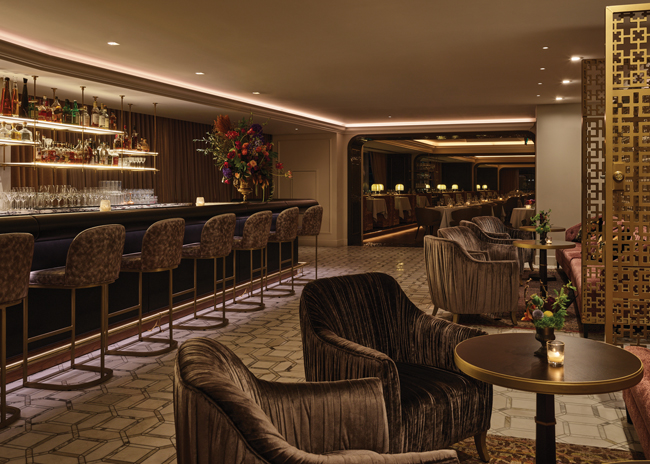 Patterned marble-look flooring, soft brass accents and residential-style seating covered in crushed velvet lend sophisticated comfort to Monarch's bar and lounge areas.
The Royal Treatment
Monarch's locale on the building's 49th floor offered up a suitable pedigree on which to build something new and extraordinary. From 1965 to 1986, it was home to the Dallas Petroleum Club, the ultra-elite private club established by and for movers and shakers in the Texas oil and gas industry. But the building's landmark status presented some challenges, as no significant structural changes to the original footprint were allowed.
That footprint offers a long, linear space with what lead designer Lisa Simeone, principal at Chicago-based KTGY Simeone Deary Design Group, describes as numerous nooks and crannies. Unable to eliminate them, the designers seized the opportunity they presented to develop a unique narrative on which to build the Monarch concept and design.
"We had to work with a lot of existing components and within the footprint of the floor plan," says Simeone, whose firm had previously worked with Pisor, a real estate and hospitality developer prior to launching What If Syndicate, to design Chicago's five-star Elysian Hotel and Residences. "We knew David and his other restaurant brands, Maple & Ash and Etta. We understood his brand of hospitality and what he's after in terms of guest experience. We studied the Dallas landscape and what would be our target clientele and embraced the What If Syndicate ethos of starting with guest experience. We looked at the nooks and crannies and said, 'What if we create a narrative around a fictional couple — she being smart and fashionable Dallas royalty, he an elite classical Italian architect with royal connections who moved from Genoa to Dallas for her?' She gave us the high-society Dallas element and he the Italian overlay that was part of the brand's culinary mission. We developed detailed dossiers around this couple, imagined what their home might look and feel like, and that's how we began to create a concept, a narrative and a floor plan."
The nooks and crannies in the space became rooms in the fictitious couple's luxurious villa, where guests would come to see and be seen while enjoying exceptional ambience, food and service — the royal treatment. That narrative took on a life of its own, Simeone adds, and led to naming the brand Monarch. The term monarch refers to a reigning head of state, usually royalty, but, in a nod to location, the Monarch butterfly is a Texas state symbol.
Following the residential-focused theme, each of Monarch's main rooms was named during design development for rooms in the fictional couple's home — solarium, cucina, sitting room, living room, conservatory and study. As guests exit the elevator into Monarch's foyer, they pass first through the bar and lounge (living room and sitting room) and then into the north dining room (solarium). A second, south dining room (cucina) sits across a wide central passage. To that passageway the designers added the conservatory, an intimate lounge area with its own small bar, double-height ceiling and grand staircase leading to a private event space on the 50th floor. On the back side of the conservatory bar sits a small private dining room (the study), and the conservatory's front seating area faces a large display wine room, which in turn leads to a small, hidden space called the chocolate room.
"The space is kind of convoluted in that it's basically two sides with a passageway through the center," Pisor notes. "We spent a lot of time designing it so that we could activate the various spaces. Both of the dining rooms have booths along the window walls, so both have great views. But they have different sources of energy. The north room has the bar adjacency, while the south room has sightlines to the open kitchen and wood-fired cooking. And the bar and conservatory offer their own unique experiences, the bar being more vibrant and the conservatory quiet and intimate."
Creating a variety of spaces in which to drink, dine, see and be seen ensured both intimacy and a sense of discovery, key objectives for the type of guest experience Pisor and Todd wanted, according to Simeone. "Guests pass through these very differentiated rooms to get to different spaces within Monarch. We wanted that sense of discovery and for them to say, 'Oh, next time I want to sit here or there.' And we added little hidden gems like the chocolate room, the sort of place that the owner or manager would be able to personally escort you to for a special experience. You have to push a wall behind the wine room to get into it."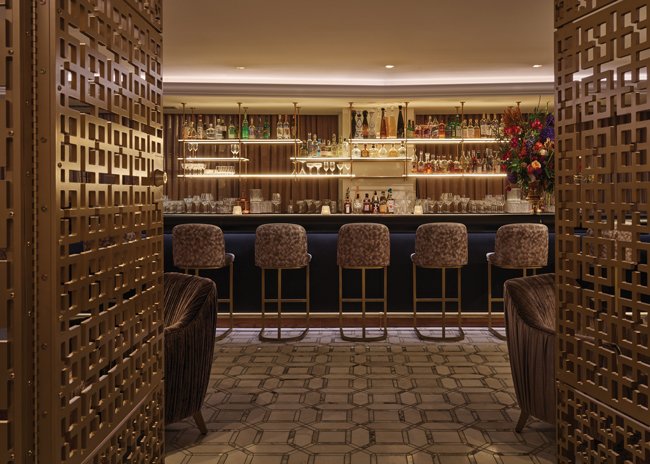 Richly Residential
Noting that "there are no small gestures" in What If Syndicate operations, Simeone says every decision made during design development focused on the guest — how they'd feel coming in the door, how they'd feel when they leave, how they'd show themselves on Instagram when they're in the space. "We wanted everyone to feel special, to feel the sparkle and shine, to feel glad that they got dressed up and came out for this great experience. From that, we knew what the design needed to be," she says.
Sticking with the residential narrative, what the design needed to be was comfortable and luxurious, warm and sexy. Residential-style furnishings covered in crushed velvet and buttery leather; thick Turkish area rugs over dark, wood-look and marble-patterned porcelain tile floors; liberal use of brocade, fringe, silk and brushed brass; and soft, indirect lighting set the stage, while carefully curated design touches add personality and next-level sizzle.
The conservatory, for instance, while small, makes big, Instagram-worthy statements. A large, three-tiered flower chandelier in lime green, lavender and gold hues hangs from is double-height ceiling and its walls are covered in black silk fabric with an embroidered floral pattern. The chandelier, Simeone explains, was originally conceived to be made from actual preserved flowers, but, for practical reasons, instead came together as laser-cut metal. "We worked with an amazing lighting company," she says. "It took a lot of iterations to get to the right colors, shapes and density. We now have tons of leftover metal cut flowers here at the office."
Lighting also stands out in more subtle but nonetheless impactful ways in the dining rooms, which together seat just over 200 guests. Small accent lamps with whimsical fringed shades are hardwired to the backs of booths along the windows on one side. Inset, curved seating nooks on the interior wall are softly lit from behind the seat backs as well as from above. Goldleaf wall covering in those nooks adds to the glow and the glamour.
"This is really a nighttime restaurant, and everywhere we could we did indirect lighting," Simeone notes. "We wanted people to look and feel gorgeous in the space, so we worked hard to make sure the lighting remains ambient and that the temperature is just right."
It all comes back, she adds, to the project partners' collective desire to create a truly exceptional, guest-first experience. "This really was a partnership," Simeone says. "Between David, our team and the Todds, the level of collaboration and shared vision was great. We all agreed that guest experience was first and foremost, and that's an amazing place to start because it opens up so much more than just the sticks and stones of creating a space. And you can see it in the end result."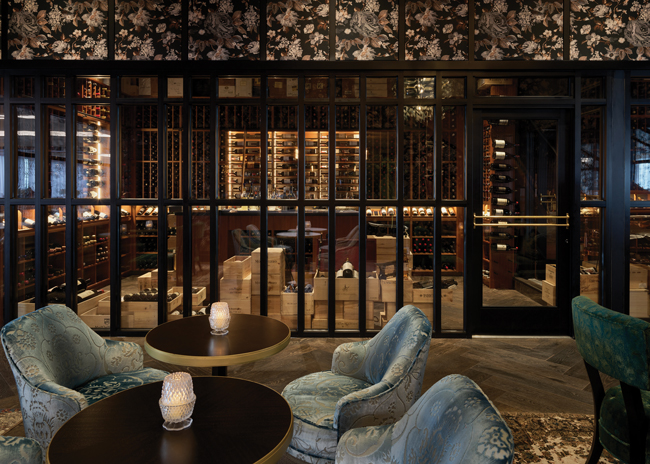 Fronting the conservatory is a large glassed-in wine room, enabling guests to watch sommeliers at work.
Project Team
Owner-operator: What If Syndicate
Separating the two dining rooms, the conservatory offers an intimate spot for a glass of champagne, cocktail or digestif. Its walls are lined in black, embroidered silk and a window in its back-bar wall opens to service a private dining room behind.Interior design: KTGY Simeone Deary Design Group
Developer: Todd Interests
Architecture: Merriman Anderson Architects (general), Heidi Lightner Architects (interiors support)
Lighting: Carroll Consulting
Foodservice consultant/equipment: TriMark USA
Snapshot
Location: The National, Dallas
Concept: Upscale wood-fired, modern Italian
Opened: March 2021
Project type: Adaptive reuse
Main restaurant square footage: Dining and bar, 6,357; kitchen, 2,192
No. of Seats: 272 total (main bar and lounge, 42; conservatory, 16; north dining, 88; south dining, 114; private dining, 12)
50th floor event space: 2,163 square feet, dining; 461 square feet, kitchen
Project duration: 16 months
Average check: $125 per person
Design highlights: Multiple rooms offering diverse experiences; residential-style furnishings; luxe, pattern-on-pattern rugs and furnishings; fringed lamps; black silk wall covering; floor-to-ceiling high-rise views; soft, indirect lighting; dining-room seating niches; glass-walled wine room; hidden chocolate room