There may be no ocean in sight, but it has to be good karma that the newest Margaritaville restaurant is located in a Pigeon Forge, Tenn., retail and entertainment development known as The Island.
Sharing space with the Great Smoky Mountain Wheel, Arcade City, carnival rides and choreographed show fountains, among other attractions, Margaritaville adds its signature brand of cool to an area that's becoming a hot tourism destination at the foot of the Great Smoky Mountains.
Opened in mid-June, the restaurant comprises roughly 12,000 square feet of interior space plus a 5,000-square-foot outdoor patio. Designed by The McBride Company, it features a large, open main level and mezzanine. Two themed bars – a thatched Tiki Bar upstairs and slightly more edgy "Chill Bar" downstairs – varied seating styles and an indoor "Tennessee Beach Shack" stage that doubles as an elevated seating area break up the space and provide a variety of guest experiences. And while the overall design strategy follows the iconic, laidback island vibe of all Margaritaville restaurants, the Pigeon Forge unit weaves in some local touches.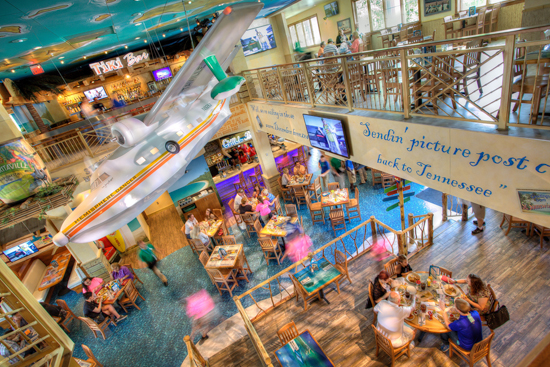 "All of the restaurants touch on the essence of Jimmy Buffett and on Margaritaville, this mythical place that he's created — a place that's an escape from the real world to go and have fun," says Pat McBride, CEO of The McBride Company. "So they all have that, but each one is a bit different and tries to reflect something of the local environment, as well."
A giant, steam-gushing "still," a Margaritaville-inspired take on traditional Tennessee whiskey culture, serves as a signature decor item at the Pigeon Forge location. The restaurant periodically activates the still to add a shot of audiovisual excitement in the dining area. Driven by a Tennessee bluegrass-inspired version of the song "Tequila", a pressure gauge reaches its maximum limit eliciting bursts of steam, heating the still and sending tequila and margarita mix flowing through copper pipes into a 6-foot-tall blender below. As the blender fills to the brim, the song "Margaritaville" begins to play as Buffett's recorded voice announces, "We've made it to Margaritaville!"
"It's fun and unique to Pigeon Forge," McBride says. "The first thing guests see when they walk in is this big blender on the main floor. The other parts of the still are on the mezzanine so no matter where you are in the facility you see this iconic feature."
Other design features that bring the concept to life include booths fashioned from paddle boards, custom seamless tile flooring designed to evoke the sea, a hand-painted ocean ceiling mural, driftwood-inspired railings, and a suspended seaplane (Buffett is also a pilot). Colors are "sun-faded, soft and gentle, what you'd see if you were down on the Caribbean Islands," McBride says.
In the location's 1,200-square-foot gift shop/retail store, which sits on the main level open to the dining room, guests can browse and shop for everything from Margaritaville-branded blenders and shot glasses to T-shirts and Jimmy Buffett CDs.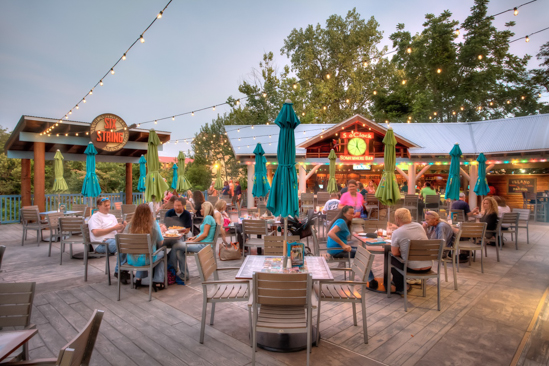 The island vibe carries over to the large outdoor deck, which overlooks the Little Pigeon River. It features a stage for live music performances, fire pits, dining and Adirondack chairs, and the brand's iconic 5 O'Clock Somewhere Bar, named for another of Buffett's hits.
"People come to Margaritaville to relax, have a good time and hang out. That's what really drives the design," McBride notes. "They're atmospheric restaurants where it's not just about the food and beverage. Obviously, those are critical to the concept's success, but people come because they like the unique experience, the music and the fun atmosphere. That's what we deliver."
Snapshot
Location: The Island at Pigeon Forge, Tenn.
Opened: June 16, 2014
Segment: Casual theme
Size: 17,000 square feet (12,000 inside, 5,000 deck/patio)
Seats: 300 inside, 150 outside
Interior features: Mezzanine, two bars, elevated stage/dining area, gift shop/retail store
Outdoor features: 5 O'Clock Somewhere Bar, fire pits, live music stage
Design highlights: Island motif, oversized margarita still and 6-foot blender, suspended seaplane, ocean ceiling mural, driftwood-inspired railings, seamless custom floor tiles, paddle board booths, sun-faded color palette
Project Team
Developer/operator: Margaritaville Enterprises/IMC
Design: The McBride Company
Architect of record: Michael Brady Inc.
GC: Wasserman Construction
A/V designer/equipment vendor: Technomedia Solutions
Lighting designer: Point of Light/PoL Studios
General millwork: Duggan Contracting Corporation
Retail millwork fixtures: Tate Ornamental
Props and specialties: Entech Creative Industries