This BBQ chain made its first move outside of Florida by turning an old firehouse in Atlanta into a restaurant.
4 Rivers Smokehouse was born out of a truly awful clerical error.
That error occurred in 2004 when John Rivers got a telephone call telling him that his daughter had a brain tumor.
A short time later, he got another call: There'd been a mistake. His daughter was fine. The doctor's office had contacted the wrong family.
John Rivers was relieved but deeply affected by what had happened. He reached out to the family of the sick girl and offered them financial support.
Though the family declined, they did agree to let him put his smoker to work and host a barbecue fundraiser. "We contacted a church and got it all set up," says John Rivers' wife and 4 Rivers Visual Director, Monica Rivers. "Five hundred people RSVP'd. We had to figure out how to cook barbecue for 500, raised a lot of money for a little girl and my husband's passion was born."
This passion for serving people, for making them happy with food and bringing the community together, led to the opening of the first 4 Rivers Smokehouse five years later in Winter Park, Fla. Today, the company has roughly 15 locations, including its newest store, which opened this summer in Atlanta.
Mission Driven
Given the chain's history, it's understandable that 4 Rivers operates as a mission-driven business built around its "barbecue ministry." According to its website, the company seeks "to use our God-given gifts to support the local community, schools and charity organizations." On top of that, the chain aspires to be a place where people can come together — where neighbors can get to know each other and bond over plates of delicious barbecue.
4 Rivers Smokehouse took over a 100-year-old firehouse building in Atlanta. Images courtesy of KarenImages.comWith the goal of being part — and even a pillar — of the communities it operates in, 4 Rivers has never taken a cookie-cutter approach to design. Instead, many of its restaurants have been conversions of existing buildings, structures that are already part of their neighborhoods, with designs that reflect those areas. "If we want to say we're investing in a community," says Monica Rivers, "we need to make the store reflective of the community."
The recently opened Atlanta location is a clear example of this approach. As the first 4 Rivers restaurant outside of Florida, it would have been easiest to open in a strip mall or with a ground-up build. Instead, the chain took over a 100-year-old firehouse on the edge of a thriving neighborhood near Georgia Tech University.
Though John and Monica looked at other locations in the city and its suburbs, they were drawn to this space as soon as they saw it. "There's an incredible history in this building we didn't want to have destroyed. We wanted to help keep Atlanta the unique, wonderful place it is," says Monica Rivers.
From Firehouse to Restaurant
On top of its unique history, the firehouse is a unique space that presented some unusual design challenges.
"The first time I heard [John Rivers] talk about a fire station, I was ecstatic," says Tan Vu, project manager for Orlando-based Interplan, which handled the architectural design for the operation. "I was just trying to figure out how to turn a two-story with basement, 100-year-old building into a modern-day restaurant. Obviously, it was very challenging knowing that the mechanical, the electrical and the HVAC were not suited for a restaurant. Really, it was a complete gut job. I knew it was going to be challenging but also exciting and rewarding."
Vu, of course, was right about the project being a gut job. The existing electrical system, for instance, couldn't handle the load of a commercial restaurant and kitchen. The designers had to replace the old electrical panels with restaurant-grade panels.
Plumbing was another issue. The firehouse didn't have plumbing sufficient for a restaurant, nor did it have pipes running up to the second floor — a requirement for the operation's sprinkler system, upstairs restrooms, soda fountain and kitchen equipment. Vu ended up creating a space in one of the restaurant's corners for a chase to run piping through.
The 100-year-old building required a gut rehab as mechanical and plumbing were insufficient on the second floor. Those changes required plenty of elbow grease, but they were relatively straightforward. Other architectural design elements posed bigger challenges. Take the roof-mounted equipment as an example. After ceiling demolition, the construction team found sagging roof trusses. Left unaddressed, these would have been a major hazard.
"We actually had to do remediation of the trusses by scabbing on additional framing to rectify the sagging," says Vu. "It was a two-month ordeal in which a structural engineer and shoring company had to get involved. Everything was basically put on hold while lifting the existing roof trusses that had sagged over the 100-year life of the building."
Another big challenge was tied to the restaurant's floor plan and seating requirements. The old firehouse has some unusual dimensions for a foodservice operation: The structure is only about 30 feet wide but has three levels adding up to just under 4,000 square feet. That makes it roughly 20 percent smaller than most 4 Rivers locations.
At this size, this location has interior seating for only 100: 20 on the ground floor, which also houses the kitchen and ordering line, and 80 on the second floor, along with the pickup counter for to-go orders. (The basement level is used exclusively for food storage.)
On top of these interior seats, the location can accommodate an extra 70 guests with outdoor seating. While this additional capacity helps make the restaurant financially viable, it's also part of 4 Rivers' identity: Practically every store has an outdoor patio. This feature is a staple of barbecue joints in general, but it also supports 4 Rivers' goal of supporting community: Outdoor patios, says Monica Rivers, are places where people naturally gather.
Adding outdoor seats was a challenge for this location, though. While the building is set farther back than its neighboring structures, there's simply not enough room between the firehouse and the street for a large patio.
In response, the designers built a small patio, along with a larger balcony above the patio. Accessible from the restaurant's second floor, this balcony serves as a special place for people to come together and enjoy their food.
While adding the balcony itself was a bold step, it was made more challenging by restrictions placed on the design team by the landlord. Though the interior had to be gutted, the designers couldn't do anything that would permanently alter the building's exterior (with the important exception of adding a door for the balcony). That meant the balcony itself couldn't be attached to the building for support.
Vu and the engineer had to design the patio as a completely separate structure from the building. "It's basically supported by four columns; there's actually a little gap between the building and the balcony itself," says Vu. "They're separated by a fraction of an inch."
Return to Rustic
The designers opened up the ceilings on both floors to showcase wooden beams and rafters. The building, of course, wasn't all extra work and unusual challenges. John and Monica Rivers chose the space for its character. The restaurant's designers took advantage of this character by creating a comfortable restaurant with a rustic feel.
In many ways, notes Vu, this is a return to 4 Rivers' visual roots. While most newer locations have a contemporary look, the chain's first restaurants were designed like rural Texas barbecue joints.
This new operation's design, then, leaves the building's red brick walls exposed, driving home the age and history of the space. The designers also opened up the ceiling on both the first and second floors to showcase its wooden beams and rafters, giving it a rural, barn-like feel, says Vu.
This rustic approach, of course, impacted not just what the designers left in place but also what they added. Design elements had to match the look and feel of the structure, leading the team to specify very tactile, natural materials.
"When you're going into a 100-year-old building, whatever you add to it is going to look new," says Vu. "That was the most challenging part: making sure whatever we added to it was compatible to what was existing and didn't feel like a complete afterthought."
Look around this new 4 Rivers, and you'll see plenty of examples. Flooring includes stained concrete on the first floor and distressed wood on the second. Wrought-iron railings were used on the staircase leading to the second-floor dining room, while reclaimed wood was used to clad the front of the ordering counter and a nearby drink well holding bottled beverages on ice.
This rustic approach extends to the restaurant's furnishings. Tables are all made of hardwood, with casters on them allowing for easy movement when staffers need to clean or set up for private events.
There are also nods to the building's past as a firehouse. The design team maintained the large garage door frames that used to let trucks in and out (though the doors themselves were replaced). The walls boast pictures of old firehouse crews along with old firefighting equipment donated by local firehouses.
Another localized design element can be found in the upstairs dining room, where the chain has placed three corkboards for displaying pictures of the city. Though they're simple, they allow 4 Rivers to express its connection to the neighborhood and larger city. "The boards have photos of Atlanta — people, places, things — that are just tacked up. It gives a flavor of real people in a real town that's friendly and engaging. That's what we want to be with them," says Monica Rivers.
Some of the wall decor, of course, is more particular to the concept. The upstairs dining area also features a hand-painted mural with images of a pig and a chicken along with brand statements like "only the best." In keeping with the authenticity of its restaurants — this location in particular — a unique mural is designed for each location. While the operators could have used a vinyl wall covering or stencil, hand-painting is more in line with the authentic, natural materials used throughout.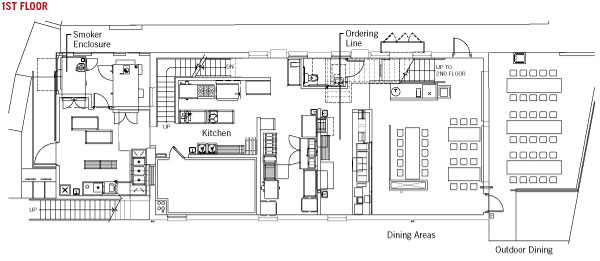 Work with the Building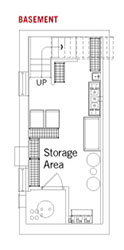 The new 4 Rivers Atlanta location has been open for several months now. Though it was a challenging project, it almost certainly isn't the chain's final move into a historic structure. Buildings like the firehouse have too much character — and fit too well with the 4 Rivers mission — to ignore.
To make it through projects like this smoothly, operators and designers can't be too set on a particular vision, says Monica Rivers. Instead, they have to be willing to adjust on the fly and make the best out of what is possible.
"Any time you go into an old building like that, you have a vision and an idea of what you want it to be," says Monica Rivers. "But you have to hold your hands loosely and be ready to roll with the punches the building's going to throw. It's going to have an idea of what it wants to be also. You have to work with that building. Sometimes the building pushed a little harder than we wanted, but everyone ended up winning in the end."
Project Team
Project Lead, Interior Design and Kitchen Design: Tan Vu, project manager, Interplan LLC
Architect: David Boyce, AOR
Kitchen Supplier: Glenn Eberle, Contract Equipment Specialist
Snapshot
Headquarters: Winter Park, Fla.
Concept Owner: John Rivers
Concept: 4 Rivers Smokehouse features regionally diverse barbecue with flavors and styles drawn from the Southeast, Midwest, Atlantic and West Coast. Traditional smokehouse offerings include signature 30-day-aged smoked Angus brisket, St. Louis ribs, Southern pulled pork, smoked chicken and turkey, burnt ends, tri-tip, and a "Brontosaurus Beef Rib."
Segment: Fast casual
Average Check: $12
Location: 822 W. Marietta St. NW, Atlanta
Units: 15
Opened: July 2017
Size: 4,000 square feet
Real Estate: This location is a remodel of a nearly 100-year-old firehouse. 4 Rivers also does in-line, endcaps, conversions and new ground-up development.
Design Highlights: Exposed ceiling rafters, distressed wood flooring and stained concrete flooring, patio
and balcony
Build-Out: Eight months