Ralph Goldbeck, AIA Director/Owner, Kitchens To Go built by Carlin
Unfortunately, today's world is not a safe place. From the threat of domestic and international terrorism and workplace shootings to natural disasters such as hurricanes, tornadoes, earthquakes and floods, there are outside threats to your restaurant. However, there are steps you can take to prepare during development and design as well as those that can be implemented once an operation is up and running.
Key Elements During Design

A safe and secure environment is the goal of every business owner; therefore, a collaborative approach to the restaurant design process is required, starting at the conceptual phase of the project and continuing throughout the design and construction process. It is necessary for all persons responsible for the safety and security of the building components to interact closely throughout the entire process. This means that all parties involved in issues pertaining to safety and security understand the issues and concerns. Building designers must consider human behavior in the design and safety systems of a building. Key areas include the fire alarm system; the sprinkler system; interior finishes, carpeting and furniture; and exits.
Fire Alarm System
People don't always heed fire alarms. Understandably, they often assume that the sound of a fire or smoke alarm does not indicate an actual fire since accidental or malicious false alarms, as well as mechanical malfunctions, are common. The key is to minimize the number of false alarms and distinguish the actual fire alarm signal from other alarm signals used in the building so occupants recognize it. Consider the use of an alarm that includes an alert tone, a flashing beacon and a voice message that instructs occupants on what actions to take next.
Sprinkler System
Each sprinkler system is designed and installed according to recognized standards. Follow code so sprinklers respond to a fire earlier, and design to concentrate the water where it is needed in order to reduce cleanup time and recovery costs.
Interior Finishes, Carpeting and Furniture
All interior finishes, carpeting and 
furniture should be nonflammable and meet National Fire Protection Association (NFPA) standards. Interior finishes and carpeting can contribute to fire growth and fire spread.
Exits
There are at least three features of building exits that are important from a human behavior standpoint:
Whether the exits available have sufficient capacity to accommodate the number of persons occupying the building

Whether exits are designed and maintained to function as safe egress routes in a fire

Whether exits are located and marked for easy identification by occupants
A major concern of building designers is the need to evacuate people quickly and efficiently in the event of a fire or other emergency.

Disaster Preparedness in Operations
It's important to take a proactive approach to ensure your restaurant is positioned to withstand the initial body blow of a disaster and remain in operation during the subsequent response and recovery phase. Disaster can take many forms, both natural and manmade, but to be prepared for the worst, there are a few questions to ask of yourself and your organization:
What would you do if a major event interrupted your daily operations?

Are you and your restaurant prepared to survive and serve your patrons for an extended period in the wake of a disaster?

Are you prepared to shelter in place?

Do you have a business Continuity of Operations Plan (COOP) in place?
Having a COOP in place will provide a plan of action to keep your business operating during a time of crisis, which can be critical to the continued operation and success.
There are three critical components that are required to run a successful foodservice operation: utilities, food and labor. Any one or all three of these components could be lost during a disaster and need to be planned for.
Restaurant kitchens are heavily dependent upon utilities: power, water and gas. Your COOP should reflect that one or all three could be interrupted during a time of disaster.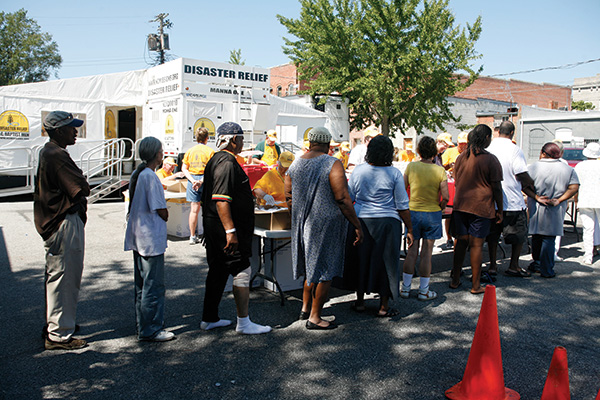 The North Carolina Baptist Men's disaster relief mobile kitchen "Manna One" can feed thousands in the wake of a hurricane. Photos courtesy of Ralph GoldbeckMost kitchens receive deliveries several times a week, some daily. During a time of disaster, you should expect product deliveries to be immediately cut off for one to seven days and then restored slowly and maybe even on a limited basis. You need to plan your inventory to make it through this initial blackout period. In addition, if you lose power, your ability to hold product in cold storage is limited. You should have a plan to use fresh product first, refrigerated product second and frozen product third.
Any sizable kitchen takes a team of skilled foodservice professionals to produce the volume of food product to meet its daily requirements. You can have utilities and food product, but without labor to produce the product, you are at a standstill. Labor is the heart of a foodservice operation. Utilities and food product are static resources. Labor involves people. Any time you involve people, the equation gets much more complex. During a time of disaster, what's the most important thing on our mind? Our families. Your typical employee, no matter how dedicated and loyal, will drop everything and not be able to focus and do their job until they know that their family is accounted for and safe. Planning and conversation will help. As a part of your COOP, communication resources must be in place prior to an event to allow your staff to effectively communicate with each other and, more important, their families. The sooner they can ensure that their families are safe and accounted for, the sooner they can focus on their jobs.
Take Action
We live in a reactive society, and disaster preparedness is a proactive effort. Now is the time for you and your foodservice operation to take action. Develop a COOP for your foodservice operation. If you have a plan, find it, pull it down from the shelf and practice it with your team. Sports teams succeed because they practice. You, your team, and your operation will succeed and survive an emergency or disaster because you have a plan and have practiced its execution.

The time for action is now.