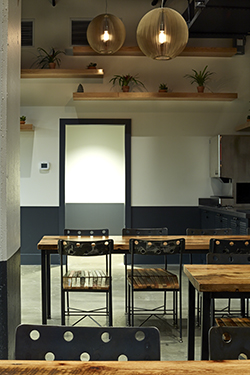 A new chicken-based fast-casual restaurant debuted in Washington, D.C. this summer.
The 32-seat, 1,855-square-foot Farmbird is the brainchild of college friends turned business partners Dan Koslow and Andrew Harris. Located on H Street, the venue was selected based on the energetic community feel of the neighborhood. The number of apartment buildings in the area was also a contributing factor, as it ensured a healthy market of potential customers.
Centered on providing all-natural, farm-fresh fast-casual fare, Farmbird's design team, //3877's co-partners David Shove-Brown and David Tracz, orchestrated a design that aligns with the brand's ethos.
The design features a clean, open layout that allows for an intuitive ordering experience. The space has a laidback ambiance that reflects the fast-casual service style. The color palette features grey with pops of orange and purple. Succulents placed on floating shelves add a pop of greenery.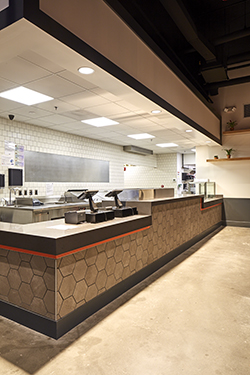 Menus hang on the walls above the ordering counter while hexagonal tiles that resemble chicken wire flank the front of it. Lantern lights made of wood suspend in the center of the dining room. Long family-style tables made of large wood slabs facilitate a communal atmosphere and provide farm nostalgia. A vibrant mural on the restaurant's back wall depicts images of rolling hills at daybreak, meant to evoke feelings of relaxation.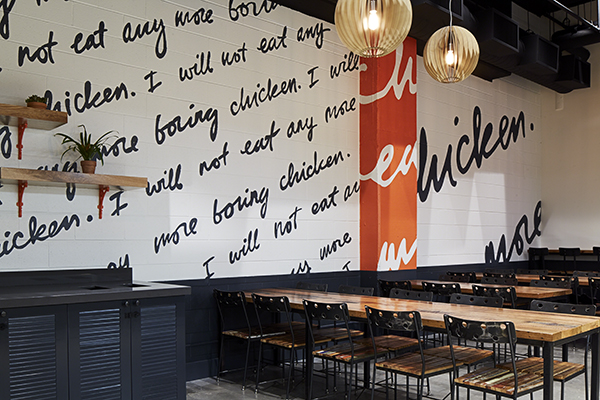 A brand wall on the restaurant's longer wall provides Farmbird's narrative, imploring customers to "not eat anymore boring chicken."
Photos by Clarence Butts.