Page 2 of 2
Designers Dish 2017 Bios
Candice Alinovich
The McBride Company, Manchester Center, Vt.
How I spend my time: I'm doing a lot with the Margaritaville brand, helping move it from primarily a restaurant concept into a higher-end resort brand. It's a lot of fun.
One challenge: Some of our projects are for pretty theatrical brands. It can be challenging to create spaces that are unique and true to the brand without being over-the-top. They have to be fun and entertaining for the whole family but still enjoyable for the local guy who just wants to stop in for a burger.
Inspirational icon: Francis Mallmann, the Argentinian chef who was at the top of his game in very high-end, haute-cuisine restaurants but left that behind to follow his love for cooking over open flames. It speaks to the power of simplicity. There's power and romanticism in that.
This page: At Barnwood at the Great Wolf Lodge in Colorado Springs, Alinovich and the team at McBride created an elevated farm-to-table aesthetic while ensuring a family-friendly vibe. Photos courtesy of The McBride Company
Rebel Design+Group recently completed a new prototype for Char Pipino, a Latin fusion restaurant in Kuala Lumpur, where dramatic use of color and bold graphics combine to create a unique experience. Photos courtesy of Rebel Design+Group
Douglas Deboer
Rebel Design+Group, Marina Del Rey, Calif.
How I spend my time: I spend a lot of my time cultivating new business, designing, and managing creative staff and budgets. When you're the head honcho, everyone looks to you for guidance and to set the tone.
One challenge: Aligning client expectations and timelines with their budget. Rarely do the two meet.
Inspirational icon: Jay Kimmelman, co-founder of Bridge International. It's a nonprofit that brings high-quality education to low-income families. His innovation and commitment inspires us to pay it forward through volunteering, supporting arts and education organizations, and being active members of the design community for the greater good.
This page: The award-winning Weslodge Saloon in the JW Marriott Marquis Dubai was Navigate Design's first project abroad and an example of the firm's fully integrated branding and design process.
Photos courtesy of Navigate Design
Ken Lam
Navigate Design, Toronto
How I spend my time: Most of my time is spent brainstorming with my creative director and clients about vision and brand development. My favorite part is putting together mood boards that set a project's tone and color and feel, just to get a sense of what the space will be before turning it over to my design team. Then I go out and have a martini — which technically is research because I always check out new and interesting restaurants.
One challenge: Restaurants typically have multiple investors, who often have different visions for the project. We sometimes need to serve as mediator between strong, opinionated partners to get everyone working toward a common vision.
Inspirational icons: Entrepreneurs like Uber co-founder Garret Camp and Restoration Hardware founder Stephen Gordon. They were frustrated by something and applied outside-the-box thinking to create game-changing new solutions.
Anna Polonsky & Amy Morris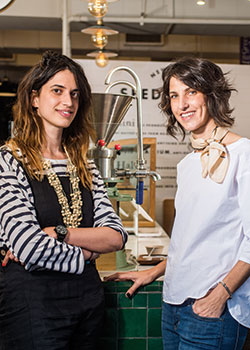 The MP Shift, New York
How we spend our time: Besides working, working, working, it's a joyful mix of eating out, research, traveling to clients — which brings us endless inspiration — and yoga. Life balance is key, and we encourage our employees to make it a priority as well.
One challenge: Communication. We've had several projects in which we needed to satisfy not only the main client but also various partners, investors, GM, chef, architect, etc. We continue to refine our process to gather the most precise brief before construction starts but also to make sure everyone stays on track and that there is a clear directive.
Inspirational icons: Chef Dan Barber, who's trying to not just cook but to help change the way America eats; Michelle Obama, whose ability to be gracious in the face of grave anger is impressive; Kevin O'Connor, founder of DoubleClick, who never expects the norm and always looks for better solutions, even when everyone questions his path.
The MP Shift recently completed the design for De Maria, a light and stylish all-day cafe concept created by music producer Grace Lee and onetime "Top Chef" contestant Camille Becerra.
Jackson Thilenius
PULSE by Gettys, Chicago
How I spend my time: I'm always designing. It's part of who I am and the filter I see life through. In addition to being an architect, I'm also a writer and a painter. Oil painting is a great passion of mine. It informs my design and design thinking and helps me to push boundaries.
One challenge: Adaptive reuse projects. Simply finding a location that isn't riddled with EPA nightmares due to prior occupancies is tough enough. And locating exhaust routes and grease traps, negotiating dumpster contracts, installing backflow prevention valves and even providing engineering flow calculations can be challenging. But the payoff can be well worth the effort.
Inspirational icon: Director George Miller is one of the greatest "designers" of our time. Not only did he reinvent his original vision from 30 years ago, he was able to tell the new story of Mad Max with exquisite precision, boldness and uncompromised integrity. It's a revolutionary work of art. As designers, we're in the storytelling business, and few do it better than the artists who create iconic movies.
Lisa Pope-Westerman
Gensler, Houston
How I spend my time: During the day, I'm usually collaborating with clients on their vision for their new concept. Outside of the office, I'm usually eating out and traveling, which is great fun but also research.
One challenge: Restaurants are very fast-track projects given the complexity of the projects and the diverse array of materials that have to be sourced, built and perfectly installed while staying on schedule and budget.
Inspiration: We recently worked on several projects in connection with the Texas Medical Center in Houston, the world's largest medical center. It's very inspiring how the medical industry is always looking to improve the world through collaboration and research. Their work further inspires me to make the world a better place by creating healthy, honest, authentic community experiences.