Your restaurant is in tatters, utilities and cell service are out, there's water everywhere, your POS system is torched, customers are displaced, and payroll's due next week. Sound like one big, nasty nightmare?
It is. But it's just the kind of nightmare that becomes reality when disaster strikes. The particular circumstances may vary, but the results don't: Businesses are forced to shut down, regroup and rebuild. Revenues are lost, employees and/or customers may leave, and out-of-pocket costs can be staggering. Simmering beneath it all is the stress and heartbreak of seeing what you've worked so hard to build quickly and unexpectedly destroyed.
That's the thing about disasters: Whether natural or man-made, they're usually unexpected and as such often don't get sufficient attention until they happen — which, of course, is too late. Businesses that fail to create and practice disaster preparedness and recovery plans set themselves up for bad situations to become worse.
"There are so many types of potential disasters. You can't prepare for everything, but there is a lot that you can do to be as ready as possible to act fast and effectively to stem losses and get back on your feet as quickly as possible," says Scott Teel, vice president of marketing at Denver-based Agility Recovery Solutions. "Regardless of the type of event, the focus in terms of being prepared is the same."
That focus, Teel says, should start with identifying disaster risks and evaluating each for its level of probability and likely scope of impact. Plans can then be put in place and insurance coverage reviewed and updated as needed to make sure you're prepared to minimize the impact.
Such pre-planning should center on four key areas:
Restoring power or having access to alternative sources of power

Establishing alternate systems for communicating with staff and accessing business-critical information

Being ready to conduct business transactions manually or via
alternative means
Getting your physical facility at least partially usable again as quickly
as possible
The plan should extend beyond your own walls to include your employees as you provide information and encourage them to have their own disaster preparedness plans in place. After all, if a natural disaster is bad enough to shut down your business, it's likely to impact their homes and families — and their ability to get back to work — as well.
Waffle House, the Georgia-based chain of more than 1,800 family-style restaurants, takes such advice seriously and has dedicated serious resources to planning for and being able to quickly recover from disasters. With many of its units located in the South and along the Atlantic coastline, the company has lived through and learned from its share of devastating events, from tornadoes and ice storms to multiple major hurricanes.
Hurricanes in particular are on the Waffle House radar. With most of its stores being corporate- or subsidiary-owned and with most of those located in hurricane-prone zones, there's good reason for that.
Pat Warner, vice president of culture at Waffle House, says the fact that all of its restaurants operate 24-7, 365 days a year is an advantage in some ways but a disadvantage in others when disaster hits. "We're used to being open no matter what," he says. "When we have to close, we don't know how to do that, so it presents a unique challenge."
To help prepare its operators for such situations, the company has systems in place and checklists developed for everything from steps to take as a storm approaches to restaurant closing procedures and schedules. It develops guidelines and reviews with managers how to operate without power or water, where to evacuate to and how to keep in contact with associates during and after a storm. Managers are required to establish and maintain contact throughout the year — well before any disaster strikes — with local emergency and inspection authorities.
When disaster strikes, Waffle House takes an all-hands-and-resources-on-deck approach to getting its restaurants back up quickly. If an incident is severe enough, the chain's construction team is deployed to assess structural damage, prioritize rebuilding efforts and communicate schedules. A "jump team" of senior managers and operators from other markets comes in to assist. If needed, generators are delivered, fuel is supplied and food supplies are provided.
"We have a team whose sole responsibility is to set up a fuel depot and keep the generators running," Warner says. "It's all organized, and everyone has a different role to play in getting our restaurants back open quickly. We feel a responsibility to our associates to do that — if we're closed, they're losing money — and to our guests. Waffle House is usually the first place they can go after a devastating storm for a hot meal, air conditioning and a cell phone charge. Once we get it back open, the local Waffle House is like a little relief station where the community comes together. We make that our mission."
Warner adds that the Waffle House team learns something new from every disaster situation and tries to apply those lessons to its preparation and response systems. "We take a deep dive into what worked, what didn't and what needs to change before the next event hits," he says. "And everyone's involved in those discussions, from unit-level operators to senior management to key vendors. We can't prevent disasters from happening, but we can continue to improve our systems."
Depending on the nature and extent of a disaster, even for well-prepared companies, the process of getting back to business can be long, frustrating and costly. That's especially true when internal resources are scarce and more energy is spent on putting out the daily fires of operating restaurants than on planning for real ones. But for most operators, coming back isn't optional. Here's how two independent franchisees weathered their own recent disasters and what they learned in the process.
11 Tips for a Quicker Comeback
Analyze potential risks for your market area, their level of probability and likely scope of impact.

Identify mission-critical functions and have backup plans for each.

Regularly update and review
insurance policies.

Establish and maintain relationships with local authorities and contractors.

Know the type of generator your business would need and how you'd access and fuel one quickly.

Run what-if scenarios, and establish agreements with vendors and nearby businesses for sharing space and resources.

Create an emergency plan for communicating with managers and staff. Make sure everyone knows the plan.

Keep lists of important phone numbers and business-critical information off-site, and make sure managers have access.

Maintain adequate cash on hand to be able to pay employees, contractors and subs without waiting for e-commerce to resume or insurance checks to arrive.

Keep detailed FF&E and F&B
inventory lists.

Sweat the small stuff: It all adds up for insurance claims.
---
1,000-YEAR FLOOD
Smoothie King
Denham Springs, La.
Estimated cost: $300,000
Smoothie King franchisee Roger Wilder's Denham Springs, La., store was destroyed in what's been called a 1,000-year flood. Despite having no flood insurance, he was able to rebuild in the same location, but sales have yet to fully rebound. Photo courtesy of Smoothie King/Roger WilderRoger Wilder owns 12 Smoothie Kings in the Baton Rouge, La., market. Last August, he learned the hard way that you don't have to be in a recognized flood zone to be flooded — badly. Torrential rains brought nearly 30 inches of rain over two days to the state's hardest-hit areas, which included Wilder's Livingston Parish market. According to the National Weather Service, those areas had a less than 0.1 percent chance in a decade of such an event happening, leading to what's been called a 1,000-year flood.
Heeding official warnings, Wilder had closed all his stores on Friday, Aug. 13. The water continued to rise through the weekend and crested on Sunday. His home was spared, but it would be two days before he was able to get out and see the destruction left behind elsewhere.
"I thought I must have had multiple stores flooded because you couldn't get out, and phone service was down for a while," Wilder recalls. "People started using Facebook to send pictures. The first one I saw was of my original store, in Denham Springs, sitting in about four feet of water. Someone was in a boat on the street and took the shot."
Despite revenue losses from being closed system wide for a few days, there was some good news: Except for relatively minor water damage, 11 of his 12 stores were in good shape. The bad news was that the Denham Springs location was essentially a total loss. "This area was like a war zone," he says. "The first time I got to the store, it knocked me out. It's nothing you can prepare for."
Wilder knew that he would rebuild — despite having no flood insurance — but other than getting the muck cleaned out and the interior gutted as quickly as possible, he focused first on relocating employees to other stores and helping his community.
With a lot of product nearing expiration, he borrowed a food truck and van from Smoothie King's headquarters, gathered a crew and began delivering smoothies to shelters and to people working in the steamy August heat to clean up and rebuild. Smoothie King operators in nearby markets contributed product and volunteers as well, and the brand became something of a local hero during the disaster recovery efforts.
"People were losing it just because we were giving them a 12-ounce smoothie," Wilder says. "We got more sweaty hugs and people crying on our shoulders than we could have imagined. But these were the people who had kept me in business through ups and downs since I opened that first store in 2001. Everyone was hurting so bad, I just wanted to help."
It would be almost a month after the flood before Wilder pulled himself out of what he calls TLC mode to shift into rebuild mode. As he puts it, there was no rush. "When 80 percent of your guests are displaced, what's the hurry to rebuild? So many homes were affected, there was nobody around to visit the store," he says.
Wilder kept a makeshift food truck parked in front of the store to generate a small amount of revenue and keep a couple of employees working. But with no insurance to pay for reconstruction, he faced steep financial hurdles.
"There was no assistance. It took about six months to finally get some money from the government. That whole process was a joke — never-ending paperwork," Wilder says. "We took a big cash-flow hit from having all stores closed for a few days, and we continued to make payroll. I ended up borrowing against whatever I could, carried a bunch of debt and used my own savings. One huge lesson I learned is that cash is king when something like this happens. If you have something in your bank account, it's a hell of a lot easier to keep your employees and get the engine going to rebuild. Insurance is great, but if you have cash to pay people and don't have to wait six weeks for an insurance check before you can get a subcontractor to come in, you're ahead of the game."
Pulling together funds to rebuild was half the battle. Securing the manpower and resources in a time of sky-high demand was the other. Wilder quickly realized the importance not only of having cash available but also of having a great relationship with a contractor. His had just finished building two new Smoothie Kings over the prior eight months. "He called me and said, 'I'm on you. Don't worry.' But he also had to rely on subs, who were tough to get," he says. "Even today, I'm waiting on a guy to come out and fix a piece of sheet rock. It's all taking a long time because they're still doing full houses. I'm just grateful that I had a contractor who stuck by me."
Wilder's 1,600-square-foot Denham Springs store wasn't due for a remodel until 2021, but it now boasts the brand's newest prototype design. He says he's still doing the math on what the total cost of the disaster has been. So far, the tab sits at around $300,000 for construction costs, lost revenues, borrowed money, all new FF&E, downtime, etc. And despite the fact that the store is back in business, business isn't fully back.
"When we reopened, the one thing we heard over and over from customers was that they had a piece of normalcy back, but normal has a new definition here," Wilder says. "We're down about 30 percent in sales in that location."
---
DEVASTATING FIRE
Pita Pit
Whitby, Ontario
Estimated cost: $350,000-$400,000
Diaster ended in triumph for Pita Pit franchisee Pat Kane (right). Photo courtesy of Pita Pit/Pat KaneSome disasters create such destruction that rebuilding isn't an option. For Pat Kane, a Pita Pit franchisee in Whitby, Ontario, just that kind of disaster struck in April 2015. Located in a block of historic buildings in the city's downtown district, the restaurant was destroyed in a massive fire that started after hours at the Jimmy O'Toole's bar next door and quickly spread to adjacent businesses.
Kane had gone home for the night, but his late-night crew was still serving the after-bar crowd that was his bread and butter. It was just a regular day — until it wasn't.
"I got a call from my manager saying firefighters had come to the store and wanted the staff to leave," Kane recalls. "I remember telling him they should stay and not miss out on the night rush. But they weren't given a choice. I showed up 20 minutes later, and the whole store was engulfed in flames. We couldn't do anything but just watch it go to the ground."
Kane, a former bar bouncer who had bought the Pita Pit store for $130,000 six years earlier, had a young daughter and had just purchased a home. "It felt like a rock-bottom situation," he says. "So many things go through your head. How are you going to support your family? How are your employees, including my mom and brother, going to pay their bills? When it's your own business and it's all you've got, you can't imagine where to go or what to do."
Fortunately, per Pita Pit's franchise agreement, Kane had insurance; almost everything required to rebuild from scratch would be covered. Unfortunately, his policy dictated that rebuilding would need to take place within four months. With the damage so extensive, and with the affected structures designated as heritage buildings, that was impossible.
"At around the two- or three-month mark, I realized there was no way we could rebuild in time to meet the insurance requirements, so I started looking for a new location," Kane says. "I was really worried because my whole business model had been built on serving the after-hours bar crowd at that location. I knew if I moved, I wouldn't have that to depend on."
The devastating fire that destroyed Pat Kane's original Pita Pit last April ended up being a blessing in disguise. Forced to relocate, he now owns a modern, efficient unit where sales are four times that of the old location's. Photo courtesy of Pita Pit/Pat KaneTurns out he didn't need it. If there ever was a silver lining to a disaster story, Kane has it. With help from the development team at Pita Pit, he found a new location — a shuttered Quiznos in a big box store plaza five minutes north of his original store. Within months, he had it gutted and transformed into Pita Pit's newest prototype design — contemporary, operationally efficient and slightly larger than his original store, which had been unchanged for nearly 20 years. Parking is plentiful, and the area is bordered by schools and residential neighborhoods. His customer base has shifted from the after-bar crowd to school kids, Walmart employees and soccer moms. Sales at the new location, opened a year and a half ago, are now four times that of the old store, and Kane has gone from having 6 employees to 17.
"I thought I had lost everything but had no idea what was in store for me. The relocation actually bumped sales through the roof," Kane says. "Before, my eyes were just focused on making money at the bar rush. Now I've opened up to doing catering, serving the high-school lunch crowd and people living and working in the area. The fire and the rebuilding process were so incredibly tough to go through, but it all turned out to be a blessing in disguise. I learned that I can hit rock bottom, come out the other side and handle establishing a successful new business."
A big lesson Kane learned from the disaster was that he needed to start taking a proper salary. "There's a reason they always say to pay yourself first," he says. "Like a lot of small-business owners, I always took the minimum and put everything back into the business. But when something like this happens, the insurance company will only pay out what you'd been paying yourself before. That's one mistake I corrected this time around."
Kane now intends to apply the knowledge and experience he's gained to further expand his business. He's looking around for new locations to develop and intends to become a multi-store Pita Pit operator. "Going through this has only opened my eyes and made me stronger," he notes. "Even though it was awful at times, it's hard to describe. It's kind of like a tattoo: It hurts like hell at the time, but the end result is really beautiful."
---
WEB BONUS:
WAYWARD DRUNK DRIVER
MOOYAH Burgers-Fries-Shakes
West Knoxville, Tenn.
Estimated cost: $86,000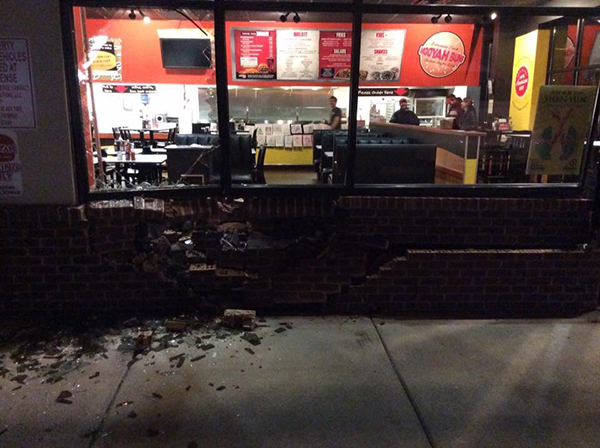 Disaster of the man-made variety struck Nick DeVore's MOOYAH Burgers-Fries-Shakes location in West Knoxville, Tenn., on Saturday, Dec. 13, 2015. At around 10:30 p.m., a presumed already drunk driver on her way to a bar at the other end of the strip center crashed through his endcap store, coming to a stop 20 feet inside. As a manager put in a frantic call to DeVore, the driver shifted into reverse and screeched away. Security camera footage was insufficient to help police identify the driver, and she got away scot-free.
Not so DeVore. He ended up with a roughly $38,000 tab to rebuild the exterior brick-and-glass wall and to repair and/or replace damaged fixtures and furnishings. The restaurant, located a quarter mile from a large mall, had to close for 17 days during the busy holiday shopping season, resulting in even bigger revenue losses. And then there was lost inventory — and DeVore had to make payroll.
"My first thought was to be thankful that nobody had been hurt. One 16-year-old employee who was picking up rugs near the front was narrowly missed by bricks, glass, furniture and trash cans that flew through the air when she crashed in," DeVore says. "It was a rotten thing that happened, and it felt overwhelming at the time, but money can be made and structures can be rebuilt. Nobody got hurt or died in my building. That would have been a true tragedy."
After dealing with police officers on the scene, DeVore's first call was to his insurance company's after-hours hotline. He was put in touch with the local branch of a disaster cleanup service. By 1 a.m.. they were on-site and worked through the night to clean up the wreckage and secure the building.
"I had no way to lock up the store," DeVore says. "There was a huge hole in the side of the building, so they had to board everything up. We had $5,000 to $6,000 worth of inventory that people could have walked away with — not to mention tables, chairs and equipment. So the first job was to board everything up and secure it with tarp because it had started to rain. The next morning, I was able to get an insurance adjuster in and start that whole process."
That same morning, DeVore was also faced with the prospect of telling employees that, two weeks before Christmas, they'd have no work. Ultimately, he decided to pay them during the closure. "I couldn't look them in the eyes and say, 'Have a good two weeks off, and good luck with Christmas,' so I decided to pay them. It was the right thing to do," he says.
If the holiday timing was bad from both a revenue and payroll standpoint, it was equally lousy for trying to get construction done quickly. Only one of three contractors that DeVore asked to assess the damage and provide estimates was able to promise an acceptable time frame in which to complete the repairs.
"I had been managing partner here for only a year and a half and had no idea who did the original buildout," DeVore says. "I just needed to get it back open quickly. It helped to know a few construction people in town whose work I trusted, but ultimately I had only one choice — the guy who could get it done the quickest."
The demo crew started the week of Christmas, cutting out the steel framing that supported a 25-foot-wide section of the 16-foot-high windows that wrap around the restaurant. While only about 8 feet of the 4-foot-high brick perimeter wall had been knocked down in the crash, the entire wall had to be replaced.
"We were able to get the demo done and the store boarded up to the point where we could open back up on December 30th," DeVore says. "They put up a temporary wall with aluminum studs and plywood on the front of the store, but we still had to order the windows, which took about two weeks. We had to replace a couple of sections of booths, which were tough to match, and some other furniture. We also had to replace some lighting and custom sun shades on the windows. So while we were able to open back up on the 30th, it was a work in progress, and we still looked boarded up. It wasn't until January 10 that we were back to normal and fully operational again."
Worried that customers would think he'd gone out of business, DeVore stood outside every day during peak lunch and dinner hours handing out $5 gift cards, letting people know he'd be back in business soon and apologizing for the inconvenience. "We had to get out in front of it and not let things get any worse," he notes. "The only thing working in our favor was the publicity we'd gotten, first about the crash and then about the fact that we continued to pay our employees through the holidays."
When disaster struck, DeVore had the necessary insurance in place. But while it covered the physical damage and some of the payroll costs, it didn't come close to covering all the other costs and lost revenue. Insurance companies, he notes, don't part easily with their money. His advice? Keep meticulous records, down to the last tomato and onion in the walk-in, be patient and keep pushing.
"The insurance company will only give you the bare minimum, so you really have to work to get them to pay what they rightfully owe you," DeVore says. "Lawyer up, be smart and protect yourself. We had two or three months to turn over all of our loss claims. You have to be completely thorough in that process, and it takes a lot of legwork. Count everything — not just the obvious damage-related things but every piece of food that you had to throw or give away because you were forced to close. And make sure that you know what your real costs will be for replacement items. You don't want to tell the insurance company that it will be $300 to replace a table based on what you originally paid for it and later find out that the table you need is now a special-order $500 item."