Sometimes advances in kitchen equipment technology can impact not just the menu but the entire customer experience. Penn Station East Coast Subs is the perfect example.
Penn Station is a 30-year-old chain specializing in made-to-order grilled subs. Wanting to showcase the freshness of its offerings, the chain has long placed its food production line along the customer queue.
Two factors, however, combined to obscure views: a low proximity hood was needed for the grill and health regulations require a 60-inch-high barrier between the production line and the customers. In practice, that meant that the hood had to be attached to the barrier, which therefore had to be designed as a solid wall.
According to Penn Station's vice president of construction, Kirk Durchholz, however, newer high proximity, or canopy, hoods that can hang from the ceiling have been engineered to do jobs that once required a low proximity unit. That advance has allowed Penn Station to make its food production more visible.
"When we got rid of the low-proximity hoods that were attached to five-foot-high walls, we were able to do a 42-inch wall with an 18-inch sneeze guard. We opened up the wall 18 inches all along [the production line], 26-feet in length, so that customers could watch their food being made."
Penn Station's open kitchen is now more open than ever. All photos courtesy of Penn Station East Coast Subs.
With Penn Station's open kitchen now more open than ever, the chain decided to overhaul the front of the house to make the whole space feel more open and inviting, Durchholz says.
One of the biggest changes involved the walls. In the previous design, walls in the dining area were clad in a durable dark vinyl covering. In the new design, the vinyl has been replaced by a light gray paint that is much better at reflecting light.
Another change involved the ceiling, which was lowered by two feet. While a lower ceiling normally makes an area feel more enclosed, in this case, Penn Station replaced dark ceiling tiles with light ones, offsetting that effect.
What's more, the chain has developed a new lighting configuration that helps brighten the dining area: out are compact florescent fixtures and bulbs, in are LEDs.
While LEDs cost more per fixture and unit, Durchholz says this lighting package actually costs the same as the previous one. The lower ceilings and brighter walls mean that each light is more effective overall, allowing the chain to go from about 30 CFL fixtures to 20 LEDs.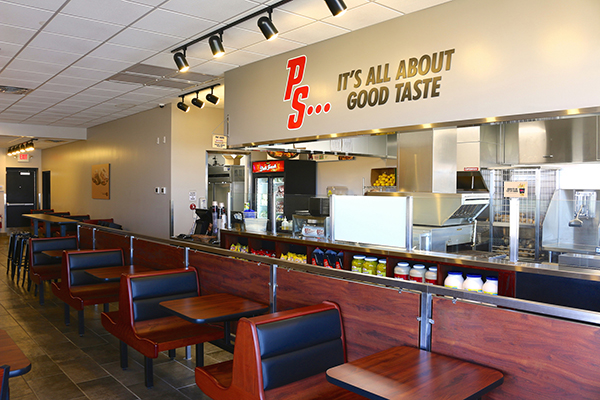 A brighter ceiling treatment and lighter paint brightened up the interior at Penn Station.
"Better light transmission makes the space feel larger. We're in 1,600- to 1,800- square-foot spaces that are pretty much rectangular in shape...In taking that wall covering element out of the space, going to a lighter colored ceiling tile, going to a lighter paint, lowering the ceiling and coming up with the LED lighting, the place had a whole different feel and ambiance to it. It really lightened up the space."
Naturally, some of the changes to lighten up the space rippled out to other design decisions. The lowered ceiling, for example, allowed the chain to hide its previously exposed ductwork. According to Durchholz, this new ductwork doesn't need to be aesthetically appealing and therefore had a lower price tag. The lowered ceiling also means fewer cubic feet of air to heat and cool in the dining area, which should lower utility costs, he added.
The new wall paint, on the other hand, presented operational and design challenges, While the paint helps with lighting, drywall is obviously not as durable as vinyl. To limit scuffing, Penn Station installed a wood laminate wainscoting on the lower part of the wall, just above chair height. The laminate, laid horizontally in a brick pattern, protects the wall from scuffing and tearing.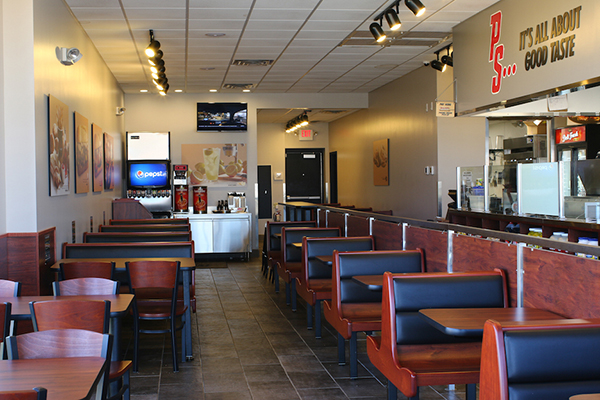 The updated dining room allows for more flexibility with two tops replacing four tops.
The chain's seating plan has also been tweaked, with some booths being eliminated in favor or tables, primarily two-tops. While this has lowered the average seat count to 52 from 56, it has increased seat utilization.
In many cases, Durchholz explains, parties of one or two sit at a booth, taking its other two to three seats out of play. By going to two tops, there are fewer unusable seats. At the same time, the two-tops increase seating flexibility. It's now much easier to accommodate large groups simply by pushing a few tables together.
These sort of concrete gains — better use of space, lower utility bills — are among the most significant aspects of the redesign. Just as important is how the redesign, set in motion by a new type of hood, has allowed Penn Station to communicate to customers what makes the brand special.
"We are a fresh, made-to-order food concept," says Durchholz. "We wanted customers to see and witness their food being manufactured and processed. We think that people like that."