After the Great Recession, fine dining restaurant The Grill on the Alley in Westlake, Calif., saw a sustained dip in traffic. The chain's owner, Grill Concepts, hired Costa Mesa-based Studio McCormack to do a cosmetic remodel.
Working with a limited budget, the redesign made use of many existing elements to create a more welcoming space. Since its opening, the restaurant has experienced an increase in customer traffic.
Studio McCormack President Rick McCormack recently discussed the project with us.
The Bar
While the chain invested in a new bar top, many of the other changes in this space were far simpler. Behind the bar, McCormack removed shelving that held decorative items and installed mirrors backlit by LEDs. Similarly, a purely decorative wine storage display was replaced by a metal mesh that was also backlit. The bar front was reworked with a more natural wood tone, and a similar metal mesh paneling was added. Standard pendant lights were replaced with contemporary fixtures. The lighter colors and updated details increase the bar's energy and make it more approachable.
The bar before the renovation.
The bar after the renovation.
Booths
To lower the restaurant's perceived formality, the new design eliminated white tablecloths and installed new wooden tabletops. Instead of replacing the booths, the booth upholstery was updated with a tufted brown leather-like vinyl. To avoid a sparse feel and to add warmth to the space, lanterns were placed on the decks between booths, while gold fluting was added to the wood pilasters.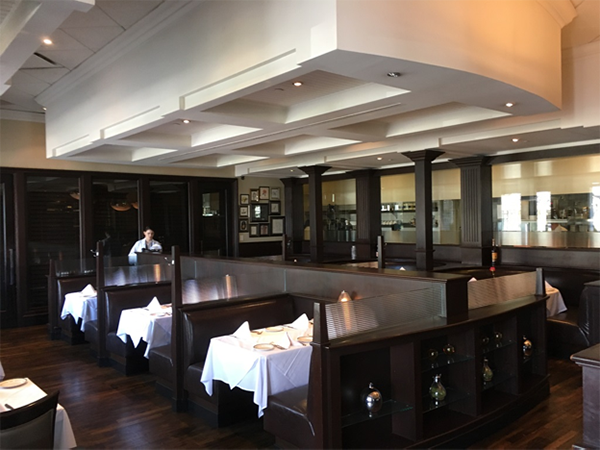 The dining area before the renovation.
Dining Room
To manage costs, art was reused but reordered. The glass fluting separating the booths was removed, adding energy to the space and making it friendlier for people-watching. To avoid a stark look, large white soffits were painted brown.
The dining area after the renovation.