"Everyone is drawn to fire," says Tim Byres, the executive chef and partner of Smoke in Plano, Texas. "Everyone has memories of fire, so there's a nostalgia element to it."
There's always been fire in pizza and barbecue restaurants, but now more chefs realize the value in this most elemental of cooking methods and see it in experimental as well as tried-and-true ways. "In the last two to three years, we've seen an emergence of people focusing on food sourcing," says Steve Starr, owner of Starr Design in Charlotte, N.C. "What we're seeing now is the next step in sophistication in how food is produced, and fire becomes a critical element in that, especially when there's an authenticity to it."
Restaurateurs, Starr says, go toward either multi-modal cooking platforms like a combi oven, which enables them to cook lots of things in one piece of equipment with very advanced cooking methodologies, or back to basics — "a very elemental approach."
Here we take a look at three fiery restaurants and how they're literally and figuratively on fire.
ARC Food & Libations,
Costa Mesa, Calif.
ARC's interior includes more than 1,000 bricks. It also uses chandeliers and recessed lighting to illuminate the space.ARC Food & Libations uses literally two pieces of cooking equipment — a brick hearth and a grill — and they serve as the focal point of the Costa Mesa–based restaurant.
"Fire has such a warm, comforting feel, and people love to stare at it. Any time there's a huge flame coming out, everyone is excited," says Marín Howarth von Blöm, who owns the restaurant with her husband, the chef, Noah von Blöm.
The hearth and grill sit in the center of this 2,000-square-foot restaurant, with bar seating and tables surrounding it on three sides. This was deliberate, says von Blöm, so they'd be the focal point and guests would feel like they were in a home.
The two pieces of equipment are very different and have different types of fire. The hearth produces dry heat and burns at 1,500 degrees F to 2,000 degrees F. "It gives an amazing char," von Blöm says. "We can cook more things in the oven. We put a cast iron pan in there and then throw calamari in it and it cooks on the way to a table."
The grill's a French crank, which allows Noah to raise and lower the grates depending on what is cooking, and it burns at 600 degrees F to 800 degrees F.
The restaurant's known for its thick bacon that's finished over an open flame, its burger that's bound with duck fat and its steaks.
The von Blöms designed and created their restaurant themselves. It's the first they've done. Marín did a lot of DIY with her mom, growing up, she says, and her dad taught her to drywall at 13. A friend helped out with computer-aided design, which she says was the best help they received "because it
allowed us to visualize and put this onto paper. It told us what problems we'd run into and what not to do."
The von Blöms purchased both the grill and hearth used to save money and so they didn't have to wait for the latter to be seasoned, a process that can take six to eight months.
At ARC, customers can see the culinary team prepare dishes in front of the hearth oven, which is one of two pieces of cooking equipment.Over both pieces of equipment sits the exhaust hood, and a duct system from each piece meets in the middle. However, a fire that took place six months after opening has taught von Blöm the importance of cleaning the hood twice a month, and she has since added more elbow cleanouts to make this process easier.
Each piece of equipment is built into the restaurant (the oven was fork lifted in) and surrounded by bricks, which Marín worked on for a solid week — two days laying them around the mouth of the oven and under the high bar.
This space includes at least 1,000 bricks. Marín colored some black but watered down the paint to get a faded look. "I sponged on the paint and then let the bricks dry and did it again, and the color's almost purple now. I didn't want the restaurant to be just black and brown." She painted others with watered-down whitewash.
But the von Blöms hit a roadblock: The health department insisted they take down the bricks or put Plexiglas around them because they had to be washable. "So I put five coats of sealant on each one, and then they OK-ed it," von Blöm says. "Plexiglas would have been so ugly. I wanted it to feel old and rustic."
The restaurant itself is pretty dark, lit by chandeliers and recessed lights. Even the kitchen doesn't have a very bright light. "It's a show, so everything has to look right and have the right light. We wanted it all to be in line with the orange glow of the fire," von Blöm says.
ARC's interior includes more than 1,000 bricks. It also uses chandeliers and recessed lighting to illuminate the space.
Saison:
San Francisco, Calif.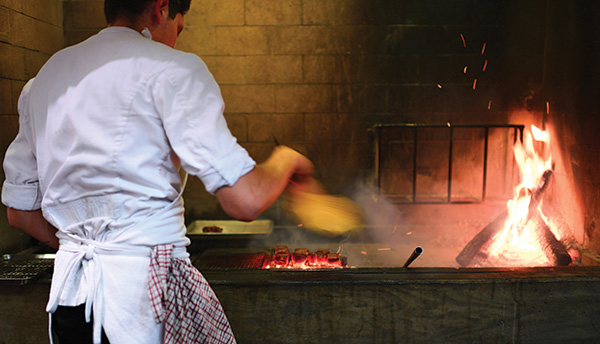 At restaurants like Saison, fire adds visual intrigue and warmth to the space. Photo courtesy of Bonjwing Lee.Fire is at the center of Joshua Skenes' cooking philosophy at the three Michelin–starred Saison, which revolves around simplicity. Fire has kissed every dish in some way, be it by smoke, fire or residual heat. "There's beauty to it, a connection to tradition that I find pleasurable," Skenes says.
The fire's in the physical center of the exhibition kitchen in this 5,000-square-foot space, and there's no removing it — Skenes built it in using brick and cement. "It's not just a hearth, but we also cook above it, below it, in the smoker, in the ashes, in the coals," Skenes says. In fact, he cooks as much in the embers and smoke of the fire as he does in the flames themselves. "We use the refractory heat or periphery heat."
Skenes uses fire to make flavors even better. "I was roasting birds, and the roasting was perfect — the resting was perfect — but I told myself there's got to be a better way than this, so I used fire to deepen the flavor and make it better." And his best dessert, Skenes says, is ice cream made from milk and caramel both cooked in the fireplace, which gives them a smoky flavor. "It's salty, subtly smoky and really great dairy," he says.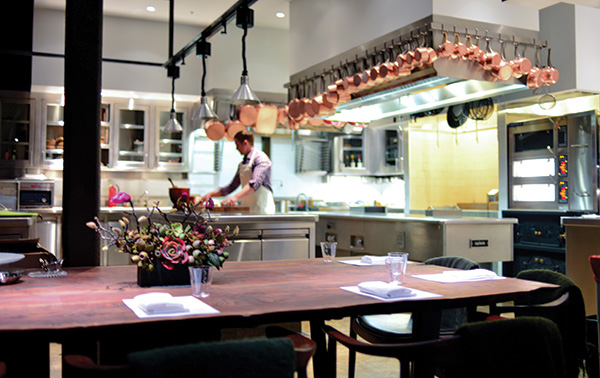 The interior at Saison features plenty of wood and other warm tones to connect to the natural warmth of cooking with fire. Photo courtesy of Bonjwing Lee.While visually appealing, the fire gives off some heat, but a wall keeps that from carrying over to the seating area and even the chef's counter, Skenes says. His nights cooking are hot, "but the fire is contained on one side. You find ways to get yourself not directly in front of it — using different angles and standing back just enough."
Because of the high temperatures, it was important that Saison have the right hood — one designed specifically for live fire cooking, with an eyebrow extending over it by a few feet, Skenes says, "so if there's any blowback, it captures all the smoke."
The 37-foot ceiling with big timber beams also helps in controlling the heat in this small restaurant that typically only seats around 30 people, as well as 8 at the chef's counter.
The restaurant's design pays homage to Skenes' elemental modus operandi and Northern California cuisine. "We focused on natural materials — where luxury meets nature," he says, adding that he used a lot of wood and copper, as well as a big firewood wall. The tables and chairs are handcrafted from American walnut — the tables have live edges in keeping with the primitiveness.
"The focus was really about what it feels like when you come into the restaurant and the warmth of the place and the sensory experience you have," Skenes explains. "I wanted each little thing to be enjoyable — like how the table feels as you slide your elbow over it."
Smoke:
Plano, Texas
The custom-made wood-burning hearth sits in the center of Smoke and is visible from every table in the dining room.Eating at Smoke is like eating at home, and that was the intention of the three partners, Tim Byres (also the executive chef), Chris Jeffers and Chris Zielke, who opened the location last January.
"Our restaurant came out of the idea of being primal and elemental and getting back to basics," says Byres. "Restaurants can be stuffy, but I wanted it to be more like home, so we went in the other direction with Smoke and focused on having fun."
This second location of Smoke (the first is in Dallas) is in a strip mall, which may not sound elemental and homey, but being flanked by retailers like Trader Joe's and REI, along with having its own design, it is.
The wood-burning hearth, which was custom-made by welders and bricklayers, sits in the center of the restaurant, but it's directly ahead of the doors and can be seen from every table in the main dining room. It's 10 feet long and consists of sections: two areas where chefs cook directly on the coals — where they make the restaurant's signature dish, the Eisenhower steak; sides where dishes are cooked in cast iron pans, clay pots and on slate; and two areas for grilling, where grill shelves can be raised or lowered.
Brick surrounds the hearth. Byres preps and plates food on a 20-foot-long stainless steel counter that fronts the hearth. Behind the hearth is a 10-foot-long opening that allows customers, who are just a few feet away, to see directly into the fire. The hearth itself is built three inches higher than this prep counter so it's at eye level for guests.
In the opposite direction, across the dining area, there's a modern gas fireplace, and gas lamps are dotted around the restaurant. "You're surrounded by fire, but the hearth is the main stage," Byres says. Working in front of the hearth is hot, he explains, but to make it safe he built a deck so the fire can be pushed to the back, and there's a lip so the coals don't fall out.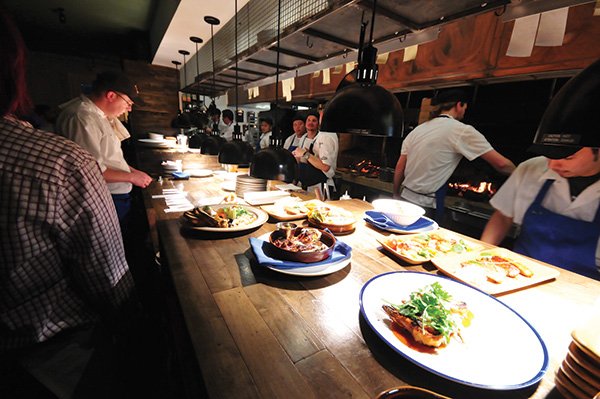 The long hearth creates a buzz in Smoke.Continuing the smoke theme, in the back of house there's a barbecue pit — a rotisserie oven that's used for slow smoking and is capable of holding a 200-pound pig.
There's no fire without the eponymous smoke, and the hearth has four standard industrial chimneys over it. These were expensive because the wood-burning grills need their own dedicated chimneys — their own fans with stronger air pull.
On the menu at Smoke, there's a lot of meat: pork jowl, grilled quail, and a barbecue board of ribs, pulled pork, brisket, ham, bacon and turkey. But there are also dishes like seared scallops with Brussels sprouts, bacon, white beans and lemon; and slate rock–roasted whole grilled fish.
Because the goal here is for guests to feel like they're in someone's home, there are big tables, unmatching, many of them made from reclaimed wood or made especially for the restaurant. "Many of them are worn in, but they don't look old but loved," Byres says. The floors are made of reclaimed wood, too, and are framed "so it makes noise when people walk over it and it's like an old barn or old dance hall."
"We work really hard at looking like we're not working hard," Byres says, adding that he doesn't even have an artistic logpile because he's actually using it.
Adding to the residential feel, Smoke consists of a variety of separate rooms, making it more like a house than a restaurant. There are two patios, a lounge, a bar, the main dining room, a smaller dining room with the gas fireplace and a dining room that can be closed off with glass doors for private dining.
"It's like a village pub where everyone comes and goes," Byres explains. "All these little rooms makes us like a home, and it creates nooks and crannies and favorite tables."