Selfie walls, neon statement art, and all things Instagrammable – here are six designs that invite guests to have their own social media moment.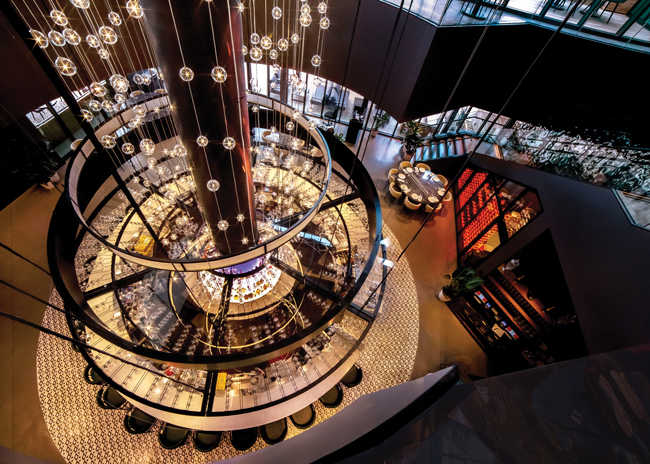 Image courtesy of Supreme Event Service
Dramatic Design Elements 
TPG Architecture reinforced the idea of a five-star steakhouse experience at every turn at the Nusr-Et Steakhouse at the Park MGM in Las Vegas, but the showstopping design feature is surely the 30-foot LED column with 200 custom lights that cascade down from a canopy to the circular bar below, mimicking the motion of a chef sprinkling salt. Other photo-friendly finishes include a photo wall, a DJ booth and a classic butcher counter that leads to an open kitchen.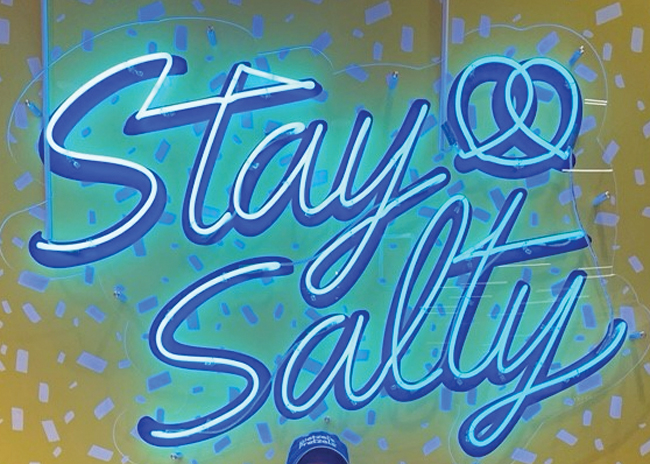 Image courtesy of Wetzel's Pretzels
Neon Statements
A cheeky statement in neon is a social media classic at this point — and a marketing tool, to boot. Wetzel's Pretzels' latest prototype includes a selfie wall in some of its locations. Backed by a busy and fun yellow wallpaper, a neon sign encouraging guests to "Stay Salty!" makes for great selfies. The colors are in line with the brand's iconic yellow and blue interior, and the messaging is also in line with the pretzel purveyor's sassy brand identity.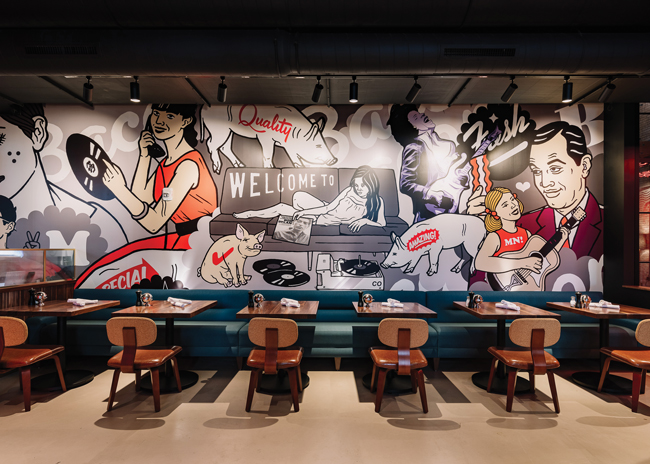 Image courtesy of Adam Kennedy
Murals
Murals are a popular design element in restaurants, often used to reinforce brand identity but also just as often used to create a connection to the locality. At Bacon Social House's first location outside the Denver area, Shea Design utilized a mural that fuses the two, serving as both an introduction to the brand and a way for the brand to connect its identity to its new location in Minneapolis.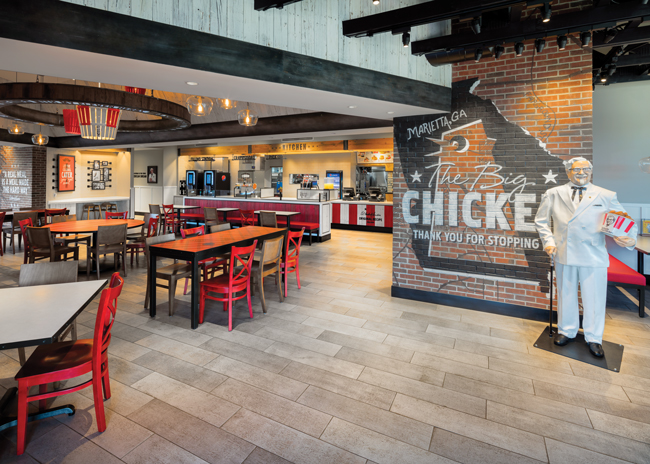 Image courtesy of Mark Steele
Statuary 
At this KFC in Marietta, Ga., you can stand right next to the legendary Colonel Sanders himself. While a lifelike statue of a brand mascot isn't the right fit for every chain, it's a perfect one for KFC. The statue is paired with a selfie wall to create the perfect backdrop for photos and videos taken in-store.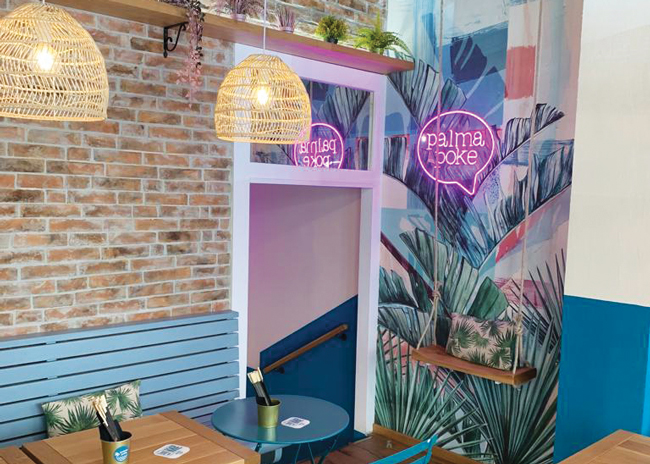 Image courtesy of RPM Proget
Selfie Wall With a Swing 
With walls covered in handmade majolica tile in shades of blue along with floral decor and elements throughout, Palma Poke in Rome has a youthful and vibrant vibe. The ceiling is meant to evoke a pergola with a cascade of greenery. And, of course, a neon sign above a little swing is included in one corner by designer RPM Proget with selfies and social media in mind.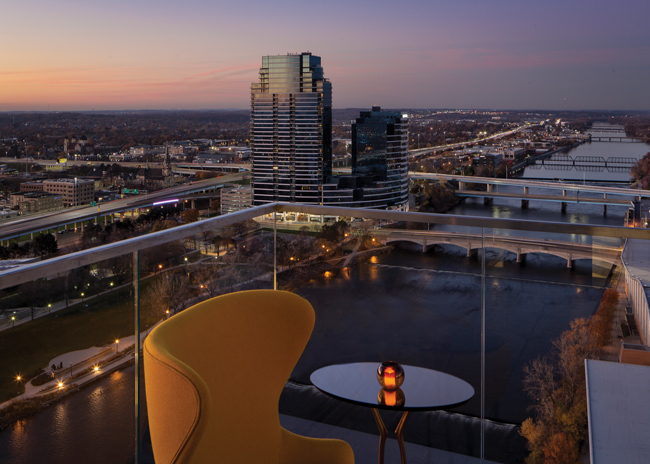 Image courtesy of Dan Ham
A Showstopping View 
Sometimes the perfect backdrop is just outside the restaurant. In the case of MDRD in Grand Rapids, Mich., designed by Gensler, a dramatic, layered design is part of a bigger experience. In this case, the Amway Grand Plaza Hotel isn't just one of the most beautiful restaurants in town, it also provides one of the prettiest views of the city below.