Located in the Jersey Shore resort town of Wildwood, N.J., Capt'n Jack's Beach Island Grill offers vacationers and locals alike a relaxed spot where they can grab a drink and a bite in a beach bar setting.
The concept opened its second location in Wildwood recently, this one on the city's boardwalk overlooking a popular beach event spot.
With its location on the boardwalk, the designers set out to create an indoor-outdoor feel that could appeal to people just strolling by, says Joseph Lombardi, co-owner of Paoli, Penn.-based Architetra, the project's architect of record.
On the space's first floor, they installed a large garage-style security door that's open essentially whenever the restaurant is open, allowing passersby to see inside and feel the space's energy. Guests, meanwhile, can still enjoy the fresh beach air. This connection is "the selling point that draws people in," Lombardi says.
Notably, though, guests have to enter the bar from its mall arcade space; there is no direct entry from the boardwalk. This, Lobardi says, is due to a code requirement meant to prevent people from taking drinks onto the boardwalk. "We completely opened up that wall with a cable rail just to distinguish between the boardwalk but also make a real connection," he says.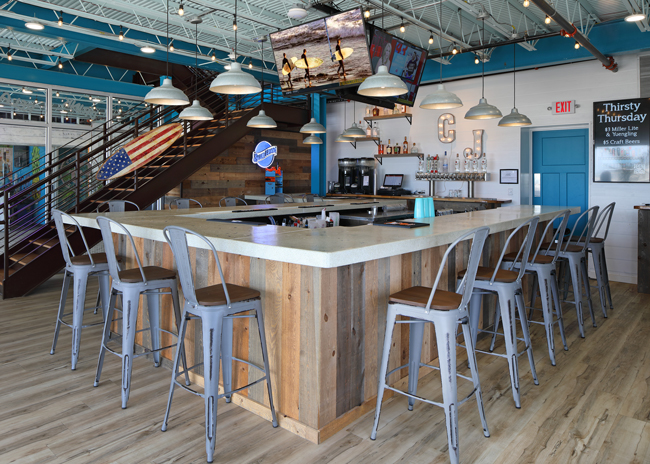 Once guests enter Capt'n Jack's they encounter a two-story space designed for beachgoers. The bottom floor bar area has a lived-in feel, with aged bar stools and a reclaimed wood bar face along with a concrete bar top. The owners, says Lombardi, "want people to be able to come in wearing a bathing suit. They're not trying to be pretentious; they just want to be accessible and comfortable."
Adding to the comfort are several design elements that help give the space a light, airy feel. The designers specified an open ceiling to add more overhead space, then painted the ceiling a light, beach-feeling blue.
The staircase to the second floor also keeps the space open as much as possible with its open bannister and risers. "It's a little industrial but the nice thick hardwood treads give it a little warmth as well. It's a nice connection between the floors with something that is a little more design-oriented," says Lombardi.
Capt'n Jack's second floor has the same general feel as the first, thanks to more large garage door openings and beachy colors.
This space is far larger, though, measuring at about 4,600 square feet vs. just 1,000 square feet below. This footprint makes the second floor the operation's main dining area. Seating currently is spread out to meet pandemic dining guidelines but options still include standard-height and high-top tables as well as banquettes.
The designers, noted Lombardi, placed the kitchen on the second floor, since most people ordering food will be on this level. The first floor, being more bar-centric, has more space for beer and liquor storage.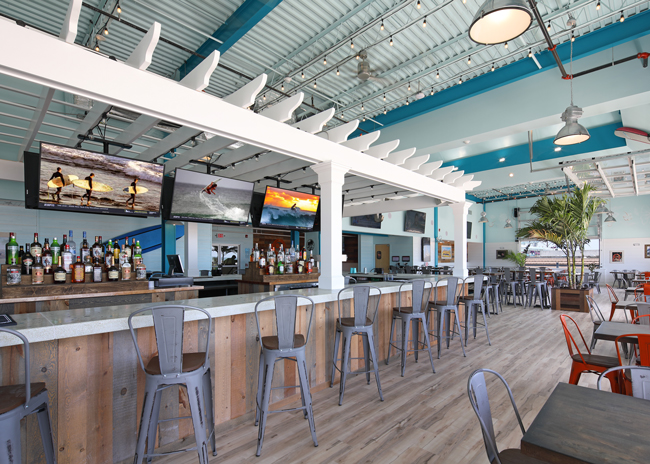 While this space is the operation's main dining area, nonetheless it has its own bar. The bar has its own pergola, giving the space an outdoor patio feel, says Lombardi.
Its U-shape maximizes bar seating while offering plenty of patrons a view onto the beach.
The designers, of course, did everything they could to maximize these views. "This one is 90% open and 10% solid," says Lombardi. "You feel like you are really connected. Typically, there would be concerts and different activities. Once we get through all this it will be a really good destination point for people wanting dinner and drinks and to observe some of these other activities."