Fort Worth, Texas' La Zona converted two buildings — an old barbershop and an old locksmith — and the plot of land between them into a Spanish-courtyard inspired dining experience.
The operation, owned by Tyler Casey and designed by Dallas-based Coevál Studio, takes advantage of its two buildings by giving each its own identity and menu.
Hotel Madrid is a full-service operation serving pizza, cocktails and beer. Next door, St. Sophia offers coffee drinks, churros and ice cream.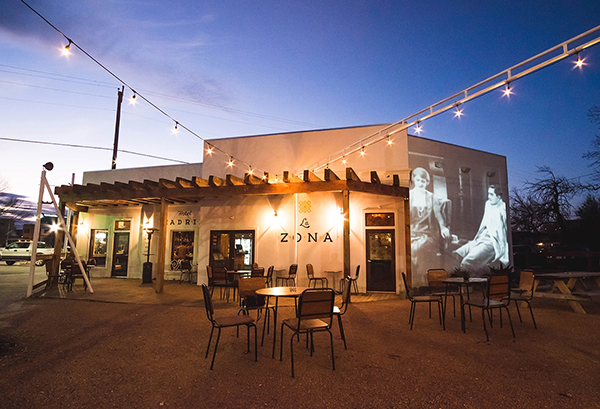 According to Miguel Vicens, creative director and partner with Coevál, the space between these two structures is probably La Zona's greatest asset.
"One of the charms of this place is that there are these two small structures but what happens in between, outside. is the heart of it. The idea was to create a space that is not just inside a building. It's that space outside, I feel, that is what's going to attract a lot of people to it."
The designers started by covering the ground with gravel and adding a wood deck to the Hotel Madrid building. String lights were run between the two buildings as well as on the framework for a sign used by the previous occupant.
Finally, the courtyard also has an AV system, allowing the operators to play music as well as project movies on the side of Hotel Madrid.
Of the two buildings, Hotel Madrid underwent the more significant redesign. The building got an addition of approximately 500 square feet (bringing it to 1,500 square feet total) for the kitchen, which serves the interior's 25 seats, along with 80 to 100 in the courtyard.
The building's exterior also got a major upgrade, says Coevál's other creative director/partner, John Paul Valverde. "It was basically a block building. We added white stucco exterior and some elevation heights to give it a little bit more presence. We added the wood trellis to give it a little more of a Spanish feel."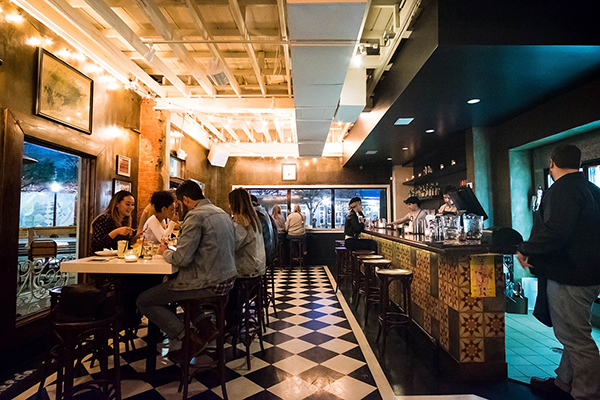 Like the exterior courtyard, the interior of Hotel Madrid is inspired by old European bars and restaurants. The bar itself is wood topped with a base covered in cement tiles with geometric patterns.
The checkerboard floor also gives the space a geometric element. Notably, La Zona created this pattern by painting individual tiles. This method helped cut costs; as it ages, it will contribute to the aesthetic La Zona is after. "We wanted it to feel very vintage and age very quickly instead of having pristine black and white tiles," Valverde says.
Similarly, the wall for the restaurant addition is covered with tile that's been given splashes of color. The painting's style and color combination, he added, looks both up-to-date and aged at the same time.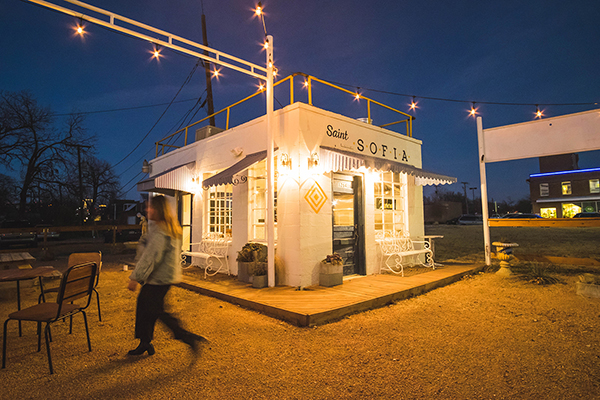 Changes to the St. Sophia building were less extensive. "The outside we just scraped, painted it white and added the branding and a small deck around it. It had its own charm when you look at the building, so we didn't think it needed much done to it," says Valverde. To keep the aged feel, designers also used cinder blocks as plant holders and added white painted benches to a small deck.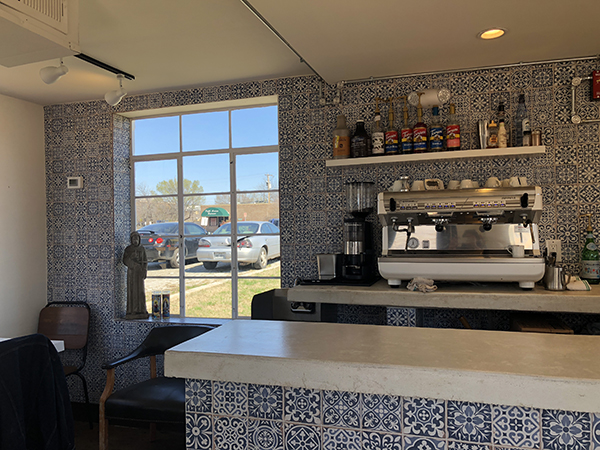 The interior of St. Sophia is only a few hundred square feet, leaving room for functional pieces, such as the cappuccino maker, and not much else. In keeping with the Spanish inspiration, the designers did add encaustic tile to the space, an element common to that part of the world.