Terzo Piano, a restaurant at the Art Institute of Chicago, called on its original interior architect, Dirk Denison, to lead its recent renovation.
While Terzo Piano still offers stunning views of Chicago's skyline and Millennium Park, visitors now encounter a new reception area that features an elongated bar top made of statuary white marble. Textured slate gray walls, white benches, translucent tables and gray leather and oak chairs warm the stark white of the original space. Plum-colored stools line the bar. The refurbished space maintains the high flexibility of the original and still allows for private and semiprivate dining and special events.
Photos courtesy of Anthony Tahlier Photography
Chef and Partner Tony Mantuano also revamped the menu with recently hired Chef di Cucina Carolina Diaz. The new menu stays true to the Midwest farm-to-table ethos the restaurant was previously known for but with a broader selection of house-made pastas, tartines and entrees.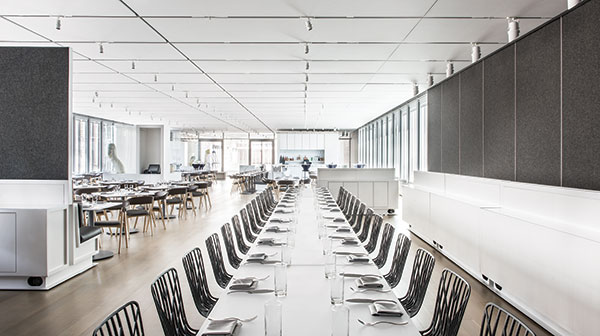 Terzo Piano Semi Private Table Setup Photo Credit Anthony Tahlier Photography