With the industry rapidly shifting, restaurants have been forced to expand their delivery and takeout offerings in order to serve customers and maintain business continuity. According to the National Restaurant Association, 3 percent of restaurant operators have permanently closed and 11 percent say they anticipate permanently closing within the next 30 days.
To mitigate impacts, many operators have adapted use of existing equipment systems. However, as restaurants continue to focus on building to-go programs in the coming months, long-term sustainment will be essential. By choosing simple, easy-to-install equipment, operators can ensure that their existing equipment and systems are not pressured when on-premise dining is up and running again.
The easiest way to ensure that to-go orders do not disrupt future dine-in service is to dedicate a specific area for this branch of the business. An existing kitchen design might not have room to duplicate equipment, which is why compact, ventless systems are crucial to support delivery and takeout programs. Ventless equipment provides added flexibility in terms of kitchen design. Operators are able to place this equipment anywhere outside of a traditional kitchen hood—maximizing floor space while improving efficiency and workflow.
To-Go Equipment Systems
Vector® H Series Multi-Cook Ovens feature up to four independent ovens in one.
From cooking to heated holding to chilling, Alto-Shaam offers a complete system of foodservice equipment designed for delivery and takeout programs. Exclusive Vector® H Series Multi-Cook Ovens feature up to four ovens in one, allowing operators to cook a variety of food items simultaneously and simplify steps in food production. H Series ovens offer a compact, 21" footprint and are certified ventless. Featuring Structured Air Technology®, these ovens cook food at the highest quality, two times faster than conventional technology to keep up during peak demand.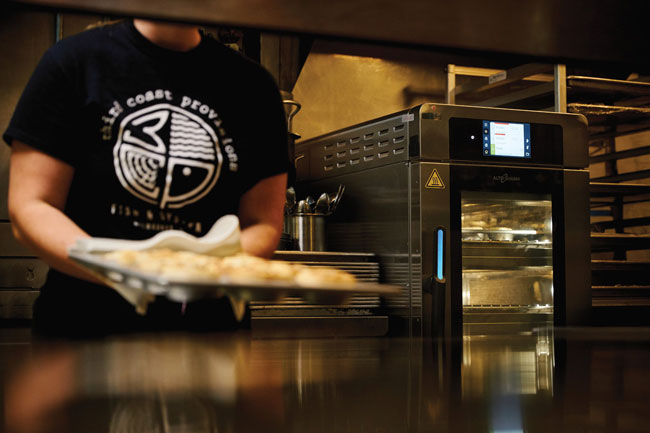 Vector® H Series Multi-Cook ovens cook a variety of food simultaneously in the smallest, ventless footprint.
Often overlooked, heated holding is one of the most crucial components to streamline to-go food production. Heated holding cabinets with Halo Heat® technology ensure that food is held at the highest quality using gentle, radiant heat. These units are energy efficient and easy to install with no water required—saving money, time and energy, while satisfying customers and reducing food waste. For optimal layout, cabinets and carts are available with casters for easily mobility and can be placed anywhere, such as under the counter or stacked with a Heated Shelf Merchandiser or other equipment to further maximize space.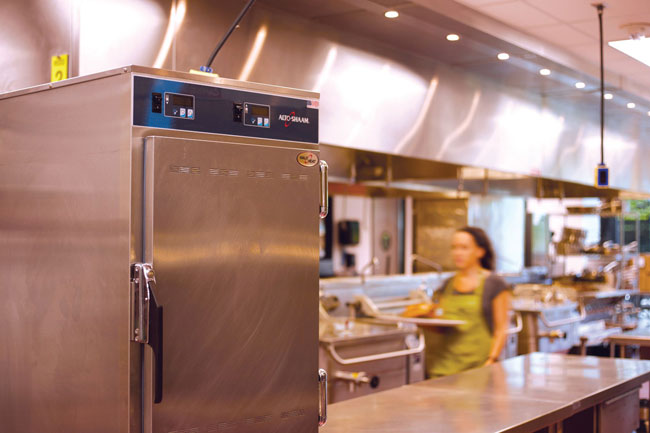 Alto-Shaam heated holding cabinets ensure food is held at the highest quality.
As delivery and takeout become critical for the future of restaurants, the latest foodservice equipment can help meet space, design and operational needs. To learn more or request menu and culinary support, please visit the Alto-Shaam website.