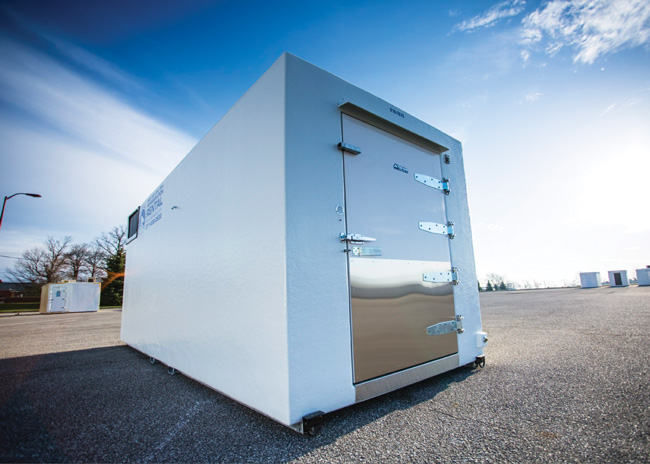 Walk-ins from Polar Leasing are available for short- or long-term rental.The big trend today all across foodservice is toward fresher foods. Premade, prepackaged is out; made-to-order, fresh flavor is in. That has presented some challenges for restaurants, especially those in the fast-casual segment. Many fast-casual restaurants are now finding that they're using more fresh product than they ever expected to, which can lead to some problems with cooler space. Polar Leasing's Territory Sales Manager Michelle Roark explains, "When they built the restaurant, they may have had a cooler and freezer, and they planned a certain amount of space for each one. But suddenly, they are doing more fresh items, and they don't need as much of the freezer space anymore; they need more cooler space."
Of course, there are other times when restaurants need additional cooler or freezer space as well. Grand openings, for example, can bring heavier traffic into the restaurant on a short-term basis. Or there's interior remodeling that blocks the path to the walk-in. Or the worst-case scenario: the cooler or freezer breaks down.
So how can restaurants address this need for additional cooler space? Building a new refrigerator or freezer space is prohibitively expensive and impractical at best. Temporary cold-storage units like diesel-powered trucks and trailers are noisy and disruptive to a restaurant's operation. And if those new, fresher menu items are a limited-time offer, they may not be kept on the menu permanently — and then what?
The units arrive ready to operate with no assembly required.There is a better solution. Polar Leasing provides both short- and long- term rentals of walk-in cooler and freezer units. These ground-resting units come completely assembled and prewired — just make the electrical connection. They're NSF-approved, with seamless fiberglass construction that's resistant to heat, cold and inclement weather. Standard 8' x 10' and 8' x 20' units are in stock, with custom sizes readily available. The units can be placed on grass, gravel or relatively
uneven surfaces; most times, the unit can be placed exactly where the customer wants it. Short- and long-term rentals can be arranged. Most important, the cost savings when compared with buying and installing new cooler units can be substantial.
Arranging for a walk-in cooler or freezer from Polar Leasing couldn't be easier. There's a 24-7 hotline available to take reservations, or go to the Polar Leasing website for an instant quote. With more than 80 depots across the U.S. and Canada, Polar Leasing has the largest electric-powered refrigeration fleet in North America, and orders can often be delivered within 24 hours.
Polar Leasing has provided the perfect solution to help many operators get through their temporary cooler or freezer needs. As Roark says, "One of the things I hear on a regular basis from customers is, 'I had no idea that you guys existed. I didn't know this type of equipment was out there!'"