Successful private dining rooms provide a relaxing environment for guests and a functional space for staff.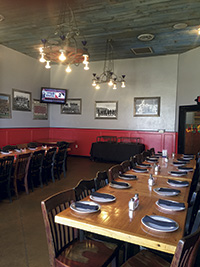 Featuring a homey ambiance with gas fireplaces, party rooms at Ruby Tequila's locations also display pictures of local sports figures on the walls. Photo courtesy of Ruby Tequila'sMore restaurants than ever are promoting their private dining rooms to complement regular meal and beverage service. They encourage groups to use the space for business meetings and special events, from private celebrations to hosting local clubs like Toastmasters. Operating private dining rooms brings in revenue and builds a restaurant's reputation for connecting with and supporting its local community's needs.
When private dining rooms aren't used for meetings and events, most restaurants keep them open for regular dining service. Doors close off the spaces to give guests privacy. Private dining room decor is often the same or at least complements the overall design and color palette of the restaurant. Tables and chairs remain in the room for both regular and private dining and can be configured based on the preference of the guests or the type of event. If more seating is needed, the restaurant's staff brings in extra chairs. Beverage service stations often sit close to private dining rooms. For some events, rooms contain bottled beverages, carafes of coffee and hot water for tea, and wine and beer chillers and buckets. Restaurants that offer hard liquor fill orders at the bar.
A Variety of Approaches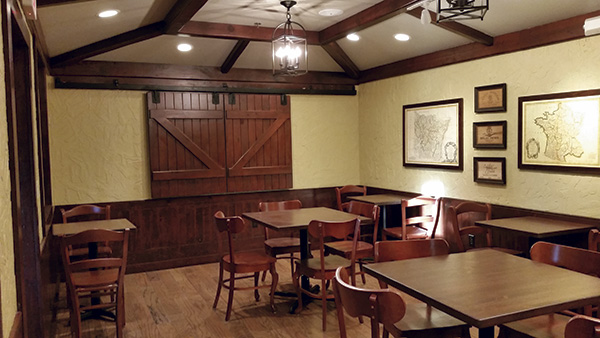 La Madeleine's barn doors slide closed to separate private dining rooms. Photos courtesy of La MadeleineThe Egg & I, which is part of The First Watch Company headquartered in Bradenton, Fla., and includes 135 restaurants in 25 states, promotes private dining Monday through Friday for breakfast and lunch. "We're too busy on weekends to accommodate private events and provide the high-quality food and service we're known for," says Zane Anderson, general manager at the Denver store. Private dining options at this location include a 50-seat private dining room and a 25-seat patio space.
Guests usually order from a meeting room menu and occasionally from the regular menu. "I want guests to have what they want to eat, but sometimes it is best to limit the menu selections in order to ensure that we can provide the highest-quality food," Anderson says.
Because there is no specially designated area in the kitchen for special events, the kitchen crew must work efficiently to prepare and plate all food so it can be taken quickly to the private dining guests. "There's no question that serving everyone at once is tricky," Anderson says.
Occasionally, Anderson's team sets up buffets so guests can help themselves. Built-in panels allow tables to expand for both serving and dining, depending on need. The Egg & I allows guests to bring their own cakes for special occasions because they don't have a bakery on-site.
Ruby Tequila's, which has four company-owned units in Texas, also actively promotes its party rooms. One Lubbock location contains a semiprivate space on an indoor patio that can seat 100 and another private space that seats 50. On weekends, when the rooms are not booked, the spaces also serve as overflow dining areas.
Managers encourage large parties to take advantage of the buffet menus, though guests may order off the regular menu as well. Serving stations with beverages are relatively close to the party rooms so staff members can easily pour and refill drinks.
Featuring a homey ambiance with gas fireplaces, party rooms at Ruby Tequila's locations also display pictures of local sports figures on the walls. "Here in the small community of Lubbock, guests who come to our restaurants are delighted to see pictures of their friends and family members," says Steve Purdy, general manager of one Lubbock location.
At the Soncy Road location in Amarillo, there are two private dining spaces that seat up to 50 guests each. Glass windows separate one party room from the dining room. "Dining room guests see private dining guests having a good time and think of us when they plan a special event," says Matt Medina, general manager of the restaurant.
With more than 75 locations in 12 states, La Madeleine is actively pursuing private dining as a critical part of its mission. "It's part of our DNA because it's a way for us to connect with our local neighborhoods, so community members can come together in a private space," says Carol Kamenish, director of design and concept with Le Duff America, the American subsidiary of Groupe Le Duff, which operates La Madeleine. "We're all about joie de vive, which in English means 'joy of living.' L'essence de France, the essence of French living, includes sharing a meal and spending time with good food. When we develop new prototypes, we keep this opportunity front and center in our plans."
Private dining spaces at La Madeleine units may seat as few as 20 and as many as 40. La Madeleine restaurants are divided into dining rooms, and most of the private dining spaces incorporate the overall country French café design motif, including oil paintings of the French countryside. The private dining spaces each have their own doors. "Country French-style barn doors that slide close off private dining rooms," Kamenish says. "When they are opened, the rooms can be used for regular dining guests." Some restaurants feature private dining spaces with decor themes such as a wine cave displaying maps showing locations of French wineries.
La Madeleine staff brings appropriate serving equipment into private dining rooms as needed for the type of menu guests order. For buffets, chafing dishes hold hot menu items, and decorative pans hold cold menu items, such as fruit. Plates hold croissants, breads and pastries.
Keys to Ensuring Success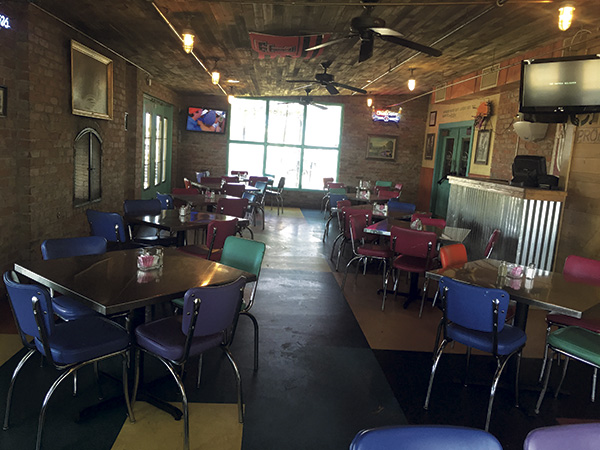 A party room at Ruby Tequila's South University location in Lubbock features a gas-lit fireplace and historical photographs. Photo courtesy of Ruby Tequila's"Make sure you know very well exactly what guests want with a private event, including the menu, table and chair arrangements, audiovisual (AV) equipment, and everything else," says Josh Hicok, operating partner of the Chalak Mitra Group, which owns Pepper Smash restaurant in Plano, Texas. "You must be sure each event goes off as best as possible. If you can't do an event right, you can accept money now, but this will hurt your business in the long term. Maybe the room's too small for the number of people in a party, or perhaps you don't have enough staff to accommodate an event on a certain day. It's usually not just one thing that kills an experience but rather it's many little things."
"The key to success is execution," says Medina. "The managers taking reservations must be personable. And the more information they can get from the guests in the beginning, the better. We don't want to drop the ball even in the slightest. We want to build a reputation that guests know they don't have to do anything except enjoy their event."
Proper staffing is another key to the success of private dining rooms. For example, a sit-down meal requires that staff prepare many meals simultaneously and serve them quickly. If carts are being used to hold plated meals, they must maintain hot and cold temperatures. If menu items are served banquet style, they too must be in containers that ensure proper temperature maintenance without drying out the food.
"Staff members working a private dining room must become part of the background," Hicok says. "They are supporting cast and must not interfere with the guests' priorities to interact with each other." Staff must be cognizant of what guests need, such as drink refills and plate removal.
Most restaurants allow guests to decorate as long as decorations don't leave marks or in any way denigrate the existing decor. "For tablecloths, we usually use black, but if a group wants pink or another color for a baby shower or another event, we'll certainly accommodate their needs," Hicok says.
Most restaurants offer guests the use of AV equipment. At The Egg & I, a podium with a microphone always stands in the room. "Guests who aren't in meetings see it and realize the space can be used for a private group," says Anderson. A projection screen can be pulled down for use during a function or pulled up when it isn't needed. A projector is available for guests to use and is locked up when not in use.
At Ruby Tequila's, providing flat screens on movable stands allows positioning for different seating configurations. Televisions allow various AV hookups. At the Soncy location in Amarillo, party rooms may project a sports event on one screen while the other shows family photographs during a baby shower. "Flexibility is important to accommodate whatever guests want," Medina says.
At La Madeleine cafés, each room contains ample electrical outlets so guests can bring in their own equipment. "Newer stores provide a whiteboard that doubles as a projection screen," Kamenish says. "We hide it behind sliding shutters when it is not used, so it fits in with the country French-style motif."
For sound control, La Madeleine staff use a manual switch to turn down the music that plays throughout the whole restaurant. Staff also use manual switches to alter lighting to fit guests' needs.