It's that je ne sais quoi about a restaurant, that intangible that creates energy in a space, even if no one is in the room. You can't touch it, taste it or see it, and you might not even notice it's there, but it impacts your impressions. Just like lighting adds another element to décor, music builds ambiance and brands.
"We call it sensory branding," says Wyatt Magnum, president of Magnum Music Group, a Los Angeles-based music consultancy that helps operators pair the right playlists with their brand, customer base, type of operation, décor and geographic location. "We integrate music into all aspects of the ambiance. From the volume level to the lighting set at a certain level, the smells you're hit with when you walk in, even the beats per minute of the song playing have all been factored into the experience to engage diners."
Diners may not choose a restaurant based on its music, except perhaps in cases where live music is offered, but it's an important piece of the puzzle when it comes to reinforcing a specific culture and driving revenue. Music can create a good first — and lasting — impression.
Selecting the Software
Just as music has evolved, so have systems. Forget the CDs and even satellite radio of years past; these days, many restaurants and chains work with companies offering live music streaming and customized playlists that fit seamlessly with their brand strategies. As restaurants attract younger diners, showcase bigger bars and stay open later, the handful of music curators or consultants out there, originally reserved for the nightclub industry, have turned their sights on restaurants.
"We use live-streaming technology to create our clients' soundtrack and stream from our location center," says Magnum. "That way it's consistent, especially for chains."
On the back end, proprietary software controls the music and loads the playlist that changes throughout the day so customers don't hear the same thing more than once. "We don't just put on a bunch of songs and hit shuffle, which is fine too, but can lead to repetition," says Magnum. "Instead, we create playlists in 20-minute sweeps to capture songs from different categories and genres. The idea is that every day is different and you don't hear two songs by the same artist in an hour."
For regular customers who dine out more than once a week, this variety is also important. "Psychologically, if they hear the same song again, they might feel that they've been sitting too long," says Magnum. "That can factor into a decision of a guest leaving too early."
Demographics and Dayparts
Regardless of concept type, careful attention must be paid to establishing a music program that creates the desired ambiance, appeals to target demographic groups and is an extension of the brand. A slick martini bar with granite countertops, cool cocktails and a feminine crowd will need much different music than a sportier bar with men in their 30s and 40s.
"I might select more melodic, down-tempo, chill-out music for that martini bar versus more modern rock and classic rock for a sports bar where people are ordering pitchers of beer and watching a game," Magnum says. The company also looks at color schemes, décor, the menu and price points to get a sense of what music to choose. An American-focused steakhouse might pair better with more jazz and Rat Pack-style music, for example. An edgier, upscale restaurant might play more B-list tracks versus recognizable radio songs.
Dayparts also drive music choices. "Music can mean the difference between a diner having a glass of wine and appetizer and leaving, or staying for dinner," Magnum says. "We also try to figure out in each daypart what target age is, then add about 10 years on either side."
During lunch, lower volumes and slower beats per minute keep the mood light while the beats of faster, louder music bring the energy up at dinner and later. "For finer dining we might choose slower tempos because we don't want to rush the guest in and out and [we want to] encourage them to linger for dessert or after-dinner drinks," says Magnum.
Just as with tempo, there's a science behind volume control. "Sometimes it's difficult to separate spaces with different music, so volume is important," says Magnum. "You don't want the music blaring, but you also don't want it so quiet that you can hear other people's conversations. You want people to lean in slightly when talking to each other."
As far as investment goes, costs vary widely. "You could spend a couple thousand on a qualified music designer and hardware to set up the proper system, but it could be less than $100 a month for a chain of restaurants," says Magnum, who also points out the importance of following required commercial-licensing procedures. Even when it comes to web-based radio stations like Pandora, specific commercial licensing is needed. Pandora offers Pandora for Business, and Spotify has a similar program for music with built-in licensing.
Whether live, streamed or shuffled, however, the art of music brings to life a restaurant's brand, attitude and personality, while the science of music builds regulars and sales. Here's a look at how some chains make it work for them.
Bennigan's
Locations: 32 total (30 franchised)
System Setup: one large playlist with removable songs; live-streaming
Music played an integral role in Bennigan's recent rebranding and franchising efforts following its 2008 bankruptcy. In November 2010, the company opened its first newly designed prototype restaurant. In addition to contracting a music consulting company to develop new playlists, the franchised chain used music to streamline atmosphere creation across multiple locations nationwide. "It was a little over a year and a half ago that we looked at our locations and decided that our main goal is to create a sense of continuity among atmospheres in our restaurants," says Nikki Tichansky, Bennigan's brand manager. "Music is very important to us in that regard, and is an important part of Bennigan's new prototype and new restaurants being built."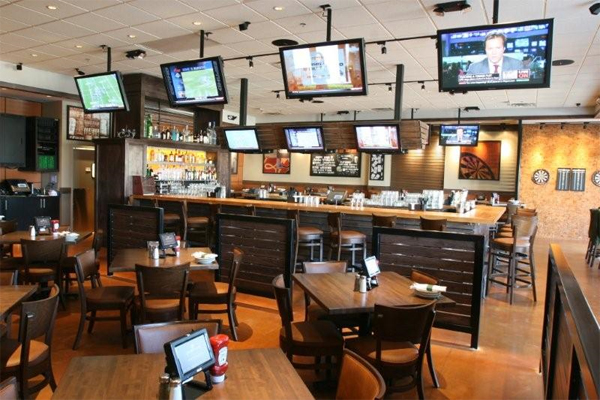 Still in a testing phase but fully operational in nine locations, Bennigan's works with its music company to stream live its massive, constantly shuffling playlist to restaurants across the country for consistency and ease of use. The franchise store can either use its own computer to stream the music, or a box sent from the music company that plugs into the restaurant's speaker system.
"We took research and knowledge about our demographics to develop our playlist, which is very broad with thousands of songs," says Tichansky. By choosing songs from the '60s through the '70s, '80s, '90s and today's top hits, the chain is able to speak to its loyal, older-generation customers as well as its younger audience.
Franchisees cannot add new songs, but they can delete those they don't feel work with their particular location. Music also shuffles according to dayparts, with softer, medium-energy songs and classic rock played at lunch and early evening to cater to office workers and families, moving into more pop songs and current hits as the night goes on, to cater to younger diners. "Every month we sit down with the chart toppers to keep the playlist updated, and seek input from other managers and employees," Tichansky says.
Del Frisco's
Concepts: Del Frisco's Grille, Del Frisco's Double Eagle Steakhouse, Sullivan's Steakhouse
Locations: 33 (across 3 concepts)
System Setup: Custom playlists for three concepts and locations nationwide; live-streaming
Music plays an integral role in prototype creation for Del Frisco's Restaurant Group.
"I think there is a direct correlation because music creates that energy even if no one is in the restaurant," says Shang Skipper, regional manager for Del Frisco's Restaurant Group, which partnered with a music consulting company to develop custom playlists for each of the concepts and live stream through the restaurant's computer and Internet service.
Del Frisco Grille Dining Room
The multiconcept operator has 3 uniquely different operations, including 19 Sullivan's locations, 10 Del Frisco's Double Eagle Steakhouses and 6 (and counting) Del Frisco's Grille locations. "The steakhouse is big, bold and beautiful, so we play more classic music like Etta James, Dean Martin and a lot of Frank [Sinatra]," Skipper says. At the Grille, however, rock, pop and top hits, from Led Zeppelin to Foster the People, play a more integral role in livening up the energy in the space. And at Sullivan's, live music, including jazz and swing, adds even more to the dining experience.
Del Frisco's music contractor also tailors its music selection according to the location and market. "We might have Motown in one restaurant or more country western in another location or have a live band more nights of the week at another," says Skipper. "You know the music is there, but it's not the focal point.
"Music creates an ambiance in the restaurant, whether it's a packed Thursday night or mid-afternoon with only one diner in the bar," Skipper continues. "We associate music with different points of our life, so it also creates a sense of comfort. If there is no music or it seems really quiet, you're more likely to go to a restaurant where there is more vibrancy."
Sage Restaurant Group
Number of Locations: Nine throughout the country
Concepts: Kachina Southwestern Grill, Mercat a la Planxa, Braddocks, The Corner Office, Second Home, Toasted Oak, The Original, Departure, Urban Farmer
System Setup: Custom playlists per concept; live-streaming
"Music is critical for us and one of the most important pieces of the dining experience that's often neglected," says Peter Karpinski, cofounder and COO of Denver-based Sage Restaurant Group. "But if you do it well, it can really help your business."
Working in nightlife in the early 2000s helped Karpinski apply the same understanding of music to the restaurant world. He now works with the same music curating company he did back then to handpick music for Sage's various concepts. "They create day-by-day, month-by-month playlists for us and handle royalty and licensing fees," he says, noting that music streams live through the restaurant's computer and Internet. Four years ago, the company sent preloaded iPods for plug-and-play. "I can also use an app on my iPhone and be standing in the middle of the restaurant and delete or add a song if I want."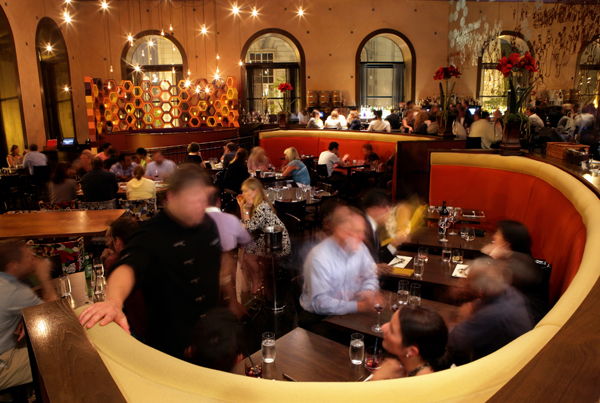 Mercat a la Planxa
Matching music to customer demographics, market and location and energy is important. "Mercat is always busy, even on Thursday nights, so we needed music that could keep up with the crowd at 10 p.m.," he says. At 5 p.m. when service has just begun, slightly slower and softer music plays.
Karpinski is also careful to not "overbrand" a concept. "Even though Kachina is a Southwestern concept, we don't just play all Southwestern music. And at Mercat every once in a while you might hear a Latin song, but we don't want to be too thematic, so we play a variety. We're also careful to have enough music so that diners won't hear the same song even if they're sitting in the restaurant for more than two hours at a time."
With a second Urban Farmer location rolling out in Cleveland, Karpinski expects some continuity between playlists with a little more focus on regionally popular songs. As in a nightclub, the sound systems work in zones throughout the restaurants, with different music playing in different areas depending on the degree of separation. At Mercat, different music plays in the downstairs bar, Bodega, than in the upstairs main dining room. Managers are able to control the volume from any point in the restaurants using wireless digital control pads.
Tin Drum Asiacafé
Locations: 13 throughout Atlanta
System Setup: Facebook page; live-streaming
Tin Drum Asiacafe Music PlayerAt Tin Drum Asiacafe, music goes beyond what's played inside the four walls. The chain recently launched the Tin Drum Music Player on its Facebook fan page, showcasing music and video interviews by local Atlanta artists. Each week the site shares with its 50,000-plus social media followers a different video from a local artist.
Tin Drum CEO Steven Chan, who calls himself an amateur music sommelier, handpicks music for each of the chain's locations throughout Atlanta; the Tin Drum player is a compilation of YouTube videos posted to the Facebook page.
"Our guests have always loved the music we play; that's why we started the music player program in the Facebook platform," Chan says. "We are also setting up an iTunes store for guests to download songs, and we'll also feature music in our new website, launching this spring."
To keep the playlist fresh and new, Chan eschews radio-friendly songs for more original content. "Music is a very effective art medium," Chan says. "We simply celebrate it like we do other art mediums in our restaurants, from paintings to photos and graphics. We let it speak for itself, per se. We respect it, and know its power and influence on people."
In his own studies, Chan found that customers were happiest with their purchases when music played with a tempo of 120 beats per minute, causing heart rates to rise slightly. "Tin Drum's inspiration is the Asian streets, so music in the café is at the pace and energy of the streets," says Chan, who uses a sound meter to set the volume at the just right level.
The brand's simple speaker and sound system setup consists of just two speakers and a receiver. Says Chan, "We believe it's the raw quality of the music that counts."