No company wants to compete against itself for customers. But that was the exact situation Homestyle Dining found itself in less than a year ago. The Plano, Texas-based company owned three steak-based brands: Coles Backyard BBQ, a fast-casual player; and Bonanza and Ponderosa, both operating in the steak/salad buffet segment.
The latter two presented a problem. With the same operational style, they had essentially morphed into near identical operations that were "monotone in style," said Thomas Sacco, Homestyle president and CEO. The situation called for a change.
"I felt like in the best interest of both brands there needed to be a little more differentiation," Sacco said. "Given that Ponderosa had bigger buildings and bigger buffets, it wasn't the one in which to take out the buffet. Bonanza was originally more of a steakhouse and less of buffet house in its roots. So we thought, let's go back and make Bonanza more of a steakhouse."
Bonanza, now Bonanza Steak & BBQ, embraces its steakhouse roots with a new butcher shop inspired prototype designed to compete with casual dining chains like Outback Steakhouse. The first of these locations opened in Eureka, Mo., last November as a conversion from the earlier buffet-based design.
With the concept moving from buffet to casual dining, many central elements from Bonanza's previous layout changed. The converted store's entry area/point-of-sale counter, for example, is now a lounge with cocktail tables where customers can enjoy a drink before their meal or while waiting for a table. Staff prepare these drinks at a back-of-the-house bar. The conversion didn't allow for the addition of a full bar in the front, though future stores may well have one, Sacco said.
Also gone is the large salad buffet offering salads and hot items like soup. In its place is a cold salad bar, where customers can walk down a line and choose ingredients that staffers assemble into a salad. The display itself is held by a gray and black table. Items, held in bowls and pans, are chilled with ice instead of in cold wells. This approach gives the salad bar a more authentic and less assembly-line look.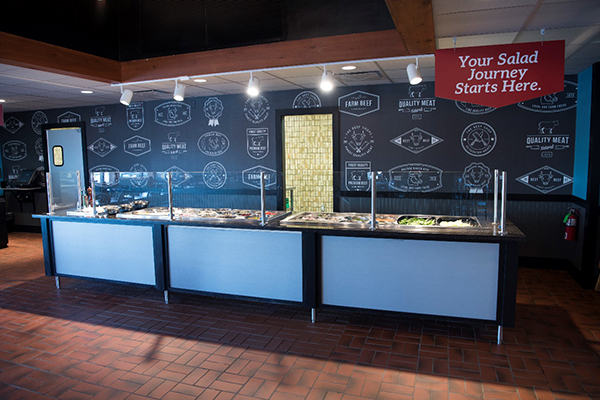 The chain, stated Sacco, has worked hard to make the salad bar a part of the Bonanza experience. Different types of lights shine down on different ingredients in order to make their colors pop. When customers take their seats, the host shows them the bar and explains the ordering process. With this approach, approximately 65 percent of diners include the salad bar as part of their meal. At $2.49 per person, this represents a major upsell success.
Of course, more than just the layout has changed. The prototype's design and decor elements, from the subtle to direct, all speak to the butcher shop theme.
Take the signature design features, for example. Attached to one wall is a sheet of Plexiglas painted with a Holstein cow that diagrams the different cuts of beef. Dozens of wood cutting boards in different sizes and styles hang from another wall. The restaurant's name is painted across multiple boards, one letter at a time.
While those elements evoke butcher shops, it takes another featured piece directly from them.
"In these big meat shops they have these big scales that can weight up to 2,000 lbs.," said Sacco. "When we were shopping for decor elements, we didn't want to put the whole scale in because they're very large, so...we bought the scale, took the face off of it and mounted it on the wall."
Other features are more subtle, but still clearly are inspired by the butcher shop theme. The chain's color palette tends toward whites, blacks and gray/stainless steel tones - exactly what one would find at an old school meat cutter. The ceiling in the middle of the dining area is blacked out, while a dropped white ceiling element runs along the front perimeter, where booths are located. A few splashes of color brighten up the look, including red light fixtures above the booths and teal chandeliers in the dining room's center area, which is filled with two- and four-tops.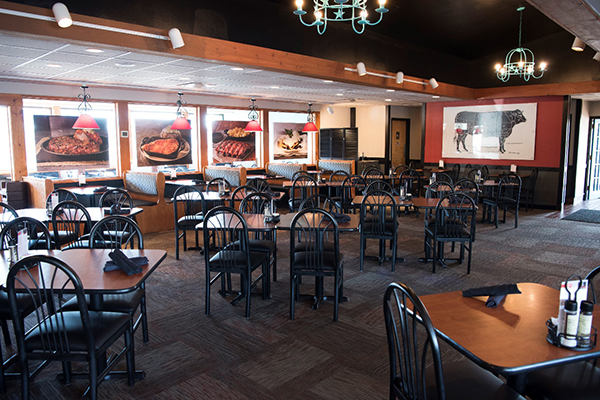 The furnishings also recall meat cutting. Butcher paper covers the tables. The dining room also features oak-colored booths and solid black wood chairs. Both have faux leather padding. This particular upholstery serves two purposes, Sacco said. The leather-like material recalls the chain's beef-centric menu, while creating a more comfortable experience that is in line with casual dining operations.
While the first of these restaurants has only been open a few weeks, Homestyle Dining has big plans for the new prototype, with the goal of opening 100 of these restaurants during the next five years. Within just days of opening, in fact, Sacco was getting calls from existing franchisees about converting their own stores.
And, of course, from a company-wide perspective, the problem of Homestyle competing against itself has been solved. In fact, the company, said Sacco, can now offer a variety of steak concepts to customers and franchisees thanks to fast-casual Coles, buffet-based Ponderosa and casual dining Bonanza.
"We're able to offer three steakhouses in three different service formats...Franchisees can have three different steakhouse brands all under their own umbrella."