You go to a thousand of these; they all have the same seats, same chairs, same menu board. It becomes a little too much over time. Am I just stepping into a different color theme and a different logo?"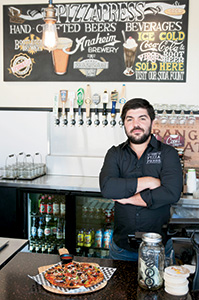 Dara Maleki, Founder, President and CEO of The Pizza PressThat's Dara Maleki's take on the state of design in fast casual — too many chains looking too much alike. When it came time to develop the look and, as he put it, the experience of his own chain, Maleki was set on doing something different. He named it The Pizza Press (as in pressing dough) and then built on the word press to establish an early to mid 20th century newspaper/newsroom theme, when newspapers were the cutting edge.
The Pizza Press is now in an expansion phase, growing outside its home base of Southern California into the Southwestern U.S. It anticipates opening as many as 75 new stores in the next year. Maleki spoke with rd+d on the importance of providing people with an experience through design, establishing a franchise team to support rapid growth and ensuring franchisees maintain the brand's identity.
rd+d: There have been several fast-casual pizza companies to emerge recently. What are you doing to stand out?
DM: We try to distinguish ourselves from the ever growing number of companies in this market by offering great craft pizza, great craft beer and delivering an experience through the environment we set. I really think quality of environment has become an important trend. We want to set a higher design standard and a certain comfort level that really satisfies customers and their [desire for an] experience.
Being born in Yorba Linda, Calif, and having family businesses in a resort area, working with Disneyland creating an experience became one of our core values. That's where we really wanted to take it, from the way the dough is pressed and playing off the word press and turning it into a sort of newspaper throwback with a Restoration Hardware feel, from Edison lights to subway tile to some really great wood moldings.
rd+d: What's your growth strategy?
DM: We're really looking at Southern California and the Southwest region for our core growth. I think they're similar markets. As we move into Arizona, Nevada, Colorado and even the west side of Texas, it's just very easy for not only our distribution, [but also for] keeping consistency in the brand.
rd+d: Since the brand and experience are so important to The Pizza Press, how do you find the right franchisees to follow through in those areas?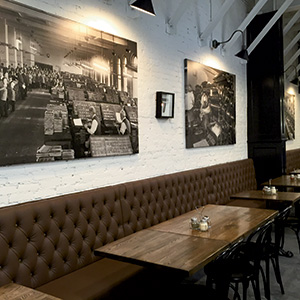 DM: We outsource our sales. [Our sales firm] vets people to see if they have the ability and the experience. Then when it comes to discovery day, that's when we really start getting to the Q&A to really see if our personalities and our visions line up. It's more about the vision than anything else. If you can't share a similar vision, it doesn't matter what kind of business plan you've got — there's going to be some part of the experience that will be lost.
rd+d: So what do franchisees say they like about your concept?
DM: When we talk with our franchisees, it's not just the product line, but really the environment. It just feels different. We may be a franchise, but it doesn't have that corporate feel. From the warmness of our staff to the warmth our restaurants convey — realistically, that's what it comes down to. You go to a thousand of these; they all have the same seats, same chairs, same menu board. It becomes a little too much over time. Am I just stepping into a different color theme and a different logo?
rd+d: How do you ensure that they execute your brand properly?
DM: We've got our director of operations. In our leadership roles, we truly look for coaches and leaders that are going to really work with our franchisees. We've got about five people [on our franchise team], and we're just gearing up for the growth that we're going to be experiencing in the upcoming year. We want to make sure we have the director and the executive roles there. We're a big company that grows from within, from [among] the general managers and assistant managers in our stores. We've been grooming them for the past year or two to become that trainer, to become that field support representative. That's something we really like. Those are the people who really understand the core values of the business. They're on the ground. We really want to make sure that our culture remains what we've created. [These employees] have already moved up. Our succession plan is very strong.
rd+d: What else are you doing to support your franchisees?
DM: From the time they're selected to the time they open their store, we've got our team helping them: site selection, real estate agents, if they need any help with their leases, getting their frontline staff and distributors, the marketing details. It's full service.
rd+d: Explain how you help with site selection.
DM: The real estate agent provides us with all the traffic standards, population, the median income. And of course we send our team out to actually review the site and really see the migration patterns. That's something that agents don't give you. They can drop a pin and tell you how many people are in an area, but you really never know what corner of that block is really hot. We're actually there and seeing how the population is migrating, what time they leave in the morning, how many people are going home, is there a destination past the location, is it on the right side of the road. People could be going in the complete opposite direction and you could miss all the traffic. So we really get into detail by being on the ground.
rd+d: What do you do to help with leases?
DM: We want to make sure they're not putting themselves at risk with how much they're paying. It could be $3.25 a square foot or it could be $7 a square foot. We make sure they're in the range where they need to be to make sure their overhead is in line. We're not on the negotiation side. We do give them recommendations of what the dollar point should be and [to make sure] that they're not committing to something that would create a profitability problem for them.
rd+d: And what about construction?
DM: We have a list of recommended contractors; however, we are open for them to select their own. We do want to make sure that the quality of their work is up to our standards and that they're a licensed contractor, bonded and insured. We want to make sure we're looking out for them.
rd+d: It's easy to do a lot of what you're talking about in your home market, but how are you going to support openings in markets that you're not as familiar with, where you don't know the players?
DM: We work with some great real estate agents, and we have no problem getting people out there. Airfare is not expensive. You can get anywhere. When it gets to that level, we'll send our teams out to spend some time on the ground, meet with the agent, do touring before we start approving any sites. We want to know what our franchisees are getting into and we want to be understanding of their needs. It's all part of that support role that we're stepping into.