Detroit's SheWolf Pastifico & Bar is close to being one of a kind. While house-made pasta is not uncommon, the kitchen at SheWolf actually mills the grains for its pastas in-house.
The simple yet sophisticated design reflects this dedication to authenticity by emphasizing the quality of SheWolf's food and overall dining experience.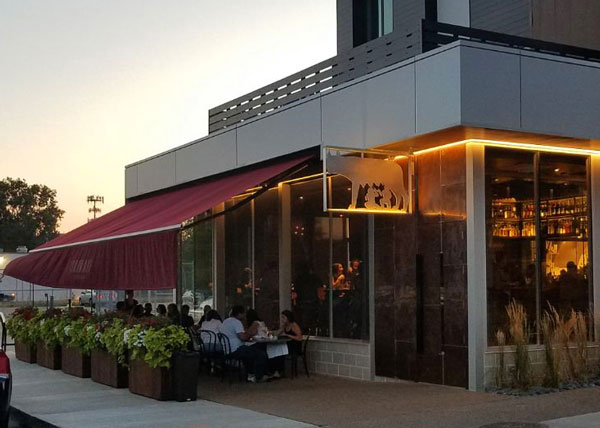 SheWolf's architecture and interior design was handled by the firm of Ron & Roman, with kitchen design by Great Lakes Culinary Design.
The restaurant's architecture is designed with curb appeal in mind, according to Nicole Adler with Ron & Roman. The exterior features a large outdoor patio accessible through a set of sliding doors. The patio's awning features a long hanging valence, reminiscent of restaurants in Italy, Adler says. Copper represents a key material in the main entrance, giving this area a grand visual appearance.
SheWolf's near floor-to-ceiling windows represent the most striking exterior design element as they allow the glow from the interior to call out to those passing by. "The purpose of the glass is to bring the entire bar scene right out to the street front," says Adler "The glass is clear, and at night it sparkles and glows. SheWolf does mostly dinners, so it was really intended as a destination at night. You see this wonderful warm inviting atmosphere that draws you in."
SheWolf's island bar sits toward the center of the restaurant. Four non-structural pillars frame the bar area, defining the space and giving it symmetry. The overhead shelving design further enforces this symmetry.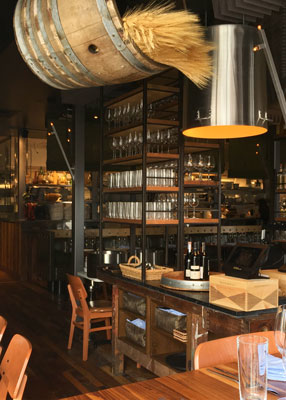 Another creative touch, the bar face features a patchwork of different marble that celebrates Italian-American contractors who made their own kitchens with scraps from their jobs, says Joel Schultz with Great Lakes Culinary Design.
The bar top meanwhile is deeper than standard bars, Adler notes. "The bar itself was always meant to be a dining bar as opposed to a bar where you drive a couple of drinks then go sit at your seat."
With its dedication to simplicity and authenticity, SheWolf doesn't make use of any high-concept elements in its design. The closest it comes is this reclaimed wine barrel filled with wheat, a nod to the grains the restaurant mills in-house. Next to that, says Adler, is "largest stock pot I could find anywhere. It's hung upside down as a light fixture." With the inside of the pot painted a buttery yellow, it gives off a warm glow, especially in the evening.
Behind these pieces sits an exposed glass storage shelf. While functional, it also adds some visual flare to the restaurant, with light bouncing off the glasses creating a jewel-like effect.
With its focus on the food itself, creating an open kitchen was a natural choice for SheWolf's design. Instead of just creating a hole in a wall, the design team utilized an arch that runs the width of the restaurant to frame the kitchen.
"We built in function by providing tons of front-line refrigeration and mis en place plating space. Ron & Roman added a beautiful wood and metal structure that not only looks gorgeous within the arch, but this also provides tons of storage for plating as well as somewhere to mount heating elements that keep finished dishes warm," Schultz says.
While the open kitchen and arch helps frame the dining experience, this set-up presented a challenge for this dinner-focused operation, Adler says. The light from open kitchens can be overpowering in an otherwise dimly lit space. In response Adler added a set of sheer Roman shades in front of the kitchen.
"Not only can [the operators] dim the lights a little bit in the kitchen, but those shades drop down and act as a barrier to block out any harsh light. You can still see through them. As you move around the space the shades don't block too much of your view of the kitchen," says Adler.
One of the highlights of SheWolf's open kitchen is its pasta room, where staff mill the grains and make fresh pasta. This space, says Adler, was enclosed in glass walls to keep flour from the milling and making contained. While the room's finishes are elevated, they're not too elevated, notes Adler.
"We avoided standard back of the house materials. We weren't trying to make anything fancy about it. It really is just utilitarian. The equipment isn't staged. It's not hidden behind things. It is what it is. You appreciate the raw glimpse into how what you're eating is being made."